5 Important Tips For Improving Survival In Hardcore Classic WOW
If you're playing Hardcore Classic WoW, then you know that every death is permanent. Losing a character you've invested time and effort in can be frustrating and demotivating. However, there are some fundamental tips and tricks you can use to save your Hardcore character's life. In this article, we'll go over the 5 most important tips to help you survive in Classic WoW.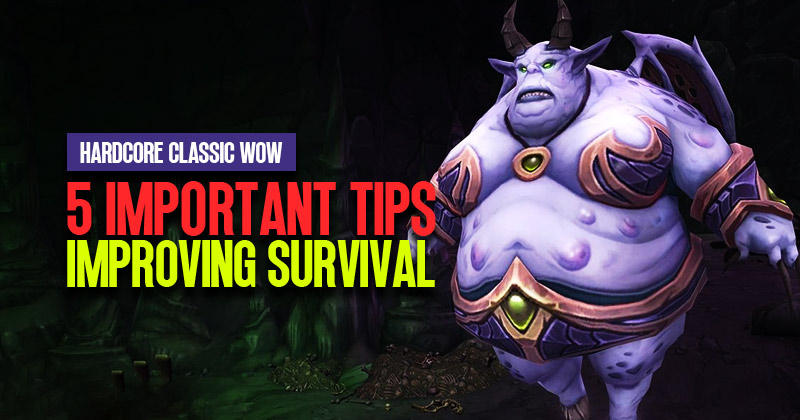 ↖ How to Run Away from Mobs?
One of the most important skills to learn in Hardcore Classic WoW is how to run away from mobs efficiently. When you're under attack, the most common mistake is to turn your character away and run, which can result in you taking a lot of damage and possibly getting dazed. To avoid this, make sure you're facing the mobs as you run away. This way, you can dodge attacks, parry them, and take less damage.
To achieve this, you need to get comfortable with your strafe keys. Start strafing one way, then the other, and jump while doing so. Alternate between strafing in different directions to keep your opponents guessing. Avoid showing your back to the enemy, as this increases your chances of getting dazed and taking more damage.
↖ Don't Engage Mobs in Combat
Mobs in Hardcore Classic WoW will evade after a certain amount of time if you don't hit them. This can be useful when kiting them, but it can also be a problem when you're trying to escape. If you keep engaging mobs in combat, you'll always stay with them. So, make sure you cancel your auto-attack and avoid using abilities that can extend the duration of combat, such as Thunder Clap and Demoralizing Shout. Instead, focus on running away and avoiding combat altogether.
↖ Be Aware of Your Surroundings
Being aware of your surroundings is crucial in Hardcore Classic WoW. Always keep an eye out for potential threats and avoid areas where you know mobs are present. Make sure you have a clear escape route in case things go wrong. Also, keep in mind that some mobs have special abilities that can hinder your escape. For example, spiders can root you in place, while wolves can slow you down. Knowing the abilities of your opponents can help you prepare better and avoid being caught off guard.
↖ Use Consumables and Abilities Wisely
In Hardcore Classic WoW, every advantage counts. So, make sure you use your consumables and abilities wisely. Potions, food, and bandages can help you heal quickly and increase your chances of survival. Use them strategically, and don't waste them on minor injuries.
Also, make sure you're using your abilities correctly. For example, as a warrior, you can use Charge to close the distance between you and your opponent quickly. However, if you use it when trying to escape, you'll end up charging towards the enemy, which can be a fatal mistake. So, make sure you know when to use your abilities and when to hold back.
↖ Stay Calm and Focused
Last but not least, staying calm and focused is essential in Hardcore Classic WoW. Panic and frustration can lead to mistakes and poor decisions. So, take a deep breath, assess the situation, and act accordingly. Remember, surviving in Hardcore Classic WoW requires patience, practice, and perseverance.
Conclusion:
Surviving in Hardcore Classic WoW requires a combination of skill, strategy, and patience. Knowing how to run away from mobs efficiently, avoiding combat, being aware of your surroundings, using consumables and abilities wisely, and staying calm and focused are all crucial factors that can help you save your Hardcore character's life. By following these tips and practising regularly, you can increase your chances of success and avoid permanent death in the game. So, stay determined, keep a level head, and enjoy the challenges that Hardcore Classic WoW has to offer.
Most Popular Posts
Popular Category Lists