LOLTANK Orders Delivery Stats Table and Chart
LOLTANK wants customers to experience a hassle-free delivery process. That's why we have provided up-to-date delivery information, including dashboards and charts that reflect real orders placed in the past Week. While we cannot guarantee that your order will match the minimum, average, or maximum time, as each customer is unique, adhering to the guidelines above will ensure a quick and easy transaction.
↖Order Delays Reasons
The top reasons for delays in delivery are usually incorrect Order information, high demand, running out of stock, verification requirements, and unavailability. During new game updates and releases, we often receive a huge influx of orders, which can lead to longer delivery times.
↖Delivery Stats Table By Orders
| | | | | | |
| --- | --- | --- | --- | --- | --- |
| Week | Total | < 5Mins | 5 ~ 30 Mins | 30 ~ 60 Mins | > 2 Hours |
| Mon | 151 | 91 | 41 | 18 | 1 |
| Tue | 178 | 110 | 38 | 13 | 17 |
| Wed | 213 | 164 | 34 | 10 | 5 |
| Thu | 228 | 175 | 36 | 12 | 5 |
| Fri | 260 | 197 | 37 | 10 | 16 |
| Sat | 225 | 152 | 50 | 20 | 3 |
| Sun | 234 | 157 | 47 | 13 | 17 |
↖Delivery Stats Chart By Orders

↖Delivery Stats Table By Time
| | | |
| --- | --- | --- |
| Delivery Time | Orders | Percent |
| Less 5 Mins | 1046 | 70.20% |
| 5 ~ 30 Mins | 283 | 19% |
| 30 ~ 60 Mins | 96 | 6.40% |
| More 1 Hours | 64 | 4.20% |
↖Delivery Stats Chart By Time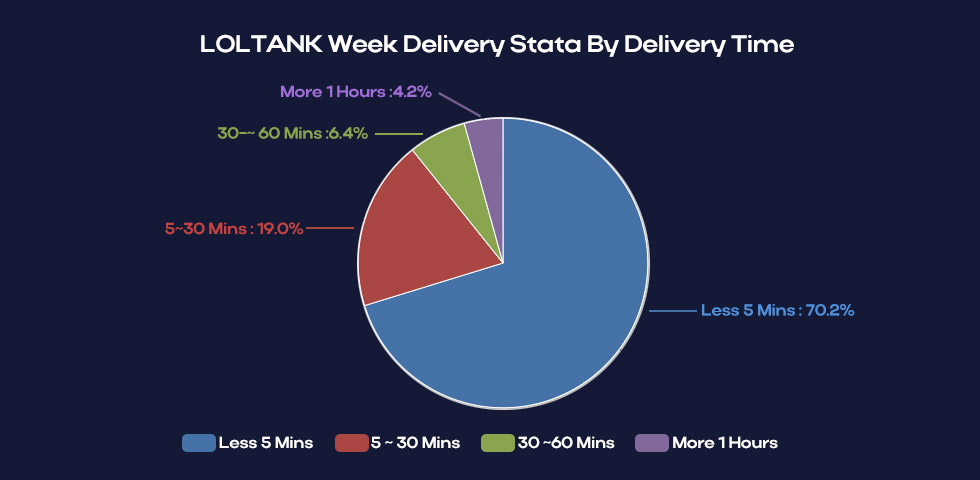 Most Popular Posts
Popular Category Lists