Is Warlock the Right Choice for Hardcore Classic WoW?
Playing a Warlock in Hardcore Classic WoW presents a distinct and captivating experience, thanks to its wide range of spells and abilities. This comprehensive guide explores the Warlock class in detail, evaluating its pros and cons while assessing its performance in solo gameplay, group dynamics, and survivability. Whether you are contemplating playing a Warlock or seeking to deepen your understanding of this class, this guide promises valuable insights and guidance.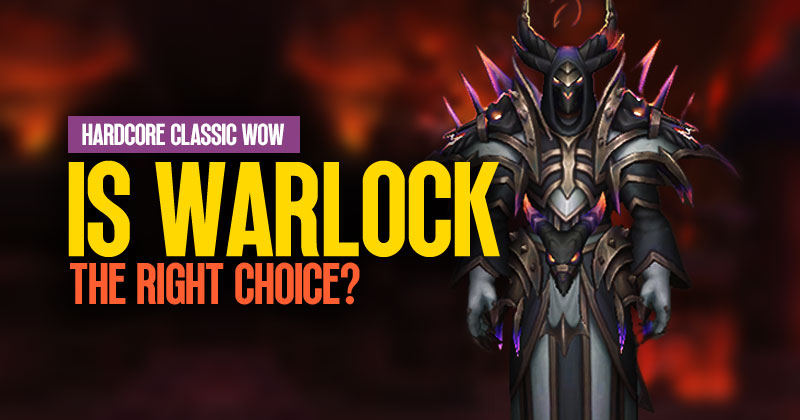 ↖ Unleashing the Power of a Warlock
The primary advantage of choosing a Warlock in Hardcore Classic WoW lies in the ability to summon and fight alongside a demon. This advantage is particularly noteworthy when the Voidwalker demon acts as a personal tank, drastically reducing the risk of death during open-world levelling. By employing careful pulling strategies and capitalizing on your Voidwalker's aggro, you can comfortably tackle regular mobs on your own. Furthermore, the Warlock's damage-over-time (DoT) effects and wand attacks serve as supplementary damage while your Voidwalker maintains aggro. The survivability of your Voidwalker can be further enhanced by utilizing Health Funnel, solidifying your resilience.
↖ Challenges and Limitations
Although Warlocks possess a demon companion, they are not invincible. Certain situations compromise a Warlock's safety, such as confronting multiple mobs simultaneously or encountering enemies immune to taunt effects, like certain Mechanical foes in the open world. Overcoming these challenges demands meticulous planning and strategic thinking.
↖ Valuable Spells and Abilities
Warlocks boast an impressive array of spells and abilities that bolster their efficacy in Hardcore Classic WoW. Some notable ones include:
Fear: This ability allows you to instil fear in enemies, offering a distinct combat advantage. By employing fear on one enemy and utilizing DoT effects, you can efficiently dispatch multiple foes simultaneously, enhancing the efficiency of levelling. Fear can also serve as a defensive measure to escape hazardous situations.
Demon Summoning: Warlocks possess the ability to summon various types of demons, each fulfilling a specific role. The Voidwalker proves invaluable for secure levelling and tanking, while the Imp and Succubus provide enhanced damage and crowd control options, respectively.
Howl of Terror: An area-of-effect fear ability that empowers you to fear multiple enemies concurrently.
Death Coil: Accessible in the mid-40s, this instant-cast fear effect doubles as a healing ability. It can be employed defensively to survive critical scenarios.
Siphon Life: An Affliction talent that bestows a heal-over-time effect and additional damage, enabling more Life Taps and larger pulls.
Soul Link: Obtainable through the Demonology talent tree, this ability transfers damage endured by the player to the demon, augmenting the damage output of both you and your companion.
Fel Domination: A valuable talent for Hardcore survival, facilitating instant demon summoning without the typical cast time.
Curse of Exhaustion: While not the most potent slowing effect, it remains the sole slow available to Warlocks. Investing in talent points can bolster its effectiveness.
↖ Recommended Talent Builds
Several talents builds cater to diverse playstyles. Two popular choices include:
Demonology Build: This build prioritizes optimizing the Voidwalker demon, accentuating tackiness and secure leveling.
Drain Life Tanking Build: This build centers around utilizing Drain Life while face tanking mobs, enhancing survivability without heavy reliance on demons.
↖ Rating the Warlock in Hardcore Classic WoW
Solo Gameplay: Rated 4 out of 5 stars. Warlocks excel in solo gameplay due to their adaptability, fear abilities, self-healing, and demon tanks. However, they lack certain crowd control options and movement speed enhancements.
Group Gameplay: Rated 4 out of 5 stars. Warlocks truly shine in group scenarios, primarily due to their summoning abilities. Their valuable contributions to raid setups and high demand for summoning make them invaluable assets.
Survivability: Rated 4 out of 5 stars. Warlocks possess a multitude of tools, including demon tanks, Healthstones, fear abilities, and Voidwalker Sacrifice. However, they lack certain defensive abilities found in other classes.
Conclusion:
This comprehensive guide furnishes an overview of the Warlock class in Hardcore Classic WoW, accentuating its strengths, weaknesses, and vital spells and abilities. Evaluate the ratings and recommendations provided to ascertain whether the Warlock aligns with your preferred playstyle. Keep in mind that playing a Warlock guarantees a rewarding experience with its unique gameplay mechanics and versatility in both solo and group settings.
Most Popular Posts
Popular Category Lists