What are the differences between WoW Classic Hardcore and New Blizzard Hardcore?
With the upcoming release of the official Classic World of Warcraft Hardcore realms on August 24th, players are eager to understand the difference between the original Classic WoW Hardcore and the new Blizzard-made Hardcore realms. In this guide, we'll delve into everything you need to know about the disparities between the two game modes, covering what's new and what's missing.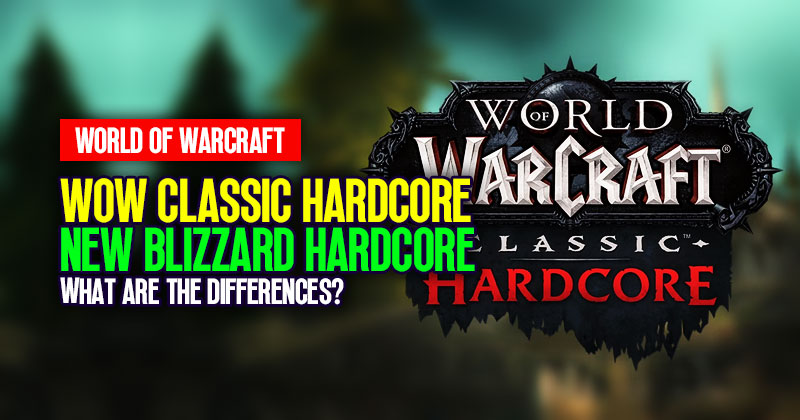 ↖ Classic WoW Hardcore
Classic WoW Hardcore was a Community Driven project and primarily operated through a downloadable add-on that tracked players' character progress and deaths. In this mode, if a player dies, they are permanently removed from the realm, emphasizing the need for extreme caution and careful gameplay. The key features of Classic WoW Hardcore were:
Permadeath: If a player dies, they are permanently removed from the realm. This makes survival extremely challenging and requires players to be cautious at all times.
Community-Driven Project: The original Hardcore was primarily organized through a downloadable add-on that tracked character progress and deaths.
Dedicated Website & Leaderboards: There was a dedicated website with leaderboards showcasing the various characters and their runs in the Hardcore mode.
Achievements and Challenges: Hardcore offered multiple achievements and challenges, such as reaching max level without taking damage or using only self-crafted gear.
Limited Trading & Auction House: In the original Hardcore mode, trading and using the Auction House were not allowed.
Guild Member & Friend Alerts: Players received notifications when a guild member or friend died in the Hardcore mode.
↖ Blizzard Hardcore
Blizzard new version of Classic WoW Hardcore introduces some changes compared to the original version. Here's what you can expect in the official Hardcore realms:
Ghost Mode: When a character dies, they become a ghost but can still play on the same character, though resurrection is not possible. Blizzard also offers a free character transfer to a different non-hardcore server upon death.
Trading and Auction House: Unlike the original Hardcore mode, trading and using the Auction House are allowed in Blizzard's version.
No Special Achievements or Challenges: Blizzard's Hardcore does not offer additional hardcore-specific achievements or challenges beyond the base hardcore mode.
No Dedicated Hardcore Page: Blizzard's Hardcore lacks a dedicated webpage on the World of Warcraft website to track character accomplishments; it's all within the server.
No Special Rewards: Unlike the Community Driven project, Blizzard doesn't offer any unique rewards or incentives for completing the game in Hardcore mode.
Updated Quests: Blizzard has removed quests that intentionally lead to player deaths and quests that flag players for PVP. Escort NPCs are also protected from being killed by the enemy faction.
Limitations on Dungeons: Dungeons have a 24-hour lockout period on Blizzard's Hardcore servers. Level 60 players cannot enter dungeons with low-level players. The 16 and 32 debuff limits have been removed from Classic WoW on Blizzard's Hardcore realms.
Class Mechanics Changes: Specific class mechanics, such as Bubble Hearth for Paladins, Reincarnation for Shamans, and Soulstone for Warlocks, have been altered or restricted.
Mok'gara Duels: A new Mok'gara duelling mechanic allows players to challenge each other to death matches. Player ears can be collected to signify the number of players killed in duels.
Full Content Availability: All the content from Classic WoW will be available at the launch of Blizzard's Hardcore realms, allowing players to experience the full game from level one to Kel'thuzad.
Conclusion:
While Blizzard's Hardcore mode introduces some changes and adjustments compared to the original Classic WoW Hardcore, it still aims to provide a challenging and engaging experience. Whether players prefer the more player-driven approach of the Community project or the official support and updates from Blizzard, both versions offer a unique and exciting way to play World of Warcraft. As the official Hardcore realms launch, players will undoubtedly find new ways to explore this challenging game mode and discover the thrill of the death-defying journey through Azeroth. So, mark your calendars for August 24th and embark on your Hardcore adventure!
Most Popular Posts
Popular Category Lists