Path of Exile 2 Unique Items Design Interview
Path of Exile 2, developed by Grinding Gear Games, is renowned for its intricate itemization system. At the heart of this are unique items that provide players with diverse and impactful gameplay mechanics.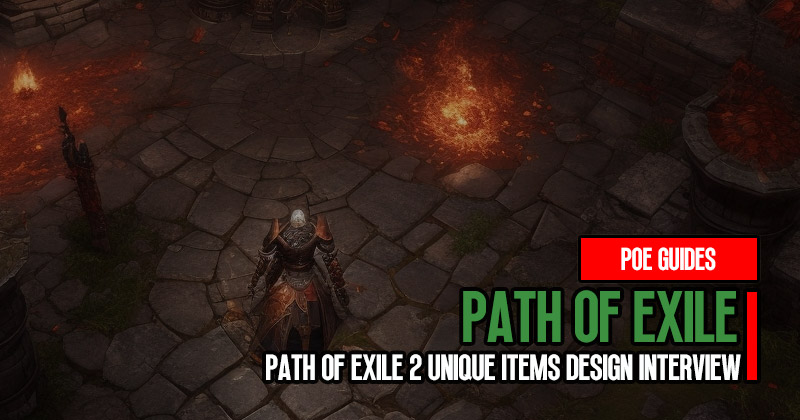 ↖ Design Philosophy of Unique Items
The core philosophy remains to make unique items that enable specific builds, not necessarily best-in-slot items. The aim is to create items that might not be the best for everyone, but they must be the best for someone. Rishy explains that the design can start from various points: sometimes from a specific build, other times from a theme, and occasionally, even the name sparks the design.
↖ Balancing Uniques
When it comes to balancing uniques, the team looks at the power level, its intended build, and its complexity. Not all uniques are intended to be powerful; some are there as pieces of a puzzle, waiting for players to discover how best to utilize them.
↖ Art and Uniques
The art process is intertwined with the design. Sometimes the mechanics inspire the art, and at other times, a piece of art can spark the idea for a unique item's mechanics.
↖ Drop Rates and Rarity
Determining the right drop rate is more art than science. It's a balance between making the item too common, thereby diminishing its value, and making it too rare, rendering it virtually non-existent. They often reference the rarity of existing items as a baseline and then iterate as necessary.
↖ Set Items vs Unique Synergies
Grinding Gear Games has chosen not to introduce traditional set items. Instead, they favor unique synergies, allowing players to find combinations themselves, thereby preserving a sense of discovery and experimentation.
↖ Lessons Learned
Admits to lessons learned over the years. One significant takeaway is to ensure each unique item maintains a distinct identity, preventing overlaps that can dilute the significance of both items.
↖ Looking Forward: Path of Exile 2
Path of Exile 2 promises a plethora of unique items, with an ambition to have a unique for every base type. While many favorites from Path of Exile will make a return, players can expect a wave of new and exciting items to discover.
↖ Conclusion
Unique items have always been an integral part of the Path of Exile experience. They embody the game's ethos of deep customization and provide players with the tools to craft unique playstyles. With Path of Exile 2 on the horizon, players can anticipate a renewed focus on these items, promising more depth, discovery, and game-changing moments.
Most Popular Posts
Popular Category Lists