Dark and Darker Cleric: Why is it the best introductory class for new players?
Are you just starting your adventure in the world of Dark and Darker and wondering which class to pick? In this guide, we'll help you navigate the choices and recommend the best starting class for new players. Please note that we won't be considering the Bard or Warlock classes since they require purchasing with special Stones. Instead, we'll focus on the six starter classes available to everyone. And the answer is the Cleric.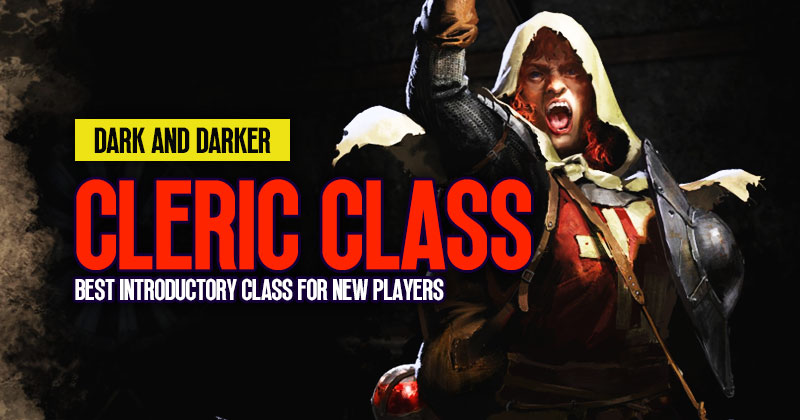 ↖ Why Choose Cleric?
Cleric stands out as the ideal class for newcomers due to its abundance of healing abilities. Whether you're venturing into solo adventures or teaming up in trios, Cleric's healing prowess will prove invaluable. Let's delve into the specifics of why Cleric is the top choice:
Abundant Healing: Cleric boasts not just one but two healing spells for self-recovery—Lesser Heal and Sanctuary. These spells will quickly restore your health, allowing you to jump back into battles or recover from errors.
Solo Survival: When you're exploring the Goblin Caves on your own, you'll encounter various situations where healing is essential. Whether you've taken damage from goblins or engaged in player fights, Cleric's healing spells will ensure you stay in the game.
Team Support: In trio scenarios, Cleric's healing abilities shine even brighter. You'll not only keep yourself alive but also provide essential healing support to your teammates, making the group more formidable.
No Need for Consumables: Unlike other classes, Cleric doesn't require gold to buy potions or bandages. The healing spells come with your starting equipment, giving you free healing options from the beginning.
Starter Gear: Cleric starts with a buckler, which provides some defensive capability. While less robust than a fighter's shield, it offers practice in blocking attacks and improving your combat skills.
↖ Considerations
While Cleric excels in healing and survivability, it's important to note a few downsides:
Resourcefulness: Cleric has lower resourcefulness, affecting your interaction speed with various objects. Keep this in mind for tasks like opening chests and using bandages.
Damage Output: Cleric's base damage is lower than some other classes. However, this can be compensated with proper buffs and gear.
↖ Recommended Build
For newcomers, the following perks and skills are recommended:
Perks:
Perseverance: Reduces all incoming damage by three, including poison, making you more resilient in battles.
Protection from Evil: Reduces the duration of debuffs, which can be extremely helpful in combat situations.
Undead Slaying: Increases damage against undead monsters, providing an advantage in encounters with skeletons and similar foes.
Spell Memory: Increases your spell capacity, allowing you to equip more spells.
Active Skills:
Spell Memory: Equipping skills is vital, and this skill will help you use more spells effectively.
Judgment: Unleash a magic attack that slows enemies and causes damage. It's unblockable and can disorient opponents.
Lesser Heal: Quickly heal yourself during combat to stay in the fight.
Sanctuary: Use this spell outside of combat to heal more significantly.
Remember, this build focuses on maximizing your healing potential and survivability. As you gain more experience and resources, you can explore different combinations of perks and skills to suit your playstyle and preferences.
Conclusion:
Cleric's abundant healing capabilities and forgiving nature make it the best class for new players in Dark and Darker. With the ability to quickly recover from damage and mistakes, you'll have the opportunity to learn, grow, and become a skilled adventurer in the treacherous world of Dark and Darker.
Most Popular Posts
Popular Category Lists