FromSoftware Updates: Elden Ring DLC Release Window, Bloodborne Remaster, and Shadow of the Erdtree Info
Are you a fan of FromSoftware games? If so, you're in for a treat! In this guide, we'll delve into the latest news and information surrounding some exciting developments from FromSoftware, including a potential Bloodborne remaster, details about the Elden Ring DLC, and intriguing connections between their various titles.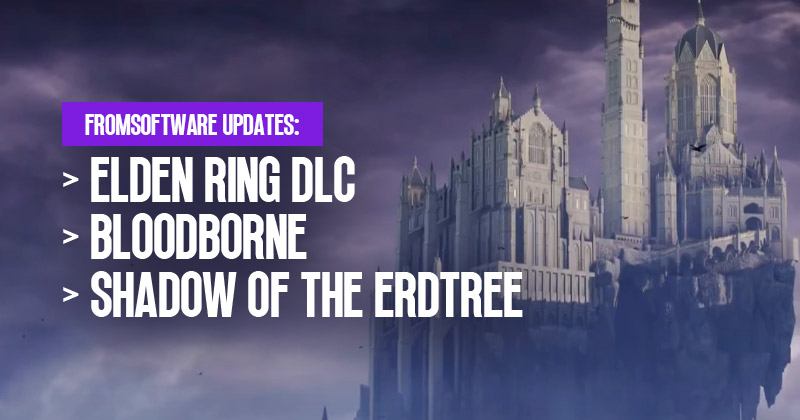 ↖ Bloodborne Remaster: Rumors and Speculations
Rumours have been circulating for years about a potential Bloodborne remaster or PC port, but they've often been debunked shortly after surfacing. However, recently, there have been new developments that reignite hopes for a Bloodborne revival. David Jaffe, the creator of the original God of War series and Twisted Metal, mentioned these rumours during a discussion about upcoming PlayStation games.
David has heard whispers from reliable sources like Jeff Grubb from GameBeat and Andy Robinson from Video Games Chronicles, both of whom have a track record of accurate leaks. While it's uncertain whether it will be a remaster or a PC port, it's exciting to know that Bloodborne is indeed in development. David speculates that the State of Play event later this month might bring an official reveal for the project.
Adding fuel to the fire, Sony's acquisition of Bluepoint Games, known for their exceptional work on the Demon's Souls remake, further suggests their involvement in a potential Bloodborne project. However, as with any rumour, it's best to approach this news with a hint of scepticism until official confirmation is provided.
↖ Elden Ring DLC: Release Date Window and Expectations
Let's turn our attention to the highly anticipated Elden Ring DLC. The original game was a massive success, captivating millions of players worldwide. Given its popularity, fans have been eagerly awaiting news about the DLC and its potential release date. Initially, some speculated it might arrive by the end of the year, as FromSoftware typically aims to capitalize on the spotlight surrounding their games.
However, recent information suggests that the Elden Ring DLC might take longer to develop and release. FromSoftware's parent company, Katakawa, released its financial reports, revealing that the Shadow of the Erdtree DLC, presumably referring to the Elden Ring DLC, needs to be listed for the current fiscal year ending on March 31st, 2024. Instead, the report mentions Armored Core 6 and new games from Spike Chunsoft.
The DLC is categorized under "medium to long-term direction," which implies that FromSoftware isn't ready to share a specific release date yet. Katakawa aims to maximize profits by extending the lifespan of the IP, but it's crucial that they strike a balance. Fans eagerly await the DLC, but prolonging its release solely for profit maximization could result in disappointment. As fans, we hope the developers take the time needed to deliver a polished and exceptional experience, even if it means waiting a bit longer.
↖ Expectations for the Elden Ring DLC and Connections to Other Titles
With the immense success of Elden Ring, surpassing 20.5 million sales and counting, there are high expectations for the DLC. Fans anticipate an expansion that lives up to the quality and excitement of the base game. FromSoftware has a history of linking its games thematically and featuring recurring elements. For example, the Moonlight Greatsword is a staple across many of their titles, even dating back to their earlier game, King's Field.
This leads to speculation that the Elden Ring DLC might contain ties and connections to other FromSoftware titles. By establishing these links, FromSoftware aims to pique the interest of new players who have recently discovered their games through Elden Ring.
Conclusion:
While rumours of a Bloodborne remaster continue to swirl, it's important to approach them with caution until official confirmation. As for the Elden Ring DLC, fans may need to wait until at least April 2024 to experience the Shadow of the Erdtree. However, the success of Elden Ring and the potential tie-ins with other FromSoftware titles promise an exciting future for fans of the studio. Keep an eye out for more updates as we eagerly anticipate the next developments from FromSoftware.
Most Popular Posts
Popular Category Lists