WoW Season of Discovery New Gulch-Specific Items, Epic Gear and Profession Recipes
In a recent data mine by Wowhead, some intriguing leaks have surfaced, hinting at the introduction of Resilience in Warsong Gulch, new crafted gear, and profession recipes. In this guide, we'll delve into the specifics of the new Warsong Gulch-specific items, profession recipes, and epic gear that could redefine your PvP and crafting experiences in Classic WoW.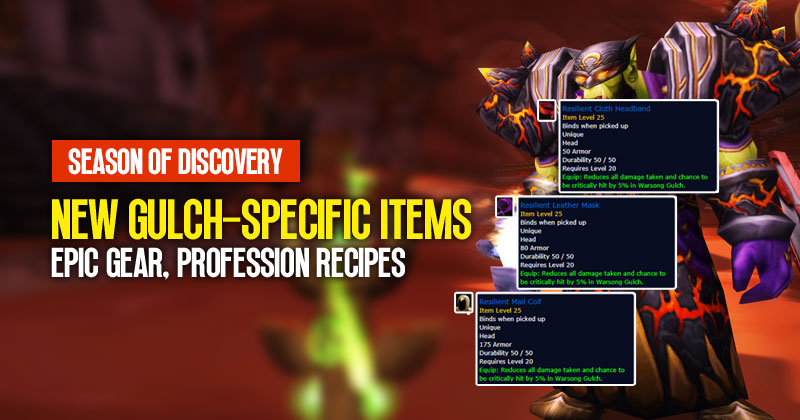 ↖ Warsong Gulch Specific Gear
Blizzard seems to be shaking up the PvP scene with the addition of resilience in Warsong Gulch, but with a twist - it's limited to level 25 characters. The Resilient Cloth Headband, Leather Helmet, and Mail Helmet are among the new items, each offering 50 armor and reducing all damage taken and the chance to be critically hit by 5% exclusively in Warsong Gulch. While this might seem like a modest addition, it could potentially reshape level 25 PvP dynamics.
↖ Class-Specific Items
Class
Specific Items
Druid Idols

Ferocious Idol
Idol of Ursine Rage
Lunar Idol
Unbalanced Idol Dream
Unbalanced Idol Moon
Unbalanced Idol Wild

Paladin Librams

Libram of Banishment
Libram of Blessings
Libram of Judgment
Libram of Justice

Shaman Totems

Clastic Icon
Dyadic Icon
Galvanic Icon
Kajaric Icon
Lithic Icon
Sulfurous Icon
Tempest Icon
Bulwark Icon
↖ New Profession Recipes
| Profession | Recipes | Effect |
| --- | --- | --- |
| Alchemy | Elixir of Cholest Regret | Allows the imbiber to speak with the corpse of an individual with unfinished business in the mortal world and may cure indigestion. |
| Blacksmithing | Black Fathom Sharpening Stone | Likely to become the go-to sharpening stone at level 25, providing a significant 2% hit for 30 minutes. |
| | Shining Silver Breastplate | A level 25 epic with 275 armor, exclusive to blacksmiths, and a chance to inflict a curse on attackers, causing them to take additional damage. |
| Enchanting | Black Fathom Mana Oil | When applied to the target weapon, restores 12 MP5 and increases spell hit by 2% for 5 minutes. |
| Engineering | Shredder Auto Salvage Unit | Salvages the wreckage of a shredder for spare parts, potentially providing engineering materials. |
| Leatherworking | Void Touched Leather Gauntlets | Level 25 epics that increase spell hit by 1% and provide a unique effect upon descending into madness. |
| | Void Touched Leather Gloves | Similar to gauntlets but tailored for physical damage, providing a 1% chance to hit and 10% attack speed. |
| Tailoring | Extra Plane R Spider Silk Boots | Momentarily enter another plane of existence, reducing threat and damage taken for 6 seconds. Equipping them also increases damage and healing done by magical spells and effects by up to seven, with a 1% chance to hit with spells. |
Conclusion:
The Season of Discovery is shaping up to be an exciting time for Classic WoW enthusiasts. With the potential introduction of resilience in Warsong Gulch and a plethora of new crafted gear and profession recipes, the landscape of PvP and crafting is set to undergo significant changes. Stay tuned for more updates, and may your adventures in Azeroth be legendary!
Most Popular Posts
Popular Category Lists