How to Consistently Make Gold in WotLK Classic,2023?
In World of Warcraft: Wrath of the Lich King (WotLK) Classic, there are numerous gold sinks that players need to account for, such as dual specialization, cold weather flying, glyphs, and profession leveling. Additionally, the demand for enchants, crafted items, and consumables for raiding purposes contributes to the need for a steady gold income. This guide aims to provide a method for making wotlk classic gold that is not necessarily fast but consistent.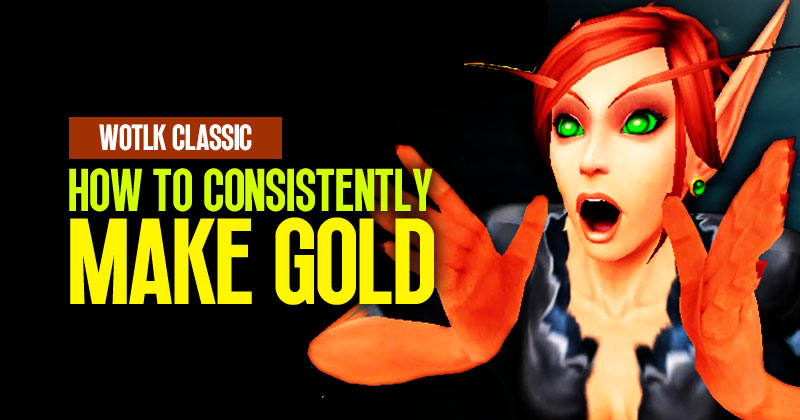 ↖ Questing for Bonus Gold
Questing in WotLK Classic is not only rewarding in terms of experience but also offers significant gold rewards. Wrath of the Lich King is known for being generous with the amount of green items given during quests, which can be sold for gold. These small rewards can accumulate to a substantial amount if players complete a large number of quests.
↖ The Method
| | |
| --- | --- |
| Leveling Efficiency | The key to this method is to reach level cap as fast as possible by doing the minimum number of quests required. Utilize heirloom gear to boost experience gains, the Joyous Journey buff, and rested experience to optimize leveling efficiency. |
| Bonus Gold Calculation | Each point of experience earned while being level capped translates to bonus gold at a rate of 0.0006 gold. Calculate the bonus gold from any quest by multiplying the XP earned by 0.0006. Dungeon quests also offer significant bonus gold. |
| Recommended Professions | Mining is a decent option for gathering profession due to the demand for titanium in later levels. Disenchanting can also be profitable, but consider the cost of leveling enchanting if it still needs to be high. Enchanting can be lucrative at level cap. |
| Tome of Cold Weather Flying | Purchase the Tome of Cold Weather Flying for 1K gold to improve leveling efficiency significantly. While it's an investment, it speeds up the process and opens up more farming opportunities. |
↖ Questing Tips and Zone Selection
Use questing add-ons or websites to track objectives efficiently.
Focus on quests with better gold rewards in zones like Borean Tundra and Icecrown.
Group up for elite quests in Icecrown to make it more manageable.
↖ Leveling and Earning Gold
While questing, keep an eye on valuable items and sell unnecessary ones to vendors.
Send all bind-on-equip items, mining materials, and cloth to an alt with enchanting for disenchanting.
↖ Final Thoughts
Questing in WotLK Classic can be a profitable endeavor if players focus on earning bonus gold from being level capped and selling valuable quest rewards. This method not only provides a steady gold income but also prepares characters for raiding with a good number of emblems of heroism.
Conclusion:
By following this questing and bonus gold method in WotLK Classic, you can consistently make gold while leveling your character to 80. The combination of quest rewards, green items, and bonus gold provides a steady income, preparing your alt for raiding and other endgame content. Remember, this method might not be for everyone, but if you enjoy questing and are patient, you can amass a considerable amount of gold and fully gear up your character for the challenges that await at level cap. Good luck on your gold-making journey in WotLK Classic.
Most Popular Posts
Popular Category Lists