Guild Wars 2 Secrets of the Obscure Wizard's Vault Guide: Everything You Need To Know
Welcome to the guide on The Wizard's Vault, an exciting new feature in Guild Wars 2 introduced with the Secrets of the Obscure expansion. The Wizard's Vault provides a revamped reward structure for daily, weekly, and monthly activities, offering players a plethora of valuable items and resources. This guide will walk you through how The Wizard's Vault works and highlight some of the best (and worst) items you can obtain from it.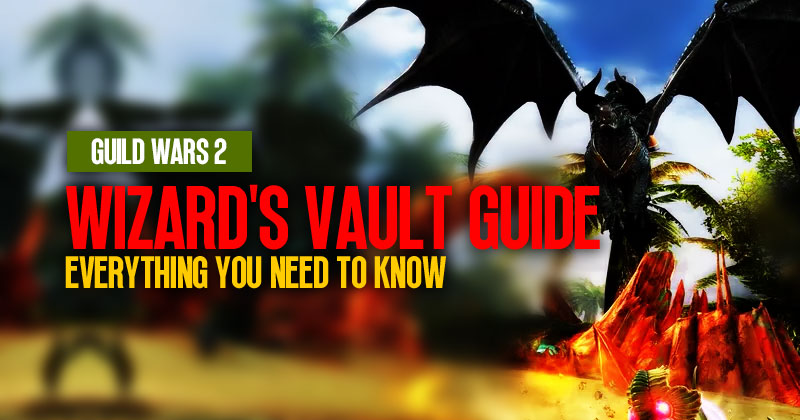 ↖ How Does The Wizard's Vault Work?
The Wizard's Vault is a system that enhances the daily, weekly, and monthly reward structures in Guild Wars 2. It is designed to help both new and experienced players progress through the game, especially in terms of end-game content.
| | |
| --- | --- |
| Daily Tasks | Each day, you'll have a set of tasks to complete. These tasks can include playing a PvP match, participating in a World vs. World event, and more. Upon completing four daily tasks, you receive an Essence of Luck, one gold, and 30 Astral Acclaim points. |
| Weekly Tasks | The weekly tasks are slightly more involved and can include objectives such as completing events, defeating enemies, and capturing objectives in World vs. World and completing six out of eight weekly objectives rewards you with 10 Laurels, a Celebration Boost, a Tome of Knowledge, and 450 Astral Acclaim points. |
| Special Objectives | Each season, the Wizard's Vault introduces brand-new items and objectives. These objectives are updated every three months, providing you with a surge of Astral Acclaim points. Completing these special objectives significantly boosts your currency limit, allowing you to hold up to 1,300 Astral Acclaim points. |
↖ Customizing Objectives
The Wizard's Vault offers customization options for your objectives. Clicking on the cog icon allows you to select the type of content you prefer, such as PvE, PvP, or World vs. World. This customization will reset your objectives accordingly, enabling you to focus on the gameplay you enjoy the most.
↖ Rewards from The Wizard's Vault
The Wizard's Vault rewards you with Astral Acclaim points for completing daily, weekly, and special objectives. These points can be used to obtain a variety of valuable items:
Essence of Luck: Obtained from daily tasks, these contribute to your account's luck level.
Gold: Earned daily and weekly, GW 2gold is a valuable Guild Wars 2 currency.
Laurels: Weekly rewards include Laurels, which are used for purchasing various items.
Tomes of Knowledge: Weekly rewards also include these items that grant you a level-up.
Astral Acclaim Points: Earned by completing objectives, used to buy items in The Wizard's Vault.
↖ Notable Rewards
Ascended Weapons and Armor: The Wizard's Vault provides a chance to obtain ascended weapons and armour, a significant boost to your character's power.
Mystic Coins: These crafting materials are essential for various high-level crafting recipes.
Build Storage and Template Expansions: Expand your storage and build template options.
Legendary Weapon Starter Kit: Exchange Astral Acclaim points for a legendary weapon starter kit, which includes a precursor, a gift of might or magic, and a themed legendary gift.
↖ Tips and Considerations
Value Assessment: Some rewards offer great value, such as the legendary weapon starter kit and ascended gear. However, be cautious of items like revive orbs and certain materials that might provide less value.
Economy Management: Some items can be purchased in limited or unlimited quantities. Opt for the cheaper options first, as they offer better value.
Rotation of Items: The Wizard's Vault refreshes its items and objectives every three months, so be aware of the rotation schedule to plan your acquisitions.
Account Progression: The Wizard's Vault is an excellent way to progress your account daily or weekly, providing a cost-efficient means of obtaining valuable items.
Ongoing Availability: Items that rotate out of the main Vault are moved to the Legacy rewards, ensuring that players don't miss out on valuable items.
Conclusion:
The Wizard's Vault is an exciting addition to Guild Wars 2, offering a revamped reward system for daily, weekly, and special objectives. With a focus on account progression and valuable rewards, this feature caters to both new and experienced players. Whether you're seeking ascended gear, legendary weapons, or other valuable resources, The Wizard's Vault provides an engaging and rewarding gameplay experience. Stay tuned for more updates and expansions in Guild Wars 2 as you embark on your journey through the Secrets of the Obscure!
Most Popular Posts
Popular Category Lists