WotLK Classic Icecrow Citadel: How to prepare for this challenge?
With the highly anticipated release of Wrath Classic final major content patch on October 10th, the Wrath of the Lich King era is about to reach its pinnacle. However, the spotlight of this release is undoubtedly the Icecrown Citadel raid, set to launch on October 12th, promising formidable challenges and legendary encounters. In this guide, we want to provide you with insights into the raid's difficulty, mechanics, and tips for success, and aim to prepare you for the challenges that await within the citadel's icy walls.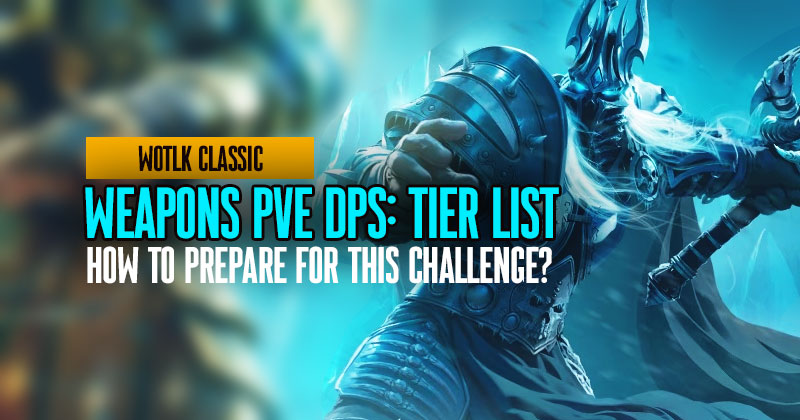 ↖ Heroic Mode Challenge
Before delving into specific boss encounters, it's important to note that Icecrown Citadel heroic mode presents a significant step up in difficulty compared to previous content. The defining feature of this raid is the emphasis on personal responsibility.
Every raider must perform their role flawlessly, or the entire raid can suffer catastrophic consequences. This level of accountability can reveal weaknesses in individual players, making it crucial for guilds to prepare adequately.
↖ Boss Encounters
Let's now explore the heroic mode encounters within Icecrown Citadel and discuss whether you should attempt them in the opening weeks or wait until your raid has accumulated better gear and experience.
Boss Encounter
Recommendation
Key Strategy
Lord Marrowgar
Attempt in 1st week

Use health stones during Bone Storm
Focus on Bone Spikes to prevent casualties
Watch for players not moving out of Bone Storm quickly

Lady Deathwhisper
Consider 1st week

Manage mind controls efficiently
Handle adds and Mana Barrier
Beware of ghost spawns in the final phase

Gunship Encounter
Standard for heroic mode
Kill freezing battle mages and engage the enemy
Deathbringer Saurfang
Worth trying 1st week

Minimize boss's energy gain
Prevent marked targets from dying
Plan positioning and cooldowns carefully

Frostwing Halls: Dreamwalker
Attempt in 1st week

Heal the boss to full while dealing with adds
Organize DPS and tanks for add management
Use Heroism at the right time

Plague Wing: Festergut
Attempt in 1st week

Manage debuffs and oozes properly
Prevent ooze explosions
Coordinate DPS and watch for tank damage increase

Plague Wing: Rotface
Attempt in 1st week

Focus on add management
Avoid getting overwhelmed
Watch for stacking debuff that can lead to instant death

Blood Princes Council
Attempt when well-geared
Pay attention to empowered prince and raid positioning
Blood-Queen Lana'thel
Attempt when well-geared

Manage damage transfer buff to prevent mind control
Consider progressing with attempts tied to it

Frost Queen Sindragosa
Attempt when well-geared

Strictly adhere to mechanics
Watch for stacking debuffs for casters and increasing raid damage as fight progresses

Professor Putricide
Attempt when well-geared

Precise positioning and personal responsibility
Effective communication for mechanics execution

The Lich King
Monumental challenge
The ultimate test for well-geared and experienced raiders
↖ Conclusion
Icecrown Citadel in Wrath Classic offers a thrilling yet challenging experience for raiders. With personal responsibility at the forefront, mastering the mechanics and coordination of each encounter is paramount. While some bosses are suitable for early attempts, others may require better gear and experience. Whether you're a veteran or experiencing Icecrown Citadel for the first time, be prepared for an epic journey filled with epic challenges, and may your raid achieve glory in the frozen heart of Northrend.
Most Popular Posts
Popular Category Lists