Guild Wars 2 Show of the Mad King Event (2023 Edition) Guide
The Shadow of the Mad King, Guild Wars 2's most anticipated seasonal event, is back, promising both veterans and newcomers a blend of spine-tingling challenges and delightful rewards. From the twisting alleyways of Lion's Arch to the treacherous heights of the Mad King's Clock Tower, adventure beckons! In this guide, we dive into event highlights, unlock special rewards, and uncover the secrets of this year's grand affair!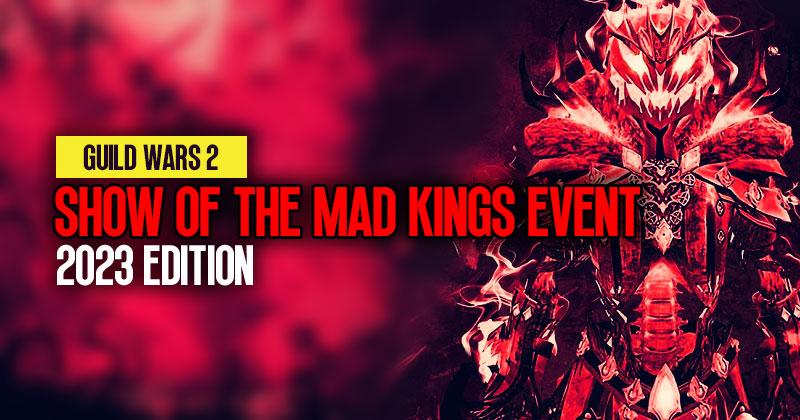 ↖ Getting Started
Location: The heart of the event is at Lion's Arch. From here, a helpful Lunatic Boatmaster stands ready to whisk you away to various event locations.
↖ Highlight Events
Mad King's Clock Tower:An adrenaline-packed jump puzzle on a tight timer. Can you reach the top before the lava engulfs everything?
Lunatic Inquisition: Think of it as "zombie tag". Inquisitors hunt villagers, turning them once caught. If any villagers survive till the end, they triumph.
Mad King's Raceway: A haven for mount racing enthusiasts. Races feature the Roller Beetle, Springer, and Jackal. Mount-less? No worries! Rentals are available at the race's commencement.
Reaper's Rumble: Fast-paced action reminiscent of League of Legends. Gather pumpkins to spawn skeletons, besiege enemy towers, and engage in thrilling PvP.
Ascent to Madness: Battle the Mad King himself! Perfect for group play. But beware, the Mad King's version of "Simon Says" can be deadly.
Mad King Says: A playful emote challenge. Only act when "the Mad King says" or face dire consequences!
Mad Memories Collection: Begin by speaking to Magister Tassi in Lion's Arch. Embark on a quest for a unique back piece.
Mad King's Labyrinth: This beloved maze involves diverse tasks like door unlocking and boss fights. Teaming up is a key strategy, allowing for efficient looting of the coveted trick-or-treat bags.
↖ Rewards and Economy
Achievements: Yearly event completion yields a meta prize. Secure all annual achievements to obtain a weapon from the new set and a custom armor piece.
Candy Corn Cobs: This rare currency is pivotal for event purchases. Obtain them from trick-or-treat bags or by exchanging 1,000 candy corns.
Trick-or-Treat Bags: Sell these bags for decent gold or open them for potential loot, including elusive infusions. The choice hinges on your preference: assured gold or the thrill of rare finds?
↖ New Additions for 2023
This year, you can look forward to some exciting new additions to the event:
Grim Machine Weapons: These weapons have a distinct engineering vibe and can be obtained as part of the new meta achievement.
Claw Shadow Boots: These boots come with an awesome glow and are a coveted item available at the end of the Mad King's Clock Tower.
Paper Bag Hats: A fan-favorite cosmetic item has made a return. You can purchase these hats with candy corn cobs, some pigment, and a bag of food materials.
Guild Hall Decorations: New dark-themed decorations for your guild hall are up for grabs.
Music Box: You can earn a special music box as part of the event, adding a touch of the festival's ambiance to your home instance.
Conclusion:
The Shadow of the Mad King event is an incredibly fun and rewarding festival in Guild Wars 2. Whether you're looking for challenging puzzles, thrilling races, or intense combat, this event has something for everyone. Don't miss out on the opportunity to collect exclusive rewards, rare infusions, and enjoy the festive atmosphere. So, join the festivities and get ready for a spooky and exciting experience in Tyria!
Most Popular Posts
Popular Category Lists