WoW Season of Discovery Priest Rune Engravings: New Spells and Abilities
As we gear up for the highly anticipated Classic WoW Season of Discovery, it's essential to delve into the revamped priest class and all the exciting spells and abilities it brings to the table.This guide we'll break down the chest, leg, and hand engravings that define the priest's newfound strength, versatility, and damage potential.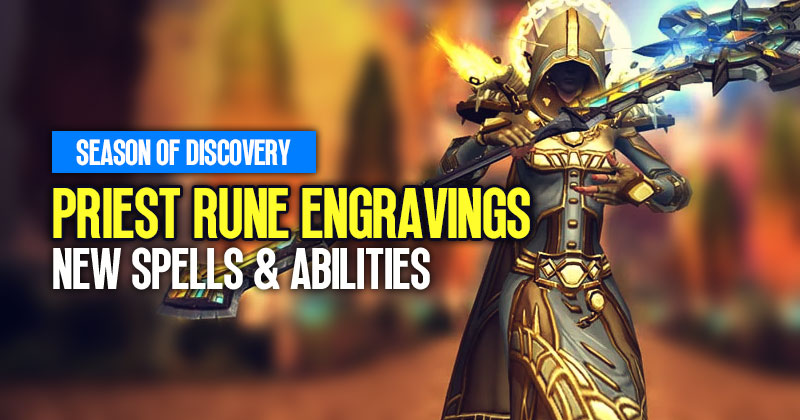 ↖ Chest Rune Engravings
| New Runes | Effect | Insight |
| --- | --- | --- |
| Strength of Soul | Lesser Heal, Heal, Greater Heal, and Flash Heal reduce the remaining duration of Weakened Soul on healed targets by 4 seconds. Weakened Soul is the debuff applied when casting Power Word Shield. | Allows for quicker bubble application, enhancing healing efficiency. |
| Serendipity | Healing with Flash Heal reduces the cast time of the next Lesser Heal, Heal, Greater Heal, or Prayer of Healing by 20% for 20 seconds, stacking up to three times. | Provides a fluid and faster healing experience, rewarding Flash Heal usage. |
| Void Plague | Afflicts the target with a disease, causing 116 Shadow damage over 18 seconds. | Adds a damage-over-time component to the Priest's toolkit. |
| Twisted Faith | Mind Blast and Mind Flay deal 20% increased damage to targets afflicted with your Shadow Word Pain. | Synergizes with other abilities, amplifying damage output. |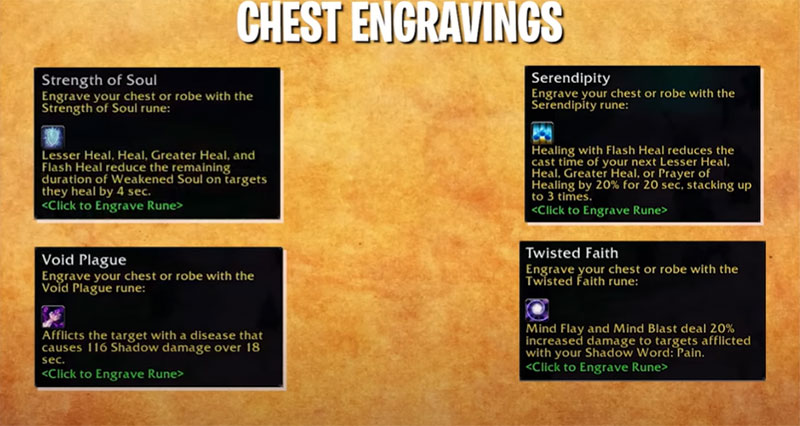 ↖ Leg Rune Engravings
| New Runes | Effect | Insight |
| --- | --- | --- |
| Shared Pain | Shared Pain - Shadow Word Pain now afflicts up to two additional nearby targets within 15 yards. | Amplifies AoE damage potential, particularly when combined with Twisted Soul. |
| Homunculi | Breaks off splinters of the soul to animate three miniature copies attacking with a mace, sword, and axe, reducing attack speed, attack power, and armor respectively. | Unique minions provide debuffs and enhance damage mitigation. |
| Power Word: Barrier | Summons a holy barrier protecting all party members at the target location, reducing damage taken by 25% and preventing spell casting delays for 10 seconds. | Offers a protective dome effect, valuable in both raids and PvP scenarios. |
| Prayer of Mending | Places a healing spell on the target, healing them for 150 the next time they take damage or receive healing, jumping to party or raid members within 20 yards, with up to five jumps in 30 seconds. | An AoE healing spell akin to a chain heal, enhancing group sustainability. |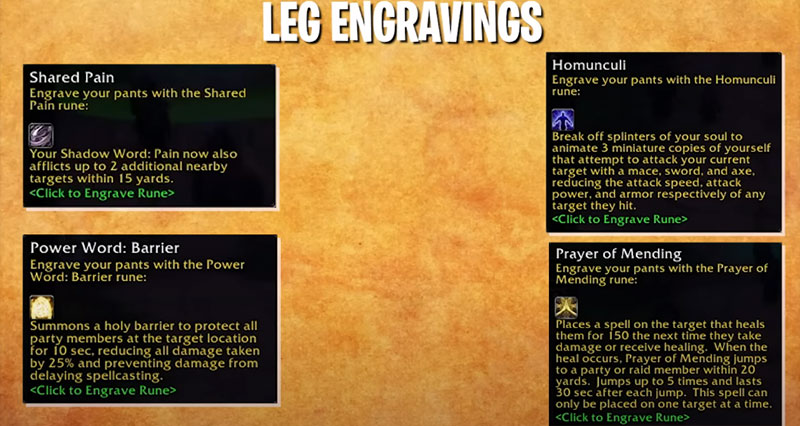 ↖ Hand Rune Engravings
| New Runes | Effect | Insight |
| --- | --- | --- |
| Shadow Word Death | Inflicts 130 to 152 Shadow damage, with the caster taking damage equal to the inflicted damage if the target survives. | Instant-cast, high-damage ability, with potential risks if the target survives. |
| Circle of Healing | Heals all target players and party members within 15 yards of the target player for 82 to 92. | Efficient AoE healing ability, promoting group survivability. |
| Penance | Launches a volley of Holy Light at the target, causing instant holy damage or healing every 1 second for two seconds. | A versatile ability offering both damage and healing in quick succession. |
| Mire | Causes an explosion of Shadow Magic around the target enemy, dealing 35 to 39 Shadow damage every 1 second for 5 seconds to all enemies within 10 yards. | A significant AoE spell, making Shadow Priests more viable in DPS roles. |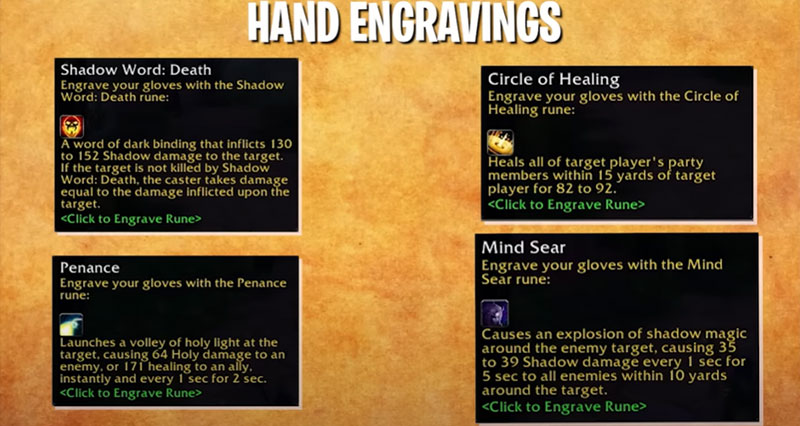 Related: WoW Season of Discovery Mage New Spells and Abilities
Conclusion:
The Season of Discovery brings a plethora of exciting spells and abilities for Priests. With enhanced healing, damage potential, and unique features like minions and protective barriers, Priests are set to play a crucial role in both PvE and PvP scenarios. Keep an eye on further updates as the level cap increases, and more runes become available. Get ready to embrace the power of the Priest class in Classic WoW!
Most Popular Posts
Popular Category Lists