Guild Wars 2 DPS Tier List: Best Class Pick For Group PvE in Secrets of The Obscure
When it comes to team-based gaming, Guild Wars 2 is notable for relying on DPS (i.e. Damage Per Second) a lot. Groups must appreciate the nitty-gritty aspects of DPS mechanics if they are to fully exploit their potential. This manual examines the present-day DPS tier list and gives useful information on the best builds and how they work well in different situations.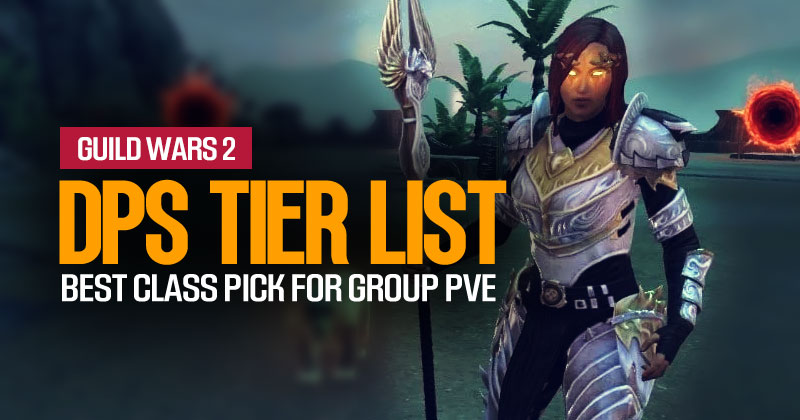 When it comes to the tier list, it is essential to note that DPS in GW2 is very situational influenced by several things like encounter type, player skill as well as group composition. As compared to support roles, which have a clear-cut role, DPS roles can change depending on what one is going through. Consequently, even though some builds may be categorized as top tier, their effectiveness can wildly differ according to context.
↖ Tier List
Tier
Elite Specialization
S+

Scourge
Reaper
Vindicator
Catalyst
Weaver
Soulbeast
Virtuoso

S

Berserker
Spelbreaker
Holosmith
Druid
Harbinger
Renegade
Specters

A

Berserker
Spelbreaker
Holosmith
Druid
Harbinger
Renegade
Specters

B
S+ & S Tier: These builds are currently the top performers in terms of damage output and utility. They are highly effective in most PvE scenarios.
A Tier: Solid choices with good damage and utility but not quite at the peak performance of S-tier builds.
B Tier: Builds in this tier are viable but may have specific niches or shortcomings that prevent them from being top choices.
↖ Top DPS Builds
Scourge (S+ Tier): The damage is very high and this has many functions. Scourge offers ranged attacks, resurrection abilities and still manages to maintain significant DPS even though it was nerfed recently.
Vindicator (S+ Tier): It's a rising star which brings great power damage, burst capabilities, and tankiness. It has become popular because of its overall effectiveness and versatility.
Catalyst and Weaver (S Tier): Both builds leverage Elementalists' strengths to provide high damage as well as more durability. They can be used in PVE contexts that vary largely.
Reaper (S Tier): This is a melee powerhouse with immense AoE and CC capabilities especially after recent changes.
Soulbeast (S Tier): Soulbeast remains strong due to its burst damage profile which is favored in GW2's combat system.
Virtuoso (S Tier): Virtuoso is a build that offers good utility while dealing strong ranged damage making it a versatile and effective choice in condi-DPS situations.
Berserker (A Tier): A typical DPS build that deals substantial damage and has some natural tankiness but lacks some utility options.
Druid (A Tier): It can work well as condi-dps even though, Druid is the preferred option particularly for groups where their support skills are useful.
Spellbreaker (A Tier): Known for its fun gameplay, good damage, and mobility, making it a well-rounded and enjoyable DPS build.
↖ Special Mentions
Renegade: This build is a mix of damage and utility, which makes it one of the good condi DPS choices.
Spectre: Spectre excels in specific scenarios and has great burst potential for a condi build.
Firebrand, Dragonhunter, Willbender: all have good damage and excellent utility that are characteristic of the Guardian class.
↖ Builds with Niche Roles
Bladesworn: It's extremely specialized with massive burst damage but few areas to apply it to.
Daredevil: It's good in certain encounters but overall has its limitations.
Tempest: The recent buffs have made it more solid in terms of damage output.
Mechanist: It is reliable but not exceptional in power or condi categories.
↖ Lower Tier Builds
Herald: It got nerfed so much that now it is practically useless compared to other options.
Scrapper: It's tanky but can't keep up with damage output like the elite tier ones.
Deadeye: Relies high on situationality and difficulty to optimize in reality while having potential for high damage outcomes.
Mirage: Its key mechanics changed; hence, it's pretty trashy at the moment.
However, DPS should not be overvalued because PvE group success in GW2 primarily depends on support roles and overall coordination. A smartly played DPS build that makes sense for the fight and compliments your party will always do better than picking simply based on highest tier without thinking about these things.
This tier list is a guide, not a strict rule book. Situational effectiveness of a DPS build in GW2 depends on various factors such as player skill, group composition and specific encounter mechanics. Utility, playstyle and encounter requirements should all be taken into account while choosing a DPS build since the meta keeps changing.
Most Popular Posts
Popular Category Lists