Season of Discovery Hunter Pre-Raid Best Runes, Talents and Gear List | WoW Classic
Hey there, fellow WoW enthusiasts! Today, we're diving deep into the world of Hunters in Classic WoW's Season of Discovery, Phase 1. We've got a juicy guide lined up for you, covering the Beast Mastery, Marksman, and Melee Hunter specs. We're talking runes, talents, and some killer pre-raid gear to get you raid-ready for Blackfathom Deeps.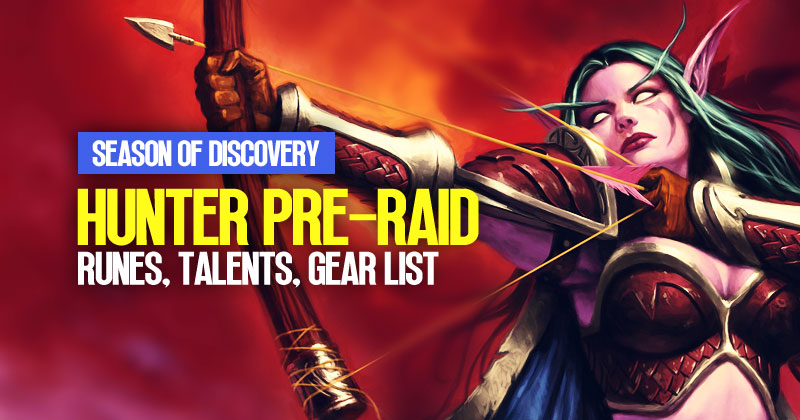 ↖ Beast Mastery Hunter
Starting with our Beast Mastery build, let's head straight to the runes. For the chest Rune, Cobra Strikes is a no-brainer – your crits make your pet's next two special attacks also crit. Then, for the leg Rune, Kill Command is your best friend, boosting your pet's special attack damage by a whopping 60%. And for the hand Rune? Beast Mastery, of course, for that sweet 30% increase in your pet's damage and health.
Talent-wise, invest five points in Improved Aspect of the Hawk for a DPS spike, three in Endurance Training for pet health, two in Revive Pet to reduce mana cost and cast time, and five in Unleash Fury to up your pet's damage. Finally, pop a point in Ferocity for that sweet pet crit chance.
Gear
Head: Brightly Goggles – a crafty choice from Engineering.
Neck: Sentinels Medallion – time to get cozy with Silver Wing Sentinels or Warsong Outriders.
Shoulders: Dark Leather Shoulders for that agility boost, but keep an eye out for Mantle of Thieves.
Cape: Cape of the Brotherhood (Alliance) or Glowing Lizard Scale Cloak (Horde) – both are agility treasures.
Chest: Tunic of Westfall for Alliance; Horde, grab an agility-based chest piece.
Bracers: Wolf Bracers – affordable yet effective.
Weapon: A two-hander with agility – your trusty stat stick.
Gloves: Pillager's Gloves – agility galore!
Belt: Deviate Scale Belt – a mix of stamina and agility.
Legs: Leggings of the Fang – a solid choice, but keep an eye out for Troll Bane Leggings.
Boots: Pathfinder Footpads of Agility – like a second skin.
Rings: Protector's Band and Seal of Sylvanas (Alliance) or any agility ring.
Trinkets: No big DPS boosters here pre-raid.
Bow: Outrunners Bow – your go-to weapon.
↖ Marksman Hunter
Moving to Marksman Hunters, your chest Rune should be Master Marksman for crit chance and reduced mana costs. Leg Rune is a no-brainer: Serpent Spread. And for hands, it's a toss-up between Chimera Shot and Explosive Shot – test and see what blasts your enemies to oblivion better!
Talent-wise, consider Efficiency and Lethal Shots for reduced mana cost and increased crit chance, respectively. Add points to Improved Aspect of the Hawk or Improved Hunter's Mark – again, test for your style. If you opt for Chimera Shot, you might want to shuffle points towards Improved Arcane Shot and Mortal Shots for that critical strike damage boost.
↖ Melee Hunter
For the brave Melee Hunters, start with the Lone Wolf chest Rune for that 25% damage increase sans pet. Your leg Rune should still be Serpent Spread, and for hands, Carve is your go-to for cleaving through enemies.
In talents, focus on survival and melee damage. Put points into Deflection, Improved Wing Clip, Savage Strikes, Clever Traps, Survivalist, and Deterrence. Your goal is a balance of offense and survivability.
Most gear is similar to other builds, but your weapon choice is key. A slow, heavy-hitting two-hander like the Gizmotron Megachopper or Brutal War Axe of Agility works wonders. Dual wielding could be an option, but remember, at this level, hit rating is scarce, so those misses might pile up.
Reltead: Season of Discovery Warlock Best Pre-Raid Runes, Talents, and Gear.
There you have it, folks – your guide to dominating as a Hunter in WoW's Classic Season of Discovery. Remember, the best gear and talents are the ones that fit your playstyle. Experiment, adjust, and conquer!
Most Popular Posts
Popular Category Lists