Season of Discovery Priest Pre-Raid Best Runes, Talents, and Gear List Guide | Classic WoW
Hey folks, today we're diving into the world of Priest class in Classic WoW's Season of Discovery. Whether you're a fledgling Priest or a seasoned pro, We've cooked up two killer specs for you: a shadow DPS spec and a healing spec. Both are decked out with some slick pre-raid best-in-slot gear to get you raid-ready for Blackfathom Deeps.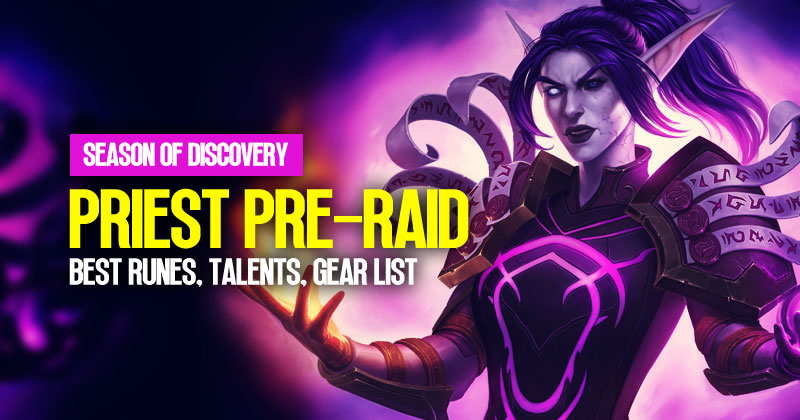 ↖ Shadow Priest DPS Spec
Runes:
Chest Rune: Twisted Faith - Boosts Mind Flay and Mind Blast by 20% on targets with Shadow Word: Pain. This is your go-to for PvE DPS.
Leg Rune: Shared Pain - Spreads Shadow Word: Pain to two additional nearby targets. Perfect for mowing down trash mobs.
Hand Rune: Mindseer - Unleashes an explosion of Shadow Magic, dealing damage to enemies around your target.
Talent:
Spirit Tap: Boosts your spirit and mana regeneration after a kill. Handy for those long fights.
Shadow Affinity and Improved Shadow Word: Pain - Lowers threat and extends Shadow Word: Pain's duration. A great combo for sustained DPS.
Shadow Focus: Increases your spells' hit chance by 8% at level 25. No more missed opportunities!
Gear Goals:
Aim for Shadow Wrath pieces to boost your Shadow damage, ideally between 60 to 80.
Mix in items with Spirit and Intellect to keep your mana pool healthy.
Top picks include Bright-Eye Goggles, Sentinels Medallion, and items like Hands of Darkness (tailor-crafted) for extra Shadow damage.
↖ Healing Priest Spec
Runes:
Chest Rune: Serendipity - Reduces cast time of your next heal after using Flash Heal. A real game-changer.
Leg Rune: Prayer of Mending - A bouncing heal that's great for raid healing.
Hand Rune: Circle of Healing - An AoE heal that's a must-have for any healing Priest.
Talent:
Holy Specialization and Healing Focus: For increased crit chance and uninterrupted casting.
Divine Fury: Reduces casting time of key healing spells.
Inspiration and Improved Healing: Boosts armor after crit heals and reduces Mana costs.
Gear Guide:
Start with Bright-Eye Goggles and aim for healing-focused gear.
Best-in-slot items include Feline Mantle, Robes of Arugal, and Spider Silk Boots.
For weapons, the Staff of the Blessed Seer or Emberstone Staff are top choices.
Related: Season of Discovery Shaman Pre-Raid Best Runes, Talents and Gear List.
↖ Wrapping It Up
Both builds have their charms and challenges. Whether you're spreading darkness or mending wounds, these setups will have you primed for your pre-raid journey. And don't forget, the gear you choose can make or break your build, so choose wisely!
Whether you choose to embrace the shadows or walk the path of healing, these setups will have you ready to tackle Blackfathom Deeps with confidence. Remember, your gear choices can make a huge difference, so choose wisely!
Most Popular Posts
Popular Category Lists