Escape from Tarkov May Patch: Arena, Wipes, Lore, and More
Escape from Tarkov players are eagerly anticipating the release of Arena, a new game mode that will allow players to participate in one-on-one battles. However, recent news from developers suggests that Arena may only be released for a few wipes and that players will need to be patient before they can experience it. In the meantime, the developers have promised to release details about Arena and the game's overall lore in upcoming Chronicles of Ryzhy events. In this guide, we will discuss the upcoming features and what players can expect from the game.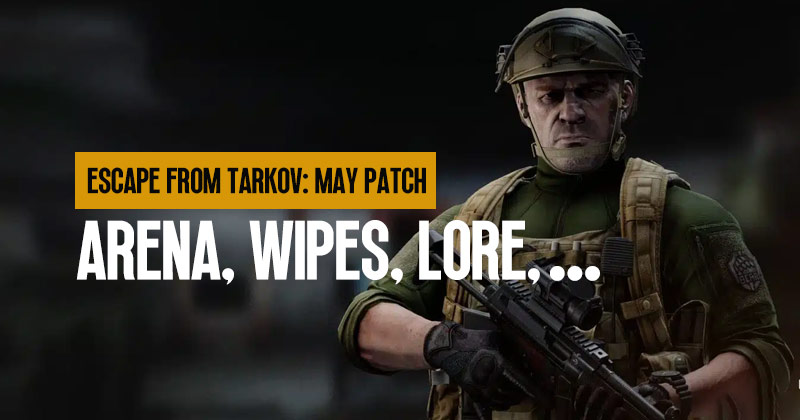 ↖ Arena
One of the most anticipated features in the upcoming patch is the Arena. However, according to the game's developer, Battlestate Games, the Arena won't be ready for full release this wipe or even potentially the next wipe. It doesn't mean there won't be tests, but it won't be a full release. It is likely that the Arena must be tied into the net code rework that Battlestate Games is working on.
↖ Chronicles of Ryzhy
The Chronicles of Ryzhy events are tied in with the game's lore and upcoming features. The events will likely give us more information about the streets, the boss, and the new light keeper stuff. There's more light keeper story coming, and according to the game's developer, Nikita, he's considered end-game content. Nikita also confirmed more tasks for the light keeper are coming in the next major patch.
↖ Light Keeper Task Line
The LightKeeper task line stops at a random task. It's the streets task, where players need to kill the use x. Thankfully, it's now just PMCs. According to some theories, Nikita has a way for players to escape from Tarkov at the end, or it's a lose state for the game if he's able to get his hands on a working nuclear EFT Items and Weapon again.
↖ Major May Patch
The major May patch includes the first part of the code restructure, unity 2021, the new streets boss, a streets expansion, the new armour plate and hitbox system, the new light keeper tasks, new UI, new guns including belt and machine guns for the boss of that street, and more. It is expected that there will be a wipe with this upcoming patch.
Conclusion:
With each update, there are new features, bug fixes, and improvements. The upcoming patch is one of the biggest patches to date, with several new features that players can't wait to get their hands on. From the Arena to the Chronicles of Ryzhy events and the Light Keeper task line, there is a lot to look forward to. Keep an eye out for the major May patch, and get ready for a new Tarkov experience.
Most Popular Posts
Popular Category Lists