Escape from Tarkov Zryachiy Guide: How to Defeat This Cultist Boss Easily?
In Escape From Tarkov's latest update, a Halloween-themed event introduces a new boss called Vengeful Zryachiy. This guide will walk you through the process of defeating this challenging boss and reaping the rewards, including a unique mask that only drops when beating the boss on hard mode.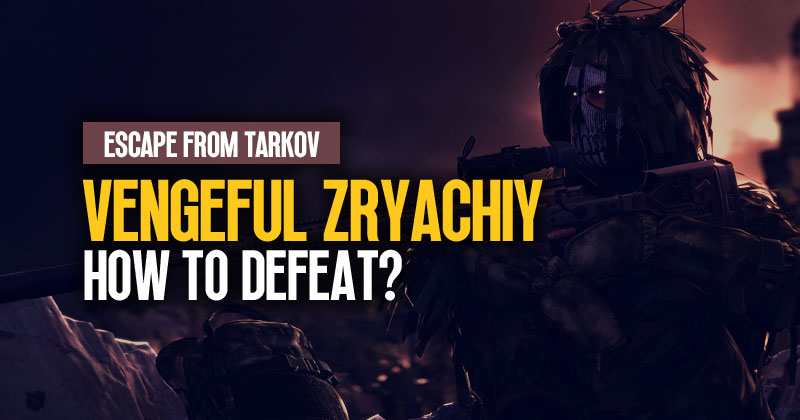 ↖ Preparation
Before heading into battle with Zryachiy, you need to be well-prepared. Here's what you should do:
Gear Up: Ensure that you and your team have top-tier gear. Consider bringing melee weapons, PPSH, double-barrel shotguns, and other unconventional weapons to bypass the boss's debuff.
Team Up: Form a squad with your friends or reliable players. Coordination is key to success in this fight.
Ammo and Medical Supplies: Load up on ammo and medical supplies, as this boss fight can be intense and lengthy.
Protective Gear: High-level armor and helmets are crucial to withstand the boss's attacks.
↖ Boss Spawn Mechanics
Zryachiy spawns differently from other bosses in Escape From Tarkov. Here's how it works:
Vengeful Zryachiy has a 100% spawn rate on all maps.
He can spawn anywhere and moves around the map.
Killing Vengeful Zryachiy triggers an event where you'll see a giant blue mark in the sky.
Cultists begin a ritual, and if they aren't killed within 5 minutes, a hard mode version of the boss spawns.
↖ The Battle
Here's a step-by-step guide on how to take down Zryachiy:
| Setp | Notice |
| --- | --- |
| Initial Encounter | When you spot Zryachiy, engage him with your team. Use unconventional weapons, such as melee, PPSH, or double-barrel shotguns, to avoid the weapon jam debuff. |
| Keep the Cultists at Bay | During the event, eliminate the cultists to prevent the hard mode boss from spawning. Maintain awareness and engage any cultists you come across. |
| Kiting and Aggro | Try to keep the boss aggroed on you by taking hits and kiting him around. Communicate with your team to ensure they have opportunities to deal damage. |
| Healing and Staying Alive | Keep an eye on your health and heal as needed. Avoid running too far from the boss, as this may trigger additional attacks from cultists. |
↖ Loot and Rewards
If you successfully defeat Zryachiy, you'll be rewarded with a unique mask that only drops in hard mode. You may also find valuable loot on the boss and any cultists you defeat. Take note of the locations where the boss spawns and the rituals to improve your chances of obtaining rare items.
Conclusion:
Defeating the new boss Zryachiy in Escape From Tarkov's Halloween-themed event is challenging but rewarding. Team up with skilled players, equip unconventional weapons, and be prepared for a battle that requires coordination, patience, and quick thinking. Don't forget to collect your hard-earned rewards, including the exclusive mask. Good luck, and happy hunting!
Most Popular Posts
Popular Category Lists