How to Farm Tons of Coins By Logging in New World, 2023?
If you're looking to make tons of coins in New World, logging is a great way to do it. With the right tools and techniques, you can earn 6k-8k coins per hour while enjoying your favourite movies or TV shows. Here's our guide on how to make tons of coins logging in the New World.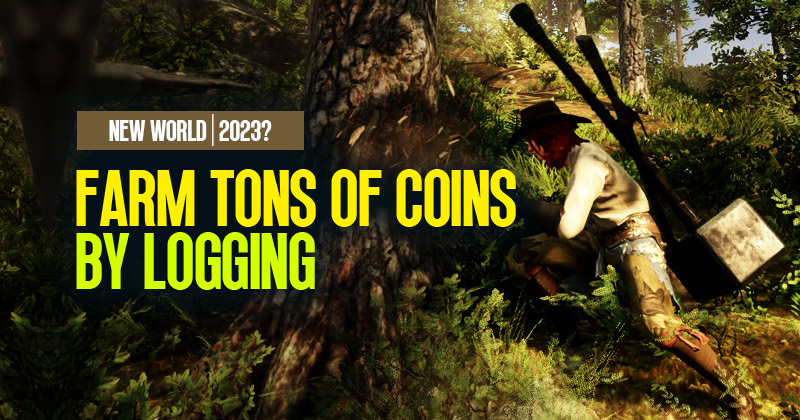 ↖ Focus on Logging Luck
Logging luck is essential for getting softwood sap, which is currently selling for about 20 coins per piece on many servers. To boost your logging luck, consider investing in the following items:
Maxed-level, 600 gear score, Auric outcome logging axe with yield, efficiency, luck, and a moat alignment. Choose the alignment that is currently selling for the highest price on your server.
Logging armour with a maximum of 5% logging luck, as well as the constitution. You can also get logging luck on an amulet.
Major logging trophies, which give you an additional 1,500 logging luck for each trophy. You can place one in each of your three houses, giving you a total of 4,500 extra logging luck.
Food such as cabbage-wrapped roasted fish gives you 1,900 luck points for 35 minutes when logging. These are currently selling for around 25 coins per unit on many servers.
Music can increase your gathering luck by 5% for 90 minutes if you have a high enough skill level.
↖ Farm Your Trees
Once you have all the necessary items, head over to Ebonscale Scale Reach to farm your trees and get all your moats, wood, and softwood sap. Remember to equip your logging armour, amulet, and logging axe to maximize your logging luck.
↖ Check Prices and Craft Your Greenwood
Before you sell your greenwood, check the prices on your server to see if it's worth crafting it into timber first. You need four greenwoods to make one timber, and if the price of timber is higher than your greenwood divided by four, then it's worth crafting it into the timber. For instance, if 630 timber is crafted from greenwood, it can give 782 coins plus a bonus of 152 timber.
↖ Regularly Check Prices and Adjust Your Strategy
Prices in New World are constantly fluctuating, so make sure to check prices regularly and adjust your strategy accordingly. Keep an eye on which items are selling for the most on your server and focus on farming those items.
↖ Practice Makes Perfect
With a bit of practice, you'll become a pro at making New World coins while enjoying your favourite movies and TV shows. Keep going even if you don't make a ton of coins right away. Keep practising, and soon enough, you'll be raking in the coins.
Conclusion:
Logging is a great way to make coins in New World. Focus on logging luck, farm your trees, check prices and craft your greenwood regularly, check prices, and practice makes perfect. With these tips, you'll be well on your way to making tons of coins logging in New World.
Most Popular Posts
Popular Category Lists