Genshin Impact 3.7 Pull on Yae Miko & Yoimiya banner: 5 Important Factors
The Yae Miko and Yoimiya banner information has finally been released, and it's time to consider whether you should pull on this Banner in Genshin Impact 3.7. In this guide, we will go through the most important factors to keep in mind before deciding to use your hard-earned primo gems. Making an informed decision will help you get the most out of your pulls and increase your chances of obtaining the characters or items you desire.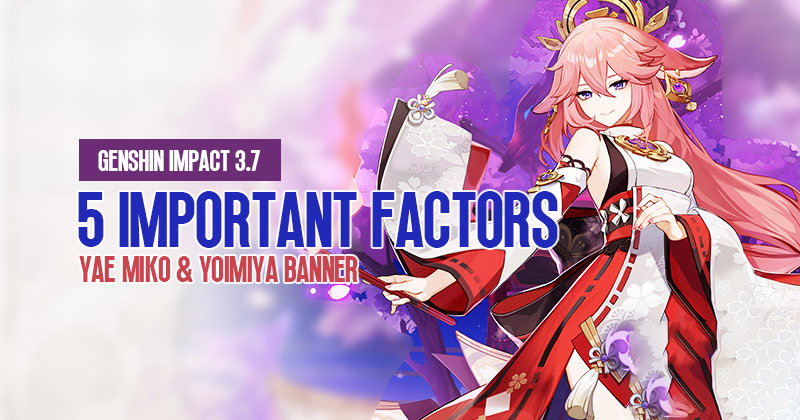 ↖ Evaluate the Best Primogems Package Deals
If you're planning to spend money on pulling for your favourite character, consider looking for the best Primogems package deals available. Look for discounted prices or gift card discounts offered through platforms like Pyramon's Bargain. Join their Discord server for direct instructions on how to order and save money on your Primogems purchase.
↖ Yae Miko's Constellations
Yae Miko is an excellent character with one of the best sub-DPS kits in the game, focusing on her totem for damage output. If you already have Yae Miko and are considering going for her constellations, it's crucial to understand their value. Each of her constellations, except C5, provides a significant increase in team support and overall performance.
C1: Her burst triggered a 10% Elemental Energy regeneration for herself, allowing for a lower energy requirement and increased burst damage potential.
C2: Arguably her best constellation, increasing the attack range of her elemental skill by 60%. This helps ensure she hits every enemy in battles, especially in domains and the Abyss.
C3: This constellation increases the talent level of her elemental skill, providing a beneficial Electro damage bonus for Yae Miko and nearby Electro party members.
C4: While not crucial, it decreases the cooldown of her elemental skill when her burst triggers an explosion, offering a slight team boost.
C6: This final constellation is incredibly powerful, as her elemental skill ignores up to 60% of opponents' defence, making her an exceptional solo character for clearing challenging content.
Overall, Yae Miko's constellations are a worthwhile investment, particularly C1, C2, and C6, as they greatly enhance her performance and team support capabilities.
↖ Yoimiya's Constellations
Yoimiya is an exceptional single-target Pyro character, excelling at taking down individual enemies quickly. Her playstyle revolves around spamming charged attacks and is relatively straightforward. Understanding the value of her constellations will help you make an informed decision.
C1: Extends the duration of her elemental skill and provides an attack bonus when her Aurora Blaze defeats an opponent, lasting up to 20 seconds.
C2: This constellation offers a significant power damage bonus whenever Yoimiya lands a critical hit on her Pyro damage, even when she's not the active character.
C3: Increases her elemental skill's damage by raising the talent level by three, resulting in even more damage output.
C4: Reduces Yoimiya's elemental skill cooldown by 1.2 seconds when her burst triggers an explosion, providing a slight boost to the team.
C5: Enhances her burst damage, which is the least crucial part of her kit, so it may not be a priority.
C6: Grants Yoimiya a 50% chance to fire an extra blazing arrow, dealing 60% of the original damage, whenever she performs a charged attack. This extra damage is considered a normal attack.
For Yoimiya's constellations, the most important stopping point is C2, as it provides substantial damage bonuses. If you wish to invest further, C3 is also valuable for increasing her elemental skill's damage. The other constellations may be less necessary, considering the investment required to acquire them.
↖ Evaluate the 4-Star Characters on the Banner
The first thing to consider is the roster of 4-star characters featured on the Banner. This time, the selection is quite decent. Yae Miko, the newest character, is highly sought after by many players. If you're interested in obtaining her, good luck with your pulls. Additionally, Yunjin is another powerful character who excels at buffing attack damage.
Although the game lacks characters focused on normal attacks, Yunjin is exceptional in this regard, especially when paired with Yoimiya. It's worth noting that Yunjin's constellations greatly enhance her abilities, so obtaining them can be advantageous. Lastly, Chongyun is also available, although he may have little synergy with the featured 5-star characters. Chongyun's cryo infusion can be useful in certain situations, particularly for cryo team compositions.
↖ Assess the Weapon Banner
If you are interested in obtaining weapons for your characters, the weapon banner for this version is worth considering. The featured weapons, Thundering Pulse and The Catch provide significant boosts to critical damage. While they may not be ideal for all characters, they can greatly benefit bow and catalyst users focused on dealing with damage.
Additionally, the four-star weapons, Rust and Dragon's Bane are excellent choices to consider, especially if you are aiming for Yoimiya or Yae Miko. However, it is essential to prioritize character pulls over weapons in most cases.
↖ Future Banners and Potential Characters
It is crucial to keep an eye on upcoming banners and potential characters in Genshin Impact. In the next patch, Kazuha and Albedo are set to return, making them significant considerations for your future pulls. Additionally, it is highly likely that Eula will return in a subsequent patch, as it would be unusual for her to be excluded for an extended period.
Beyond that, new characters like Ayaka are rumoured to be arriving in the future, making it important to save your primogems for these exciting prospects. While information about these characters is limited, it's advisable to start saving for them now.
↖ Primogem Opportunities
Take advantage of opportunities to earn primogems. Participate in events, complete quests, and do daily commissions to accumulate primogems for future pulls. Keep an eye out for giveaways or promotional offers that may grant you additional primogems. By maximizing your primogem earnings, you increase your chances of obtaining the characters or weapons you desire.
↖ Seek Detailed Information
If you still need more clarification or need more information about the characters, weapons, or future updates, seek out in-depth guides and videos created by content creators in the Genshin Impact community. These resources can provide valuable insights and help you make informed decisions when it comes to pulling on banners.
Conclusion:
Lastly, seek detailed information from the Genshin Impact community to make informed decisions when pulling on banners. Considering these factors will help you make the most out of your pulls and increase your chances of obtaining the characters or items you desire in Genshin Impact 3.7.
Most Popular Posts
Popular Category Lists