Genshin Impact Guide: Top 8 Tips For New Players
Genshin Impact is a popular action role-playing game developed and published by miHoYo. If you're new to the game or returning after a long break, it can be overwhelming to navigate the massive world of Teyvat. In this guide, we will go over nine tips for new and returning players to help you get started. Genshin Impact is a massive game that can be overwhelming for new and returning players. To help ease the confusion, here are 8 top tips to guide you on your journey through Teyvat.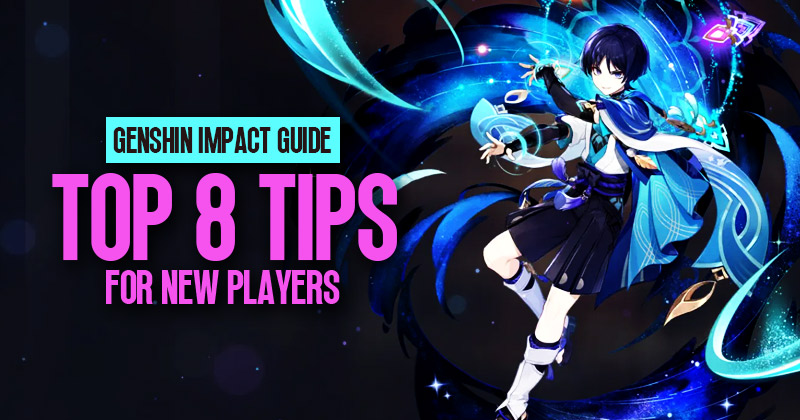 ↖ Tip 1: Archon Quests
Start by going through any outstanding Archon Quests that you have. While it's tempting to go off and do any random quests, completing Archon Quests brings you up to speed with new characters, new locations, and new laws. You will get a wish for every Archon Quest that you've completed, so you'll be given a nice sum of wishes to save for a future character or try your luck with.
↖ Tip 2: Choose A Main
Choose a character that you want to build up, save your leveling-up materials, and only focus on leveling up that character rather than leveling up everyone that you get. Learn how your chosen character works, how they attack, and how they interact with elemental reactions. If you're a returning player, try playing with a character that you have benched.
↖ Tip 3: Unlock All Teleports
Unlock new statues of the sevens and waypoints to avoid retracing the same steps, especially when you get to Sumeru's deserts. Seriously, you're just asking for a bad time if you don't unlock the teleports.
↖ Tip 4: Commissions and Teams
Do your commissions and try out new teams. For higher AR players, dailies will get you into the flow of wishing or saving up prima gems for a future character. Try using teams that you use sparingly or even brand-new teams. Have one of your OG mains with you in case the other characters in your team are too under-leveled to deal with mobs, but only use that character in emergencies.
↖ Tip 5: Genius Invokation TCG
If you like card games and your AR 32 or above, head over to Mondstadt and try out the card game. Genjin will teach you how to play the card game, and once you've completed the quest, you can go and play NPCs and real people with your deck.
↖ Tip 6: Participate in Events
Genshin Impact regularly hosts events that provide players with new challenges, rewards, and experiences. Some events introduce new lore or temporary domains, while others may have new gameplay mechanics. Participating in events is an excellent way to break the monotony of the daily grind and try something new.
↖ Tip 7: Upgrade Your Weapons and Artifacts
As you progress through the game, you'll find better weapons and artifacts that can improve your characters' performance. It's essential to upgrade your weapons and artifacts regularly to keep up with the game's difficulty curve. Focus on upgrading the weapons and artifacts that your main character uses the most, as this will have the most significant impact on your gameplay.
↖ Tip 8: Join A Community
Join a Genshin Impact community or forum to meet other players, share tips and tricks, and find information on the latest updates and events. It's a great way to stay up-to-date with the game and learn more about it from other players.
Conclusion:
By following these tips, you'll be well on your way to mastering Genshin Impact and enjoying all that the game has to offer. Remember, take it slow, and don't worry about catching up. Enjoy the journey, and have fun exploring Teyvat!
Most Popular Posts
Popular Category Lists