Throne & Liberty Guide: Quick Slot and Skill Activation
In Throne & Liberty, understanding the quick slot and skill activation mechanics is crucial for efficient gameplay. Players have the ability to switch between weapons and activate different skills quickly. This guide will explain how to change weapons and utilize the quick slot feature efficiently.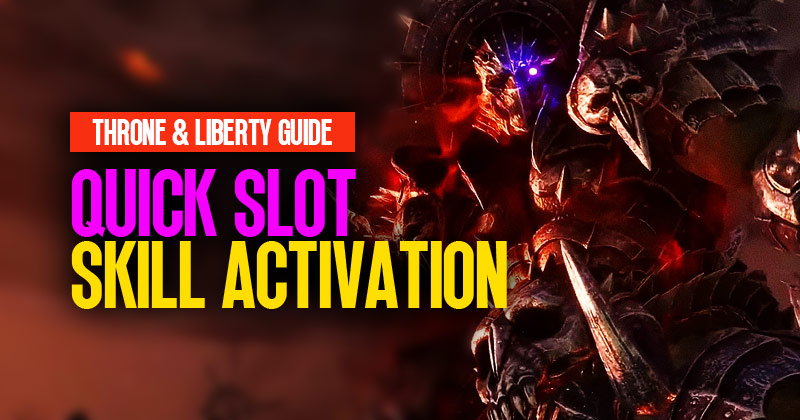 ↖ Equipment Setup
In your inventory, make sure you have both the main weapon and the off-hand weapon equipped. For example, you may have a sword and shield as your main weapon and a Greek sword as your off-hand weapon.
Additionally, equip the appropriate accessories for your character.
↖ Quick Slot Configuration
Open the quick slot interface by pressing the corresponding key (e.g., F1, F2, F3, F4).
Assign skills to the quick slots by dragging and dropping them from your skill list.
You can use up to four quick slots (F1, F2, F3, F4) for each weapon type.
↖ Weapon Chain
To switch weapons quickly, use the auto chain feature.
Press the designated key for the weapon chain (e.g., B) to activate it.
The auto chain allows you to seamlessly transition between your main weapon and off-hand weapon without manually switching them.
↖ Skill Activation
Each weapon type has its own set of skills assigned to the quick slots.
When you change weapons, the skills in the quick slots will automatically switch to the corresponding set of skills for that weapon.
For example, if you were using a sword and shield and had skills assigned to F3, switching to the Greek sword will automatically change the skills in F3 to the Greek sword skills.
↖ Advantages of Skill Activation
Direct skill activation without weapon switching is especially useful in PvP situations.
It reduces the time and delay associated with changing weapons during combat.
Instantly using skills like stun or escape abilities can give you a strategic advantage.
↖ Additional Tips
Consider adding essential skills from your off-hand weapon to your quick slots, allowing you to access them without changing weapons.
Experiment with different skill combinations and find the ones that suit your playstyle.
Auto chain skills are separate from the weapon chain and will not automatically switch skills. It would help if you manually assigned them to the quick slots.
Conclusion:
By mastering the quick slot and skill activation mechanics in Throne & Liberty, you can efficiently switch between weapons and utilize a diverse range of skills during combat. Practice and experimentation will help you find the most effective strategies for your character.
Most Popular Posts
Popular Category Lists