New World Gear: Debunking the Misconception of Full Legendaries in PvE
There is a common misconception circulating among players that can hinder their enjoyment of the New World. This misconception revolves around gearing expectations, particularly in PvP. While certain activities like arena and outpost rush have specific gear requirements, the belief that you need near-best-in-slot gear for PvE content, such as M10 expeditions, is misguided. This article aims to dispel this misconception and provide players with a better understanding of gear requirements for different activities.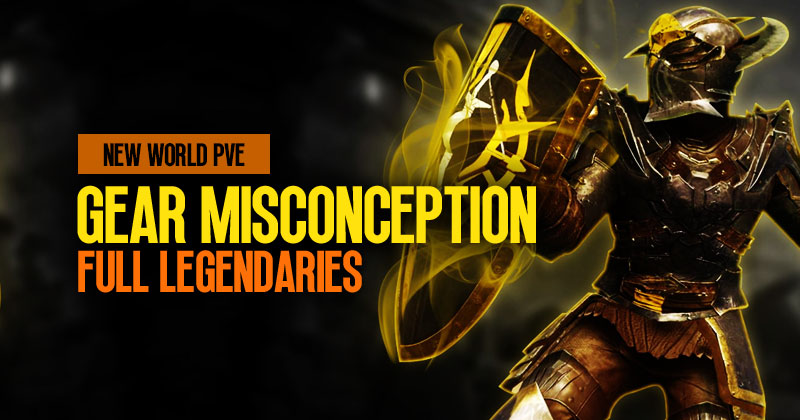 ↖ Gear Requirements in PvP
When it comes to PvP activities like the arena and outpost rush, gear selection is essential. These activities often have specific gear requirements or restrictions to ensure balanced gameplay. Players must meet these requirements to participate fully. However, this article will primarily focus on debunking misconceptions regarding PvE content.
↖ Gear Requirements in PvE
Contrary to popular belief, you do not need full legendary gear or even near-best-in-slot gear to complete M10 expeditions or other PvE activities successfully. The notion that players must have the legendary gear to join expedition groups is baseless and unfair to new players. While legendary gear can provide advantages, especially on weapons and rings, it is not a prerequisite for success.
↖ Understanding Gear Perks
To better understand why legendary gear is not always necessary, let's delve into the importance of gear perks. In expeditions, the primary perk you should prioritize on armour is your ward, which provides damage reduction. The secondary perk is usually a weapon perk, and sometimes refreshing conditioning is considered. However, if you focus on the new world elemental gem type of the expedition, conditioning becomes less relevant once you surpass 50 absorptions. In such cases, purple gear or even craftable gear with specific perks can be just as effective.
↖ Optimizing Gear Selection
For expeditions, your armour's primary perk should be the ward type, accompanied by a weapon perk and refreshing conditioning if needed. However, there are cases where purple gear or gear with the protection type of the expedition (e.g., craftable Christmas gear with luck) can be more beneficial. The protection type offers significant damage reduction against specific incoming damage, making it crucial for certain weapons like the greatsword.
As for amulets, prioritize health and the protection type of the expedition you're undertaking. Empowered perks are currently blocked, rendering them less important. Similarly, for earrings, beloved or evasive perks, along with refreshing tools, should be your focus. While purifying toast is advantageous for nature or ice mutations, it is not mandatory.
↖ Weapons and Rings
On rings, you can acquire named rings with powerful perk combinations that outclass regular craftable options. These named rings can significantly enhance your performance. As for weapons, prioritize having the bane perk and two additional damage perks. The impact of damage perks is more noticeable on weapons than on other gear pieces. However, even with purple weapons, you can still succeed in gold M10 expeditions.
↖ The Role of Offhand and Third Perks
The importance of third perks on gear pieces is relatively low compared to other perks. Many top speedrunners in New World actually utilize purple gear for expeditions, showcasing that full legendary sets are not mandatory. Therefore, feel free to acquire a complete legendary gear set to excel in M10 expeditions.
Conclusion:
The misconception that you need full legendary or near-best-in-slot gear for PvE content in New World is unfounded. While legendary gear can provide advantages, the perks and specific gear types play a more crucial role in optimizing your performance. By understanding the significance of ward types, weapon perks, and protection types, players can excel in M10 expeditions without relying solely on legendary gear. It's important to create an inclusive environment for players, ensuring that everyone has the opportunity to enjoy the game to its fullest potential.
Most Popular Posts
Popular Category Lists