New World 2.0.2 Updates: Significant Combat Changes, Performance Improvements and More
Introducing New World Update 2.0.2! This article delves into the major changes that players can expect, including significant performance improvements, combat tweaks, and more. Get ready to explore the exciting enhancements and see how they'll impact your gameplay experience in this popular MMORPG. From reducing loading times to adjusting combat mechanics, this update aims to provide a smoother and more balanced adventure. Let's dive into the thrilling changes that await in Patch 2.0.2!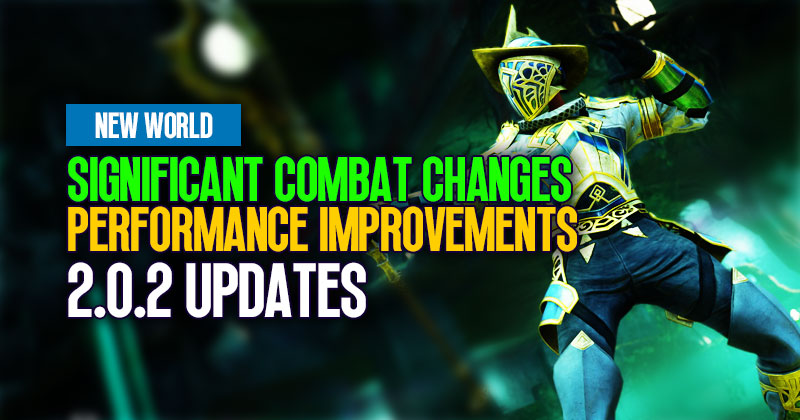 ↖ Performance Improvements
Loading Time: With the update, there are performance changes to the way shaders are loaded on the game client. This should enhance the overall gameplay experience by reducing frame hitching and stuttering. However, it might result in longer boot-up times, so be patient during the loading process.
Server Stability: Several servers crashes that caused disconnections and lag detection errors have been fixed. This should improve overall server stability during gameplay.
↖ Combat Changes
| | |
| --- | --- |
| Blunderbuss Ability Fix | The update addresses an issue with the Blunderbuss ability called Splitting Grenade. Players were previously able to cancel the ability animation, leading to unintended damage output. This fix is likely aimed at balancing the weapon's power and ensuring fair gameplay. |
| Health Scaling from Constitution Attribute Points | Players will now gain more health from the first 150 levels of the Constitution attribute points. This change is part of the developers' efforts to increase the time-to-kill in New World, making players a bit more tanky during combat encounters. |
| Attribute Threshold Bonus Swap | The update swaps the bonuses of the 150 Dexterity and 300 Dexterity attribute thresholds. This change will have a significant impact on character builds, especially those relying on split stat builds. Players will need to adjust their builds and gear choices accordingly. |
| Detonate Heart Rune Critical Damage Removal | The popular damage-dealing Detonate Heartrune will no longer be able to deal critical damage. This change aims to balance its dominance in damage output. |
| Spear Cyclone Nerf | The update reduces the strength of the Spear Cyclone's slow effect from 50% to 30%, along with limiting the number of targets affected by the spears leaching Cyclone perk to three. These changes address the spear's dominance in both PvE and PvP scenarios. |
| Sword Achilles Heel Passive Rework | The sword's Achilles Heel passive, which previously applied a slow on the final attack of the light attack chain, has been reworked to apply a Rend effect instead. This change may have implications for certain DPS builds that relied on the previous slow effect in combination with other passives. |
↖ Economy, Progression, and Gear Changes
Legendary Fish: An issue that made legendary fish easier to catch than intended has been fixed. This should help balance the economy surrounding fishing.
Gear Set Storage Hotkeys: Hotkeys for gear set storage have been introduced, allowing players to switch Loadouts using specific hotkeys quickly.
Artisan Fishing Pole: An issue that made the Artisan Fishing Pole unusable has been fixed.
↖ Season Pass and Seasonal Content
Earn PvP XP Season Activity: A bug causing incorrect text for the earned PvP XP season activity has been fixed.
Gypsum Casts: An issue with the scaling of season XP when crafting multiple gypsum casts at once has been fixed.
Gear Set Slot: Players who did not earn a gear set slot in Season One can now purchase it through the store.
Anxious Journey: The quest Anxious Journey now properly records song completion.
↖ Outpost Rush and Arena
Outpost Rush: The personal score points gained from contesting Outpost control points in Outpost Rush have been increased by 40.
Arena Rotation: Brimstone Sands Arena has been activated again and will remain active until August 15, 2023, when the original Soulwarden's Proving Ground will be activated.
↖ UX/UI Changes
Pattern Items Crafting: An issue that prevented crafting some pattern items even with the required materials has been fixed.
Season Journey: An issue preventing players from accessing their season journey and activities has been resolved.
Texture Loading Issue: A texture loading issue that caused a shot to become white has been fixed.
Faction Boards: An issue with incorrect localized text on Faction boards when no PvP missions were available has been fixed.
↖ Quest and Trial Changes
Hatchery Soul Trial: Traveling to Minneapolis is no longer necessary to access the Hatchery Soul trial; it immediately unlocks after applying oil.
Horde Master Boss: The Horde Master boss now spawns more monsters than intended, making the boss encounter more challenging.
Sandworm Trial: Players who die during the Sandworm Trial will now receive rewards upon completion.
Elite Sandworm Trial: Some changes have been made to the Elite Sandworm Trial to address difficulty and reward issues.
Lingering Missions: Lingering missions in old First Light have been removed since the zone is no longer accessible due to the Angry Earth.
Conclusion:
Update 2.0.2 brings some exciting and much-needed changes to New World. Players can expect improved performance, a fresh combat experience, and various quality-of-life enhancements. As players explore and adapt to these changes, the game's meta is bound to evolve, offering new challenges and opportunities for all adventurers in Aeternum. So, dive into the updated New World and experience the thrill of these changes firsthand! And remember, this is just the beginning of a journey towards a more refined and enjoyable gameplay experience.
Most Popular Posts
Popular Category Lists