New World Transmog Guide: All the Details You Need To Know
Welcome to the world of Aeternum, where adventure and style collide! In this guide, we'll delve into the exciting feature of transmogrification in New World: Forged in Aeternum. Transmogrification, often lovingly referred to as Transmog, allows players to change the appearance of their gear while retaining their desired stats. We'll explore the process of acquiring, applying, and customizing appearances to create the perfect look for your character.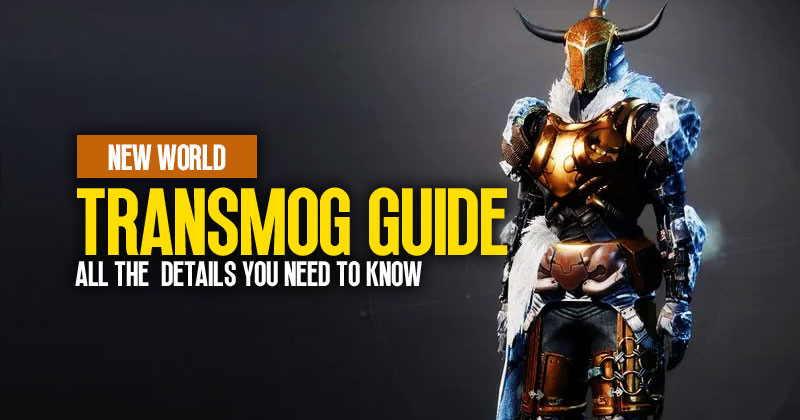 ↖ What is Transmog?
Transmog, short for transmogrification, is a feature that allows players to change the appearance of their armour and weapons without altering their stats or gameplay mechanics. In New World, you'll be able to transform the look of your gear to suit your personal style, creating a unique character aesthetic that sets you apart from the rest.
↖ Capture and Collect Appearances
As soon as the Transmog feature is introduced, all the items in your inventory and storage will be captured and stored as appearances. This means that any item you've collected, from early-game gear to hard-earned end-game sets, can be used as a skin for your preferred gear. Once an appearance is captured, it can be applied to compatible gear using Transmog Tokens.
↖ Transmog Tokens
Transmog Tokens are the key to unlocking the magic of Transmog. You can acquire these tokens in a variety of ways:
Elite Chests: Open Elite Chests in the game for a chance to find Transmog Tokens.
Seasonal Reward Track: Some Transmog Tokens will be available for free through the seasonal reward track, both in the free and paid sections.
In-Game Store: If you're eager to expand your collection even faster, you can purchase Transmog Tokens from the in-game store.
↖ Transmog Process
Here's how you can transform your gear using Transmog Tokens:
Travel to any major city and find an Outfitter Station.
Locate the NPC called a "Style Manser" with the Transmogrification icon above their head.
Speak with the NPC to access your collection of captured appearances.
Apply a Transmog Token to the appearance you want to use as skin.
Once the appearance is unlocked, you can apply it to compatible gear.
↖ Dyeing Skins
One of the most exciting additions is the ability to dye your skin. You can change the colour of any skin except weapons to create a truly unique and personalized look. Now, you can rock that intimidating helmet in your favourite shade or match your armour to your guild's emblem.
↖ Developer Insights
Patrick, the Seasons lead designer, mentions that you should capture as many appearances as you can from your storage before salvaging items to free up space.
Drew, the senior PM, shares his excitement about having multiple sets ready to transmog, including a fancy Mage outfit.
Patrick also highlights the ability to dye skins, allowing you to personalize your appearances even further.
↖ Hints of a Level Increase
| | |
| --- | --- |
| Rested XP Bars and Level 60 Indicator | In a recent video, a character's UI displayed not only a level 60 indicator but also rested XP bars. While this character may have been boosted to level 60, the presence of rested XP bars hints at potential level progression beyond level 60. |
| Implications of a Level Increase | While the video doesn't guarantee a specific level increase, the hints suggest that the New World expansion might introduce a level increase. This could lead to expanded content, higher-tier weapons, and more intricate professional systems. |
| Speculations and Expectations | A level increase could bring about a progression in various aspects of the game, such as equipment tiers, character abilities, and crafting professions. However, precise details remain unknown. |
↖ Community Involvement
New World community is buzzing with excitement about Transmog. Share your thoughts and anticipation in the comments section. Do you have a specific appearance ready for Transmog? Let us know what sets you're looking forward to using as skins.
Conclusion:
Transmog is about to revolutionize the way you express yourself in New World. With the power to capture, collect, and apply appearances, along with the added bonus of dyeing skins, you can truly stand out in Aeternum. Get ready to show off your style as you embark on new adventures while looking your best. Whether you're an aspiring mage or a battle-hardened warrior, Transmog has something for everyone. Get ready to embrace the world of Transmog and redefine your New World journey!
Most Popular Posts
Popular Category Lists