What's Brewing in New World's Expansion, 2023?
Welcome to this detailed guide that aims to shed light on the enigmatic expansion of New World, the popular MMORPG. As the New World community eagerly anticipates the potential release of this expansion in less than 40 days, there's a sense of excitement and curiosity in the air. Despite the absence of traditional marketing and hype, we're here to delve into the situation and explore potential ways to support content creators during this uncertain period.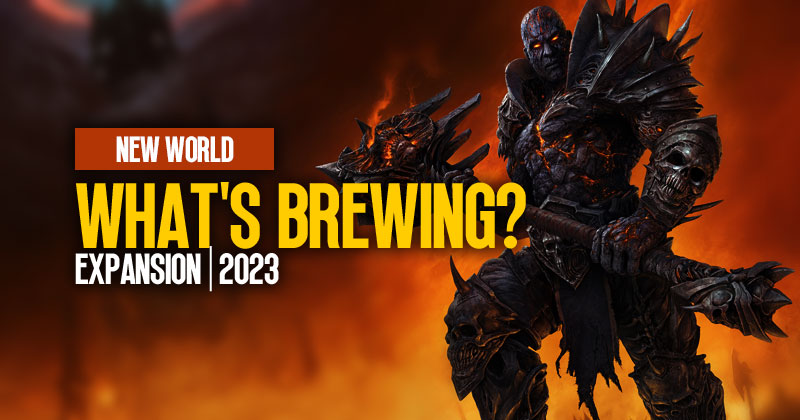 ↖ The Current State of New World's Expansion
The Lack of Marketing and Hype: The anticipation for New World's expansion is palpable, yet it's intriguing to note the absence of traditional marketing efforts. In an era where games often build excitement with cinematic trailers and teaser campaigns, the silence surrounding the expansion is notable.
Uncertainty Surrounding Expansion Details: With less than 40 days until the anticipated release, the lack of information is a source of confusion. Dev communication has been limited, and the roadmap provides only a glimpse into what's to come. Speculation abounds about the expansion's connection to Season 3 and the potential for game-changing features.
↖ Exploring Potential Scenarios
The Possibility of a Delay:
One possible scenario is the delay of the expansion. While this might disappoint players, a delay could ensure a more polished and enjoyable experience upon release. This might explain the scarcity of information and marketing efforts.
Unique Marketing Strategies:
Considering New World's Twitch centric community, a different approach might be at play. Leveraging streamers and content creators to generate buzz could be a deliberate strategy, relying on word-of-mouth within the gaming community.
An Unconventional Approach?
Could New World be blazing a new trail in the gaming industry with unconventional marketing tactics? The lack of traditional marketing might be an experiment, although it's important to ensure it aligns with player expectations.
↖ Content Creators and Support
The Journey of a Full-Time Content Creator: Transitioning from a traditional job to full-time content creation is a bold venture. It demonstrates a commitment to providing engaging content and requires community support to thrive.
Ways to Support Content Creators: Contributing to content creators' success doesn't necessarily require financial assistance.
Watching and Engaging: Simply watching videos and engaging with content through likes and comments helps creators immensely.
Twitch: Following and Subscribing: On Twitch, following a streamer and using Amazon Prime to subscribe with a Prime Sub can offer valuable support.
Patreon: A Deeper Connection: Patreon provides a platform for a deeper connection with creators. Becoming a patron offers exclusive perks and helps sustain creators' work.
YouTube Members and Patreon Transition: Creators might transition from YouTube Members to Patreon for more unified support. Both options offer meaningful ways to contribute.
↖ Community Insights and Expectations
Pattern of Communication: Previous communication patterns provide insights into potential updates. Examining past developer communications might yield clues about the expansion's status.
Recent Developments: Gamescom Influence: The timing of Gamescom might have impacted New World's communication plans. Reveals from other games might have led to a strategic adjustment of communication tactics.
Speculations and Personal Expectations: Speculating about the expansion's state can be both exciting and challenging. Personal expectations can be shaped by previous experiences with game updates and expansions.
↖ What Lies Ahead
Anticipating the Upcoming Community Q&A:

The imminent Community Q&A presents an opportunity for clarity. Devs might address concerns, reveal details, and provide insights into the expansion.
The Need for Clarity: Delay or Strategy?

Whether the expansion is delayed or an unconventional marketing strategy is at play, clarity is essential. The community deserves transparency to manage expectations.
Implications for the Gaming Community:
The outcome of the expansion's situation will ripple through the gaming community. Delays might disappoint, while innovative strategies could inspire other game developers.
↖ Conclusion and Next Steps
The Countdown to Expansion: With less than 40 days left, the community eagerly awaits news. The countdown represents a blend of excitement and apprehension.
Supporting the Community in Uncertain Times: As the community navigates this uncertain period, supporting content creators, sharing insights, and engaging in discussions fosters a united front.
Embracing the Adventure Together: Ultimately, New World's expansion journey is a shared one. Whether it's a delay, unique marketing, or an unprecedented approach, the community stands ready to embrace the adventure together.
Conclusion:
In this guide, we've explored the intriguing mystery of New World's expansion, discussed potential scenarios, and highlighted ways to support content creators during this uncertain period. As the countdown continues, the gaming community eagerly awaits the unveiling of what's to come in this highly anticipated expansion.
Most Popular Posts
Popular Category Lists