New World Expansion Hidden Info: PVP/PVE Balance Changes, Mutation Rework, New Artifacts and More
The upcoming New World expansion has generated a lot of excitement among players, and while much of the information has been surface-level, there are hidden gems waiting to be discovered if you dig a little deeper. In this guide, we'll delve into some lesser-known details about the expansion, including PvP and PvE balance changes, mutation rework, new artifacts, and more.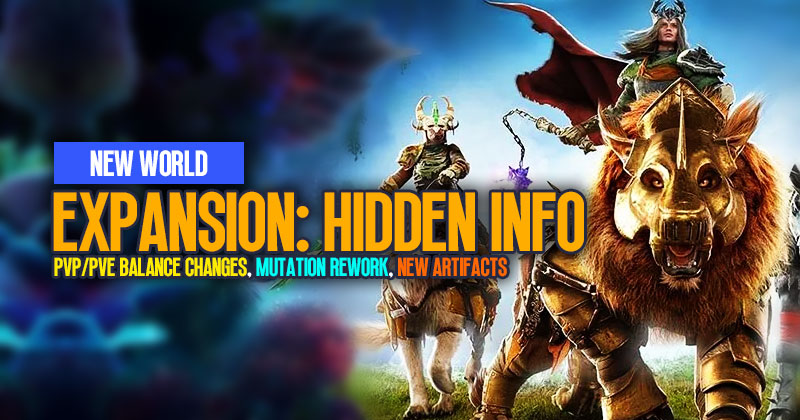 ↖ PvP Side of Things
| | |
| --- | --- |
| No Forced PvP Zone | Contrary to rumours, the new zone in the expansion will not be a forced PvP zone. Players can enter the zone unflagged, similar to Shadow Mountain. This means you won't have to engage in PvP unless you choose to. |
| Changes to War Maps | First Light's old war map will be replaced entirely, which some players consider a significant loss. However, a new war map will be introduced in Edengrove. This new settlement will be connected to the storyline, as it's where players will begin their adventure. |
| Mounts in Open World PvP | With the expansion, territory will undergo an overhaul, and mounts will play a significant role in open-world PvP. This promises to introduce a fresh dynamic to player interactions. |
| PvP/PvE Balance | The expansion is set to introduce new systems for balancing abilities separately for PvP and PvE. Although details are scarce, this suggests that certain abilities may be nerfed in PvP without affecting their performance in PvE. It's worth noting that a similar approach is already being taken with ranged weapons in PvE. |
↖ Mutation Rework
Mutation Difficulties: Mutations will undergo a rework, introducing difficulties ranging from M1 to M3. These mutations will have varying requirements and scaling, creating a steeper difficulty curve. Normal Expeditions will become easier, catering to players who seek a less stressful experience or are short on time. However, endgame gear will drop less frequently, and artifacts won't drop at all in these vanilla Expeditions.
M1 to M3 Difficulty Scaling: M1 will be equivalent in difficulty to current normal Expeditions, while M3 will prove to be very challenging, potentially surpassing the difficulty of current M10 content. This may change the expectation that random groups can easily complete the highest level of content.
↖ New Abilities and Capstones
Primal Fury: A new ability called Primal Fury will temporarily double your character's size and switch you to an unarmed combat mode, enabling both light and heavy attacks. These attacks may have a knockdown effect, and the ability might also include a ground slam effect when it expires.
Attribute Capstone: If you have 300 Focus, using a Hard Rune will reduce all your active cooldowns by 50%, a significant advantage for skilled players in critical situations.
↖ Endgame Content and Artifacts
Relevance of Current Endgame Content: All current endgame content will remain relevant in the expansion. Some parts will scale up to the new level cap, while others will remain at level 60. Importantly, all of it will drop gear relevant to the new endgame.
New Artifacts: Two new artifacts were revealed. Vengeance is a life staff that reduces healing by 50% but significantly boosts damage with aggressive life staff abilities. "Plague," a blunderbuss, may have been mistranslated but is speculated to introduce unique mechanics, possibly related to burn damage or other effects.
↖ Crafting and Umbral Shards
Increased Resource Requirements: Endgame crafting will require more resources in the expansion, likely due to the reduced need for crafting items due to the guaranteed gear.
Umbral Shards Conversion: There's uncertainty surrounding the conversion of Umbral Shards to gold, as it was mentioned in one article but neither confirmed nor denied by the developers.
Conclusion:
The New World expansion is shaping up to be a significant addition to the game, with changes to PvP dynamics, mutation reworks, new abilities, and a fresh approach to endgame content. While there are still many mysteries surrounding the expansion, this guide has provided you with a glimpse into some of the hidden details that may have flown under the radar. Stay tuned for more updates as the expansion's release date approaches.
Most Popular Posts
Popular Category Lists