New World Pre-Expansion 2023: New Player Complete Guide
With the landscape of Aeternum constantly changing, it's crucial to stay informed and prepared for what lies ahead. In the following guide, we will delve into the key aspects of New World, from leveling strategies to gearing up for the upcoming expansion, ensuring you have the knowledge and tools to conquer the challenges that await. So, whether you're seeking advice on efficient leveling or planning your approach to PVP and resource gathering, let's dive in and navigate the exciting world of New World together.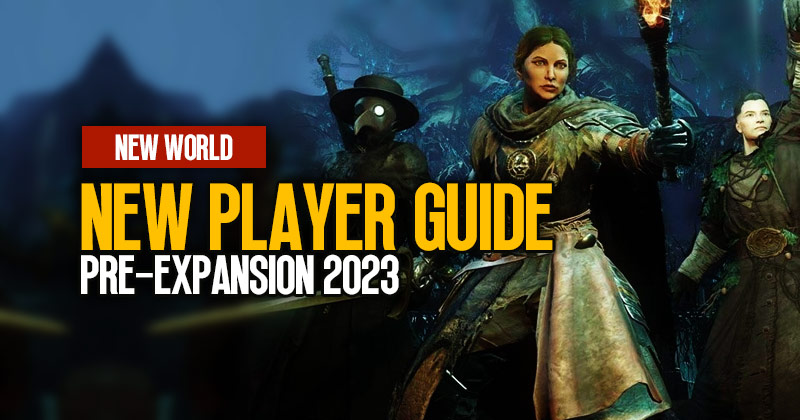 ↖ For New Players
If you're new to New World, here are some tips to get you started on the right foot:
Follow the Main Quest Line: The main quest line, paired with a few side quests, is a sufficient way to reach level 60, the maximum level in the game. This method provides a structured introduction to the game's mechanics and world.
Consider Gathering Skills: While leveling up, consider gathering skills like mining, logging, and skinning. You'll encounter various resources along your journey, and leveling these skills can be more efficient at level 60 when mobs are less of a threat.
Be Ready for the Expansion: If you want to be fully prepared for the upcoming expansion, focus on reaching level 60 as quickly as possible by following the main quest line. This will ensure you are ready to dive into the new content as soon as it's released.
↖ For Slower-Paced Leveling
If you prefer a more relaxed leveling experience and want to enjoy the questing aspect of the game, consider leveling until around level 40. This can provide a more immersive experience, but you will need more time to reach level 60 in time for the expansion.
↖ Unlock Mounts
As a third option, you can choose to level up to 25. Mounts become available at this level, which can significantly speed up your travel. However, you'll face the same drawback as option two: not reaching level 60 in time for the expansion.
↖ Beyond Level 60
For both new and returning players, things change significantly beyond level 60 with the expansion. Here's what you need to know:
Expertise and Watermark Are Gone: Expertise, formerly known as Watermark, is no longer a factor. High-level mobs will simply drop higher gear score loot.
Umbral Shards and Gypsum: Umbral Shards and the Gypsum system are also uncertain. Focus on what's more certain and beneficial:
↖ Gear Up
Obtain gear with a gear score of 590 or higher. This gear will not be downscaled when the expansion arrives, allowing you to use it effectively.
| Activity | Benefits | Recommendations |
| --- | --- | --- |
| Season Quests | 615 gear score with Constitution | Complete the questline starting in southeast Rimson Sands. |
| World Events | Excellent rewards | Participate in active world events like The Siege of Sulfur. |
| Farming Gold and Resources | Profit from trade skills | Farm trade skill-related resources like iron or star metal. |
| PVP Flagging | Increased Gathering luck | Consider PVP flagging when gathering for better resource yields. |
| Crafting | High-level crafting skills | Level crafting trade skills to 200 for potential bind-on-pickup gear. |
| Elite Chest Runs | Crafting resources, tokens | Run elite chests for resources, scarabs, and transmog tokens. |
| Weapon Mastery | Faster weapon leveling | Farm weapon mastery in the south of Great Cliff. |
| Boosters | Speed up weapon mastery | Use two times XP boosters from the season pass for faster progress. |
| PVP Activities | Enjoyable PVP experience | Explore the 3v3 Arena map with specialized PVP gear. |
| Azoth Salt | PVP track rewards | Collect Azoth Salt for valuable PVP rewards. |
| Faction Missions | Faction tokens | Complete high-level zone faction missions for tokens. |
| Caches | Level-locked resources | Save caches for the expansion, potential updates. |
| Gypsum | Unknown usefulness | Hold onto gypsum-related resources until you learn more. |
| Activity Cards | Transmog tokens, XP boosters | Monitor activity cards in the season pass for rewards. |
| Raids | Challenging content | Join raid groups advertised in recruitment chat for early access. |
Conclusion:
Preparing for the New World expansion in 2023 involves a combination of leveling, gathering, gearing up, and collecting valuable resources. Keep an eye on updates and changes as the expansion approaches, and adapt your strategy accordingly. Whether you're a new player or returning to the game, these tips should help you make the most of your New World experience. Enjoy your adventure!
Most Popular Posts
Popular Category Lists