Guild Wars 2 Ranger Profession Guide: Tips & Tricks For New Players To Start
Welcome to the Guild Wars 2 Ranger Profession Spotlight Guide. Rangers are survivalists who adapt to their environment and summon wild beasts to their aid. They are built to handle any situation with their deep connection to nature. In this guide, we will provide an overview of the Ranger profession, including their unique mechanics, skills, trait lines, and recommended weapon combinations for both PvE and PvP gameplay.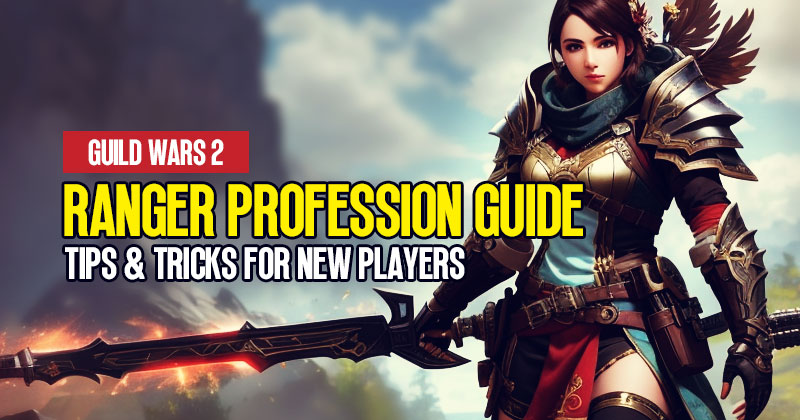 ↖ Unique Mechanic
The core mechanic of the Ranger is their loyal companions, which are wild animals. Rangers can tame a variety of creatures, ranging from spiders and wolves to ferocious drakes. Each pet has a unique ability and is categorized into specific families. You can have two pets available at any given time, but only one can be active. These pets can be customized to suit your playstyle, offering versatility in combat.
Pet Families: Pets belong to specific families, each with its unique set of abilities and traits.
↖ Strengths & Weaknesses
Pros
Cons

Pet Companions: Rangers have versatile animal companions for added damage, control, and utility.
Weapon Versatility: Rangers wield a range of weapons to adapt to different combat situations.
Crowd Control: Many Ranger skills and pets offer crowd control, disrupting foes.
Adaptability: Swapping between active pets enhances versatility in combat
Survivability: Ranger builds can focus on high survivability traits.
Support Abilities: Rangers can heal and provide boons, especially with the Druid elite specialization.
Open World Proficiency: Rangers excel in open world content with pets, traps, and ranged abilities.

Pet Control: Managing pets can be challenging in hectic battles.
Situational Skills: Some Ranger abilities are not always optimal.
Limited AoE Damage: Rangers have limited area-of-effect damage.
Complex Rotations: Some builds require intricate skill rotations.
Pet Dependency: Losing a pet weakens your combat effectiveness.
PvP Challenges: PvP can be tricky due to pet control and adaptation needs.
Limited Condition Removal: Rangers have fewer condition removal abilities.
↖ Skills
Rangers utilize five skill types to commune with the wild: Commands, Signets, Survival, Spirits, and Traps.
Commands: These are orders given to your pets for offensive and defensive purposes. For example, "Protect Me" grants protection and barrier, while "Sic 'Em" makes your pet rush an enemy, dealing increased damage for a short period.
Signets: These provide strong passive and powerful active effects. The "Signet of Stone" increases toughness passively and grants temporary damage immunity, while "Signet of the Hunt" boosts movement speed and makes your attacks unblockable.
Survival Skills: These skills are essential for keeping you alive and turning the tide of battle. "Lightning Reflexes" allows you to evade backward, dealing damage and gaining Vigor, while the elite skill "Entangle" roots and bleeds nearby enemies.
Spirits: Unique to Rangers, spirits offer support and defense for both you and your allies. The "Stone Spirit" grants protection and can teleport to immobilize and cripple nearby foes, while the "Spirit of Nature" provides healing and can even revive downed allies.
Traps: These cunning abilities deter your foes from challenging you. The "Spike Trap" launches foes and causes bleeding when stepped on, and the "Viper's Nest" releases a swarm of poisonous snakes when triggered.
↖ Trait Lines
The core trait lines for Rangers are Marksmanship, Skirmishing, Wilderness Survival, Nature Magic, and Beast Mastery, each with a distinct focus.
Marksmanship: Emphasizes high power damage and enhancing the Longbow's effectiveness.
Skirmishing: Focuses on critical hits, strike improvement, and condition damage.
Wilderness Survival: Offers defensive and condition protection.
Nature Magic: Prioritizes support through healing and boon generation.
Beast Mastery: Enhances your pet's damage and capabilities.
↖ Marksmanship
Marksmanship is all about precision and power, enhancing your Ranger's effectiveness in combat. Here's a breakdown of the key traits:
Opening Strike: You and your pet inflict vulnerability with your first strike when entering combat.
Stone Form: Use Lesser Signature of Stone when struck below 50% health, making you and your pet invulnerable for 2.5 seconds. Keep in mind it has a 300-second cooldown.
Hunter's Gaze: Gain might when you strike a foe based on their health percentage.
Clarion Bond: Cast Lesser Call of the Wild when you swap pets, granting fury, might, and swiftness to yourself and allies while making your pet's attacks unblockable.
Alpha Focus: Your opening strikes inflict vulnerability on your foes.
Brutish Seals: Activating a signet grants fury to nearby allies, with a 25% recharge reduction on signets.
Far-Sighted: Ranger weapon skills deal 5% increased damage. The bonus increases to 10% if you're over 600 range.
Moment of Clarity: Gain an attack of opportunity and extend daze and stun durations when interrupting a foe.
Precise Strike: Opening strike has an increased chance to critically strike.
Predator's Onslaught: You and your pet deal increased damage to disabled or movement-impaired foes.
Remorseless: Regain opening strike whenever you gain fury.
Lead the Wind: Longbow and harpoon gun skills pierce and recharge faster, granting boons when striking foes beyond the range threshold.
Marksmanship enhances your Ranger's precision and offers unique combat advantages. Choose the traits that best complement your playstyle.
↖ Nature Magic
Nature Magic focuses on harnessing the power of nature to bolster your Ranger's abilities. Here's a breakdown of the key traits:
Rejuvenation: Gain regeneration when struck below 50% health.
Bountiful Hunter: Deal increased damage for each boon affecting you. Your pet deals increased damage for each boon affecting it.
Instinctive Reaction: Gain quickness when struck below 50% health. You and your pet gain healing power based on power.
Allies Aid: Cast Search and Rescue when reviving an ally, commanding your pet to revive a downed ally.
Fortifying Bond: Share boons with your pet when you gain a boon.
Evasive Purity: Dodging removes a damaging and non-damaging condition from you.
Spirited Arrival: Grant boons to nearby allies when swapping pets.
Wind-Borne Notes: Warhorn skills gain reduced recharge, grant regeneration, and recover health when you gain regeneration.
Lingering Magic: You and your pet gain increased concentration.
Nature's Vengeance: Reduces health loss when spirits apply boons to allies and enhances spirit-activated skills.
Protective Ward: Gain protection when receiving damage, weakening nearby foes.
Invigorating Bond: Beast abilities heal allies around the caster.
Lead the Wind: Longbow and harpoon gun skills pierce and recharge faster, granting boons when striking foes beyond the range threshold.
Nature Magic emphasizes support and strengthening your Ranger's bond with nature, making it an ideal specialization for those who want to focus on healing and boons.
↖ Skirmishing
Skirmishing specializes in agility and precision, offering traits that enhance your Ranger's combat skills. Here's a breakdown of the key traits:
Tailwind: Gain swiftness when swapping weapons in combat.
Sharpened Edges: You and your pet have a chance to cause bleeding on critical hits.
Primal Reflexes: Gain vigor when successfully evading an attack.
Trapper's Expertise: Increase the duration of boons and conditions applied by traps, with reduced trap recharge and offensive traps causing conditions.
Furious Grip: Gain fury when swapping weapons in combat.
Spotter: Increase the precision of nearby allies, boosting critical hit chance.
Strider's Defense: Evading an attack grants quickness, and sword skills gain reduced recharge.
Hidden Barbs: Your bleeding infliction becomes more potent.
Hunter's Tactics: You deal more damage and have an increased chance to critically strike when attacking from behind or the side.
Quick Draw: Reduce the cooldown of the next weapon skill you use when swapping weapons.
Light on Your Feet: Damage and condition duration are increased after dodging or using short bow skills. Short bow skills pierce, gain recharge reduction, and improve attacks from the side or behind.
Vicious Quarry: Gain ferocity and additional critical strike chance on interrupting a foe or when struck below 75% health.
Skirmishing is all about agility and critical strikes, making it perfect for Rangers who want to be nimble and maximize their damage potential.
↖ Beast Mastery
Beast Mastery enhances your pet and their abilities, making it a great choice for Ranger pet enthusiasts. Here's a breakdown of the key traits:
Pack Alpha: Your pet's attributes are improved, and pet skills have reduced recharge time.
Go for the Eyes: Nearby foes are blinded by beast abilities.
Potent Ally: You and your pet grant might to each other when critically striking a foe.
Resounding Timber: Commands apply additional boons and have reduced recharge.
Loud Whistle: While your health is above 90%, your pet deals more damage, and pet swap gains recharge reduction.
Wilting Strike: Beast abilities inflict weakness on those struck.
Two-Handed Training: Greatsword and spear skills deal more damage, recharge faster, and grant fury when disabling a foe.
Natural Healing: Your pet recovers health at regular intervals.
Pet's Prowess: Your pet moves faster and deals more damage on critical hits.
Beastly Warden: Beast abilities taunt nearby foes.
Zephyr's Speed: Cast Lesser Quickening Zephyr when swapping pets, granting quickness and super speed.
Honed Axes: You and your pet gain ferocity, axe skills recharge faster, and you gain additional ferocity when wielding an axe.
Beast Mastery amplifies the effectiveness of your pet and strengthens the bond between you and your loyal companion.
↖ Wilderness Survival
Wilderness Survival emphasizes adaptation and resilience in the face of danger. Here's a breakdown of the key traits:
Natural Vigor: Recover endurance more quickly.
Child of Earth: Create muddy terrain when using a healing skill.
Oakheart Salve: Gain regeneration when afflicted with bleeding, poison, or burning, with reduced damage taken while regenerating.
Taste for Danger: Gain increased vitality and expertise based on vitality.
Companion's Defense: Gain protection for you and your pet when dodging.
Amber Dexterity: Gain condition damage and additional condition damage when wielding a torch or dagger, with reduced recharge on torch and dagger skills.
Refined Toxins: While above the health threshold, your strikes inflict poison.
Shared Anguish: Incoming disables are transferred to your pet, but it has a long cooldown.
Rugged Growth: You and your pet recover health while affected by protection.
Emphatic Bond: Split condition durations between you and your pet.
Wilderness Knowledge: Survival skills reduce recharge, grant fury, and remove conditions.
Poison Master: Upon using a beast ability, your pet's next attack inflicts poison with increased poison damage.
Wilderness Survival ensures your Ranger is adaptable and resilient in any situation, offering a variety of unique abilities to tackle different challenges.
↖ Weapon Combinations
For an optimal Ranger experience, we recommend the combination of a Greatsword and Longbow. This pairing provides excellent strike damage and is widely considered one of the most effective weapon combinations for the profession. However, Rangers have a wide array of weapon choices, including Greatswords, Longbows, Short Bows, Main Hand Axes, Swords, Offhand Axes, Daggers, Torches, and Warhorns, each with its unique benefits and playstyle.
↖ PvE and PvP Roles
In PvE, Rangers excel as damage dealers with some supportive capabilities. Their versatile skill set allows them to adapt to different challenges, especially in the open world where their pets and evasive maneuvers shine.
In PvP, the core Ranger build Valkyrie is highly effective across skill levels, but mastering pet control can be a challenge. Understanding your pet's abilities is crucial for dispatching foes effectively.
↖ Elite Specializations
The Ranger has three elite specializations, each tied to a specific expansion:
Heart of Thorns: Introduces the Druid specialization, which brings a unique set of abilities and mechanics.
Path of Fire: Unlocks the Soulbeast specialization, providing even more versatility to the Ranger's playstyle.
End of Dragons: The Untamed specialization further expands your toolkit with new abilities and playstyle options.
Each specialization brings exciting changes and enhances the Ranger's adaptability.
Previous: Guild Wars 2 Warrior Profession Guide!
Conclusion:
In summary, the Ranger is a true master of adapting to various situations, utilizing pets, traps, survival skills, and a relentless companion. As a Ranger, you're well-equipped for the challenges of the wild. Remember, not all those who wander are lost, and you're here to prove it.
Most Popular Posts
Popular Category Lists