WoW Season of Discovery Rogue Class Rune Engravings: New Spells and Abilities
As the Season of Discovery looms on the horizon, it's crucial to unravel the mysteries of the Rogue class spells and abilities in Classic WoW. In this guide, we'll navigate through the shadows, dissecting the intricacies of each skill up to level 25, the initial cap. From shadowy engravings on chests to lethal strikes with hand and leg engravings, the Rogue class promises a thrilling journey filled with intrigue and danger.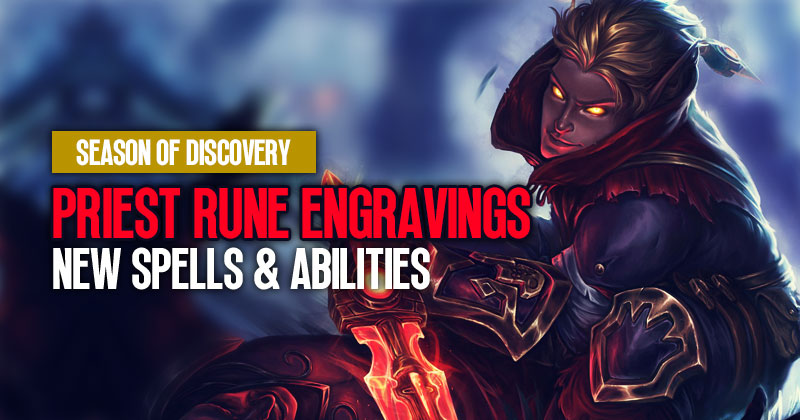 ↖ Chest Rune Engravings
| New Runes | Effect | Analysis |
| --- | --- | --- |
| Slaughter from the Shadows | Reduces the energy cost of Backstab and Ambush abilities by 20. | A significant damage boost for openers, making Backstab and Ambush more energy-efficient. |
| Deadly Brew | Inflicts deadly poison when applying any other poison. | Versatile in both PvE and PvP, allowing for strategic poison combinations and increased damage output. |
| Quick Draw | Draw your ranged weapon, fire a quick shot, and reduce the target's movement speed by 50% for 6 seconds. | Adds versatility to Rogue gameplay, providing a ranged option with a movement speed debuff. |
| Just a Flesh Wound | Reduces physical damage by 20% during Blade Dance, with increased threat generation and a chance to taunt. | A game-changer, turning Rogues into potential tanks with a taunting ability |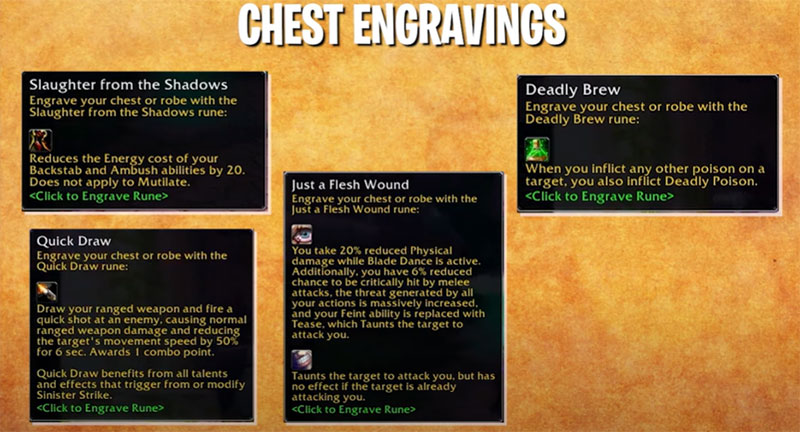 ↖ Leg Rune Engravings
| New Runes | Effect | Analysis |
| --- | --- | --- |
| Blade Dance | Finishing move that increases Parry chance based on combo points. | Versatile for tanking or PvP, offering increased survivability and utility. |
| Between the Eyes | Ranged finishing move that deals damage and stuns based on combo points. | A valuable tool for catching fleeing enemies in PvP, providing both damage and crowd control. |
| Envenom | Finishing move dealing instant poison damage based on deadly poison doses. | Enhances sustained damage with a poison-centric approach, especially effective after applying deadly poison. |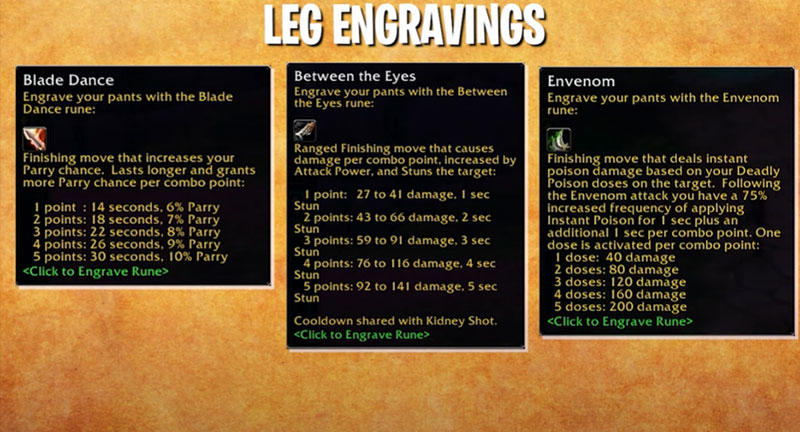 ↖ Hand Rune Engravings
| New Runes | Effect | Analysis |
| --- | --- | --- |
| Saber Slash | Slashes the enemy, causing weapon damage and applying a bleeding effect. | Boosts overall DPS and provides combo points, especially effective when stacked for ruptures. |
| Main Gouge | Strikes with the off-hand weapon, increasing Parry chance for a duration. | Offers increased survivability, suitable for both tanking and PvP scenarios. |
| Shiv | Instantly attacks with the off-hand weapon, applying off-hand weapon poison. | Useful for quickly applying deadly poison stacks in PvP situations. |
| Mutilate | Dual-wield attack dealing weapon damage with bonus damage against poisoned targets. | A powerful addition for mutilate Rogue builds, enhancing burst damage. |
| Shadow Strike | Teleports behind the target and strikes, causing weapon damage and awarding a combo point. | A game-changer for PvP, providing a gap closer and making Rogue gameplay more fluid. |

Related: WoW Season of Discovery Priest Class New Spells and Abilities
Conclusion:
With these new spells and abilities, the Rogue class in the Classic WoW Season of Discovery offers a diverse and exciting gameplay experience. Whether you're interested in dealing massive damage, tanking, or engaging in PvP, Rogues have a plethora of tools to master. So, pick your playstyle, sharpen your blades, and get ready to embark on an epic adventure in Azeroth!
Most Popular Posts
Popular Category Lists