WoW Season of Discovery Warrior New Runes: Spells and Abilities
The Classic WoW Season of Discovery is just around the corner, and players are eagerly anticipating the arrival of new spells and abilities for each class. In this guide, we'll delve into the new spells and abilities that the Warrior class will gain access to up to level 25. Understanding these changes is crucial for players looking to decide which class to play in the upcoming season.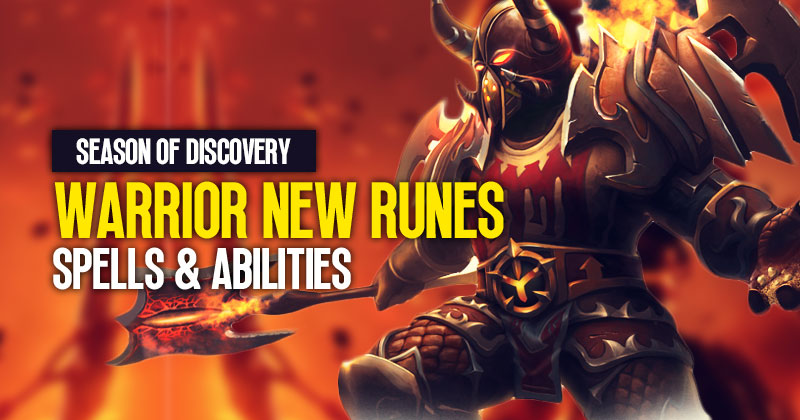 ↖ Chest Runes
Warriors have four chest enchants introduced in the Season of Discovery:
| New Runes | Description |
| --- | --- |
| Blood Frenzy | With Blood Frenzy, each time you deal bleed damage, you gain three rage. This passive ability is a significant addition to a Warrior's toolkit, especially when considering abilities like Deep Wounds and Rend. The constant bleed damage means you'll almost always have a high rage pool, allowing you to spam powerful abilities like Heroic Strike. |
| Raging Blow | Raging Blow is a ferocious strike that deals 100% weapon damage and can only be used while the Warrior is enraged, either through Berserker Rage or Blood Rage. This ability adds another option to your rotation, increasing your damage potential. |
| Flagellation | Activating Blood Rage or Berserker Rage grants a 25% bonus to physical damage for 12 seconds. This damage boost is a substantial improvement, increasing your overall damage output. |
| Warbringer | Warbringer is a game-changing ability that allows your charge, intercept, and intervene abilities to be used in combat and in any stance. Furthermore, when activated, these abilities will remove movement impairing effects. This is an excellent tool for Warriors to break free from roots, snares, or slows, making it invaluable in both PvP and PvE scenarios. |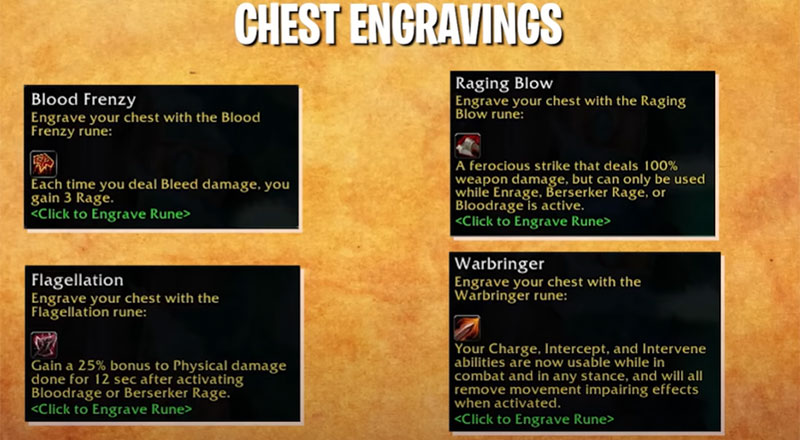 ↖ Leg Runes
For Warriors, there are three leg enchants introduced in the Season of Discovery:
| New Runes | Description |
| --- | --- |
| Furious Thunder | This enchantment enhances Thunder Clap, increasing the time between attacks by an additional 6% and allowing it to be used in any stance. This change makes Thunder Clap more versatile and effective. |
| Frenzied Assault | When wielding two-handed weapons, your attack speed is increased by 20%. This is a substantial damage boost, particularly for Arms Warriors who can further augment their damage potential with World Buffs. |
| Consumed by Rage | When you exceed 80 rage, this enchantment enrages you, granting a 25% melee damage bonus for 12 seconds or up to a maximum of 12 swings. This ability can significantly increase your burst damage potential in combat. |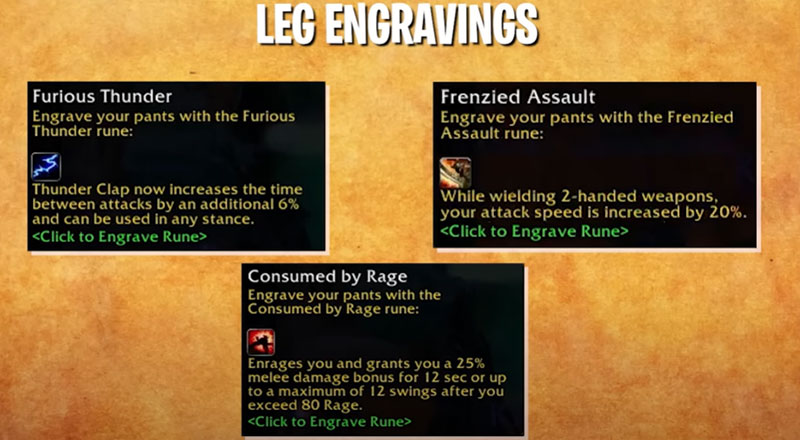 ↖ Hand Runes
Warriors have five new hand abilities in the Season of Discovery:
| New Runes | Description |
| --- | --- |
| Victory Rush | This ability allows you to instantly attack the target, causing damage and healing you for 10% of your maximum health. It can only be used within 20 seconds after killing an enemy that yields experience or honor. |
| Single-Minded Fury | When dual-wielding, your physical damage and movement speed are increased by 10%. This is a significant boost for Fury Warriors, providing both mobility and damage potential. |
| Quick Strike | A reckless instant attack with your two-handed weapon, dealing substantial physical damage. It benefits from and triggers all effects associated with Heroic Strike. |
| Endless Rage | With Endless Rage, you generate 25% more rage from all damage you deal. When combined with other abilities like Blood Frenzy, you'll be able to maintain high rage levels throughout battles, allowing for consistent use of powerful attacks. |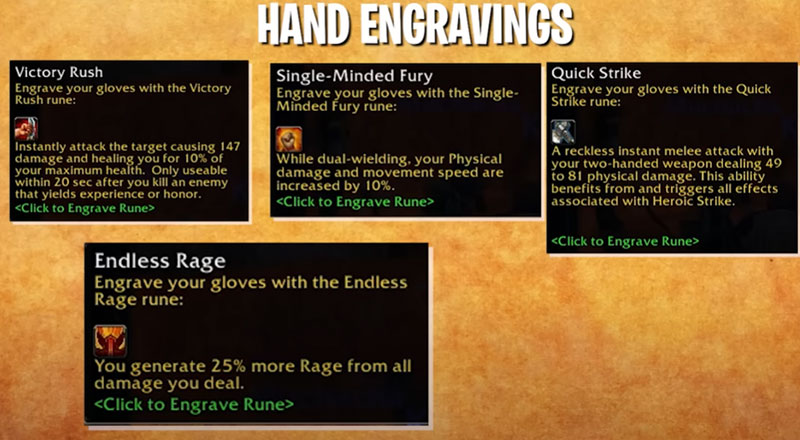 Releated: WoW Season of Discovery Paladin New Runes.
Conclusion:
While Warriors may not have seen the most significant changes in the Season of Discovery, their already formidable capabilities make them a force to be reckoned with. The new abilities and enhancements will make them even more potent in both PvP and PvE scenarios. Keep in mind that these are the abilities available up to level 25, and further changes and enhancements may await you as you progress through the game. Whether you're a seasoned Warrior or considering rolling one in Classic WoW Season of Discovery, these new spells and abilities will add depth and excitement to your gameplay.
Most Popular Posts
Popular Category Lists