Which are The Best AFK Activity in Old School RuneScape?
Are you looking for some great AFK activities in Old School RuneScape? Well, you're in luck! In this guide, we will cover some of the best AFK activities that will help you level up your skills and earn some OSRS gold. Whether you're looking to achieve 99s or just want to take a break from the more intense activities in the game, these AFK activities are perfect for you.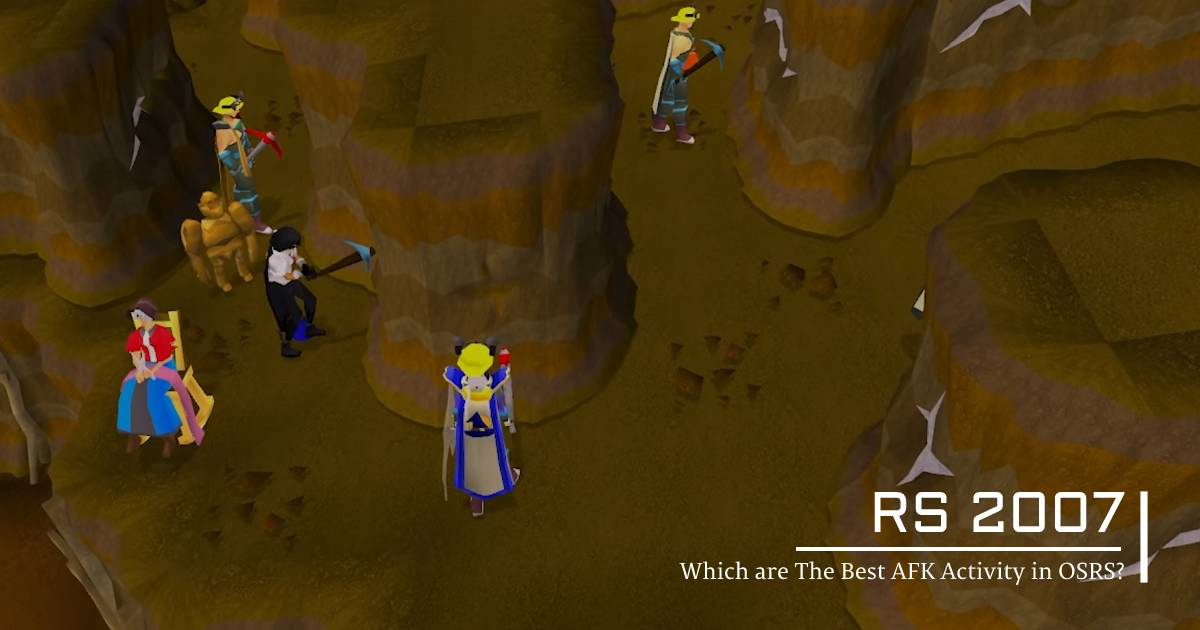 ↖ Redwoods
Redwoods are a great option for finishing up 90 to 99 Woodcutting. Cutting these has a varying AFK time, but in some situations, you can actually AFK for the whole 25 minutes. Most of the time, you won't, but you'll hover around 5 to 10 minutes, which is still nice. You'll get upwards of 60,000 Woodcutting XP an hour as well as 10,000 Firemaking XP per hour if you're using the Infernal Axe. This has become my go-to work time grind. It's not the greatest for GP, but it is good for Ironmen as well. If you're trying to gather some logs for birdhouses and you don't have the requirements for redwoods, use Magic Trees as good alternatives, but they're not as much XP or as AFK.
↖ Fishing
Fishing is a classic AFK activity, and there are several options to choose from. I recommend fishing at the Fishing Guild or the Sacred eels. Sacred eels are a great way to make some passive income while fishing. They are very AFK-able, and you can expect to make around 400k GP per hour. If you're looking to level up your fishing, the Fishing Guild is a great option. You can expect to get around 40k XP per hour with the fish barrel, which doubles the amount of time you can AFK by giving you a second full inventory.
↖ Fletching
Fletching is another great AFK activity that can be profitable if you choose the right method. Fletching longbows unstrung is a good option because you can do it with almost any type of log and it will still be profitable. You just need to check the prices of logs before you start doing this. Right now, the biggest GP gap comes from doing Maple unstrung longbows, but you can do this all the way up to Magic. When you get up to Magic longbows, you're still getting over 110k XP per hour, and this is an activity that you can click a couple of times and then forget about it for almost a minute.
↖ Cooking
Cooking is another classic AFK activity that can be very profitable. Almost all fish are profitable, and the XP is kind of nuts. You can easily get up to 300k XP per hour, and the cooking guild makes this very easy. Rogue's Den is comparable, but the Cooking Guild is just nicer.
↖ Crafting
Glassblowing is very AFK and it really hasn't been that bad GP-wise. The difference between a molten glass and unpowered orbs is so small that anyone could do this, and even with this minor loss, you're still getting 90k XP per hour, which is very good when working towards 99. You can make it cost a little bit more, but also give you a bit more XP if you do light orbs. This is just a cheaper crafting alternative to doing dragonhide, and it's not profitable like doing bracelets, but the XP is way better.
In conclusion, there are plenty of AFK activities available in Old School RuneScape that you can use to level up your skills while you're away from the keyboard.
Most Popular Posts
Popular Category Lists