SWTOR News: May 4th Events & Update 7.3 Class Changes
If you're a fan of SWTOR, then you'll be excited to know that there are some exciting changes coming in May. The May 4th events are set to start, including double XP and login rewards, while the 7.3 updates are coming soon, which will bring about some significant class changes. This article will give you all the information you need about these upcoming events.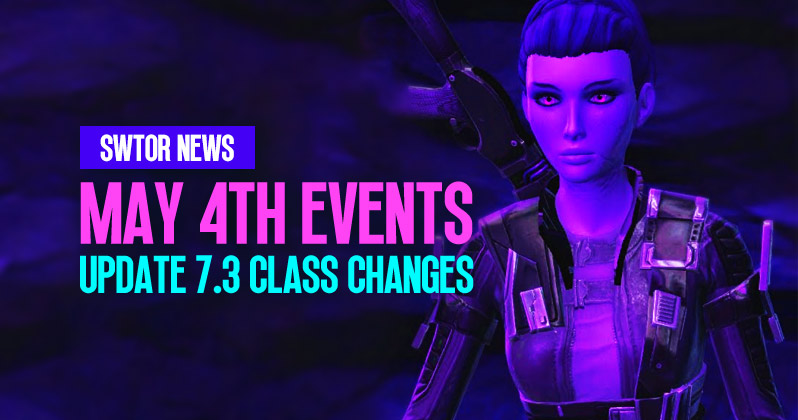 ↖ May 4th Events
The May 4th celebrations will run from May 4th to May 18th, and players will be able to take advantage of a number of bonuses and rewards during this period. The highlight of the event is the double XP event, which provides a perfect opportunity for players to level up their characters quickly. It's recommended that players focus on completing flashpoints during this time to maximize their XP gains.
In addition to the double XP event, players will also be able to enjoy a range of other bonuses and rewards during the May 4th celebrations. These include a droid mini pet for logging in during the event period and a collection sale which will offer discounts on all Cartel Market items.
↖ Bounty Contract Week
Bounty Contract Week will return on May 2nd, giving players the chance to earn reputation, armors, and other rewards by taking on bounties. This is a great event for players who want to earn extra rewards and progress their reputation with the Bounty Brokers Association.
↖ Swoop Rally Event
Swoop Rally event will return from May 16th to May 23rd, providing players with an easy way to earn SWTOR credits and a reputation for the gangs on Nar Shaddaa. This is a great event for players who enjoy racing and want to earn rewards while doing so.
↖ Radical Resurgence on Alderaan
Radical Resurgence event will take place from May 30th to June 6th, giving players a chance to earn rewards and reputation by completing quests and taking on enemies on Alderaan.
↖ SWTOR Update 7.3
Game Update 7.3 will be coming soon to the game and will introduce a range of changes and updates to the gameplay experience. Some of the most significant changes will be related to class balance, and players can expect to see a number of adjustments to tactics and abilities for multiple characters.
The Stealth Scan ability has also been changed for several characters, with new effects added that go beyond just revealing enemies. For example, the Powertech Vanguard can now slow enemies and decrease their accuracy when they've been stealth scanned.
The public test server for the update will be opened sometime after the live stream on May 3rd, which will provide players with more information about the update's story elements and other content. Players can look forward to learning more about the economic credit changes that are set to come with 7.3.
Conclusion:
May is set to be an exciting month for Star Wars: The Old Republic players, with a range of events and updates to look forward to. Be sure to take advantage of the double XP event and other bonuses during the May 4th celebrations, and stay tuned for more information about Game Update 7.3.
Most Popular Posts
Popular Category Lists