How to quickly upgrade the level of the gear to 332 in SWTOR?
Are you a new player to SWTOR PVP and wondering how to gear up quickly? In this guide, we will show you how to reach ilvl 332 in just one day by gearing up through PVE before jumping into PVP.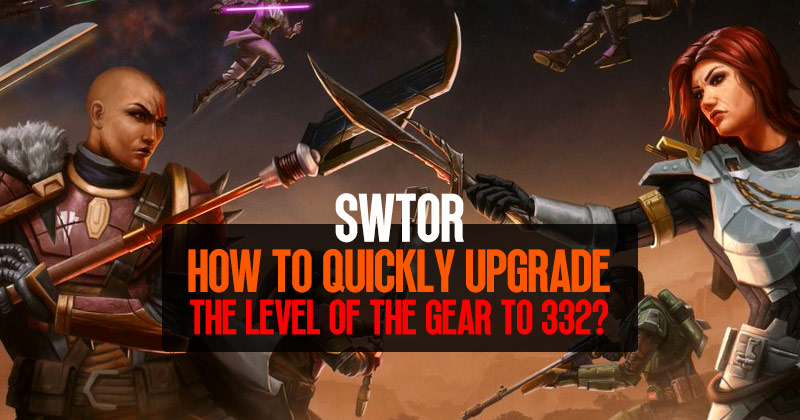 ↖ Step 1: Complete Technological Advancements Quest
The first step is to speak to the big blue three-legged creature at the supply section of the Fleet and pick up the Technological Advancements quest. Completing this quest will allow you to buy legendary implants, which can give a significant boost to your stats.
↖ Step 2: Complete Weekly Conquest
Completing your weekly conquest is a great way to earn Conquest points, which can be used to purchase gear. The fastest way to complete the conquest is by doing dailies and heroics on the fastest planets. Circa 198 planet, Tatooine, and Corellia are great choices. You can also get easy conquest points by harvesting resources or improving your strongholds.
↖ Step 3: Buy Green Conquest Gear
Head back to the supply section of the Fleet and buy a complete set of green Conquest gear. This will be the starting point for the next step.
↖ Step 4: Get Tactical Gear
If you are a returning player and don't have a Tactical item, we recommend joining a Dread Fortress story mode run to farm the necessary Tech Fragments until you have 2,000 and 1 billion credits. Purchase the Tactical gear that is best suited for your class.
↖ Step 5: Buy Item Level 252 Earpiece
Head to Ossus and buy an SWTOR items level 252 Earpiece. Equipping this Earpiece will help you get better rewards from the Flashpoints you will run in the next step.
↖ Step 6: Run Veteran Flashpoints
Run the Hammer Station and Red Reaper veteran Flashpoints. These are the fastest Flashpoints, and they will drop a blue Earpiece item level 324. This is an upgrade from the green gear that is normally dropped.
↖ Step 7: Save the Blue Earpiece
Save the blue Earpiece that drops from the first boss. This is the key to upgrading to item level 332. Deconstruct all the other blue Earpieces that you get from additional bosses, and you will receive FP1 stabilizers. You will need 680 FP1 stabilizers to upgrade your Earpiece to item level 332.
↖ Step 8: Upgrade to Item Level 332
Use the FP1 stabilizers to upgrade your Earpiece to item level 332. Remember to save the blue Earpiece and avoid accidentally losing it.
Conclusion:
By following these steps, you can quickly gear up to ilvl 332 and jump into SWTOR PVP with confidence. Remember, PVE is a great way to gear up before getting into PVP, so take advantage of this step. Good luck, and have fun!
Most Popular Posts
Popular Category Lists