Top 5 Desperately Needed Improvements for Genshin Impact in 2023
Genshin Impact is a popular RPG game, and players have been discussing the top five things that the game desperately needs in 2023. This article will focus on five new ideas that can improve the game's artifact system, give players more agency, improve banners, and make co-op more enjoyable.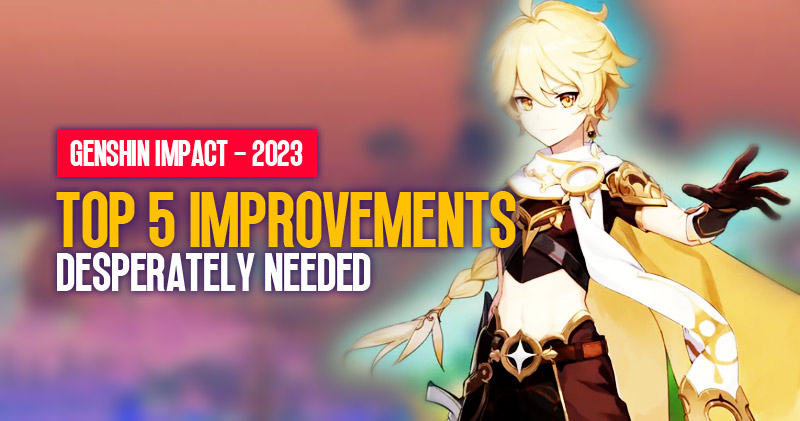 ↖ Artifact Resets
Artifacts are a vital component of character progression, and the current system of grinding for the right stats can be frustrating. Players often spend hundreds of resin trying to obtain the right artifact, only to end up with a useless one. The game can introduce a new item or feature that allows players to reset an artifact's level back to one. This would give players a chance to reroll the fourth substat and get a better artifact.
↖ Artifact Selection
Randomness is a common feature in RPGs, but when it affects everything, it can ruin the experience. The game can introduce an artifact selection feature that allows players to choose the artifact they want to obtain. This feature can be based on the day of the week or available at any time, giving players more agency and control over their progression.
↖ Improved Banners
The standard banner has been a point of contention in Genshin Impact since its release. The game can introduce more new 5-star characters to the permanent pool to give players more options. Additionally, the game can offer a guarantee on the pity system to ensure players get the character they want after a certain number of pulls.
↖ Co-op Improvements
Co-op mode in Genshin Impact can be frustrating due to various limitations, such as not being able to enter certain domains or not being able to use the same character. The game can introduce a co-op mode that allows players to enter any domain, regardless of their world level. Additionally, the game can remove the limitations of using the same character, allowing players to work together more effectively.
↖ New End-Game Content
Players have been requesting more end-game content, and the game can introduce new modes or challenges that offer unique rewards. These can include boss rush modes, survival modes, or new domains with exclusive artifacts or materials.
Conclusion:
Although Genshin Impact is a great game that has taken the gaming world by storm, however, it still has its flaws, and the five things discussed in this article are essential improvements that Genshin Impact desperately needs in 2023. By implementing these changes, Genshin Impact can become an even better game that players will enjoy for years to come. Follow us and continue to provide you with the Genshin Impact latest news and guides, so that you can have a better gaming experience!
Most Popular Posts
Popular Category Lists