SWTOR May 4th Celebration: Double XP, 2 Free Items, and Collections Sale
Get ready to immerse yourself in a thrilling celebration of the Star Wars universe with the exciting May 4th event in SWTOR. There are four fantastic events happening right now that you will want to take advantage of. From double XP and free items to a generous collections sale, this event is packed with opportunities to enhance your SWTOR experience. This guide will provide all the details you need to take full advantage of these limited-time offerings.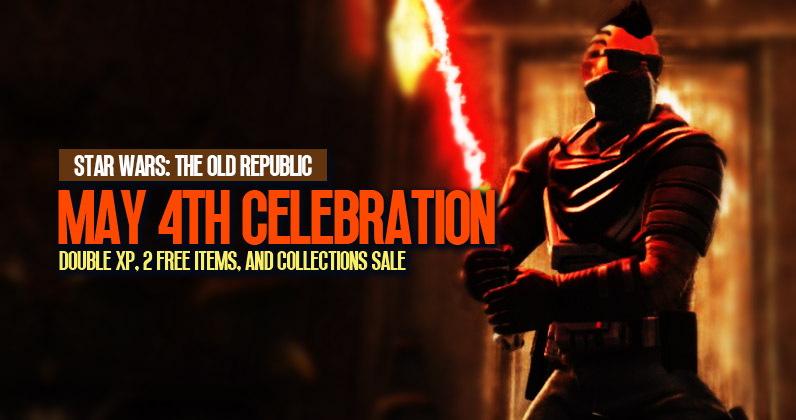 ↖ Free Item: BX23 Droid Mini-Pet
To kick off the celebrations, you can get your hands on the adorable BX23 Droid Mini-Pet. This charming cosmetic companion will follow you around and bring a smile to your face. Acquiring the mini-pet is simple—log into the game before May 18th, 2023. You only need to log in with one character, and the item will be automatically sent to all of your characters via in-game mail. If you don't see it right away, try logging out and back in to refresh.
↖ Free Item: Saharlots Code Redemption
For those looking for an additional freebie, you can obtain another item by visiting swtor.com and redeeming a special code. To do this, log into your SWTOR account on the website and use the code "SAHARLOTS". This is especially great if you still need to install the game since you can redeem the code directly on the website without logging into the game. Remember to redeem the code before May 18th.
↖ Double XP Event
Get ready to level up faster with the Double XP Event! From now until May 18th, experience doubles the rewards and progress. Whether you're a seasoned player or just starting your SWTOR journey, this event is a fantastic opportunity to boost your character's development. Stack your XP boosts, legacy unlocks, and any special armours that grant XP bonuses to level up at lightning speed. Additionally, during the event, you can also earn double valour points and swtor credits, perfect for PvP enthusiasts.
↖ 50% Off Collections Unlock Sale
If you've ever wanted to expand your collection of items in SWTOR, now is the perfect time. Take advantage of the Collections Unlock Sale, where you can unlock a wide range of items for your entire account at a 50% discount. Collections allow you to access and use specific items across all your characters, so it's a great way to enhance your gameplay experience. To make the most of the sale, consider unlocking at least one mount and a colour crystal. This way, all your characters can enjoy the benefits.
Note: The information provided in this guide is accurate as of May 17th, 2023. Please refer to the official SWTOR website or in-game announcements for the most up-to-date details.
Conclusion:
Take advantage of the exciting events happening in Star Wars: The Old Republic! Until May 18th, you can grab two free items, the BX23 Droid Mini-Pet and a redeemed item with the Saharlots code. Level up at double speed with the Double XP Event, stacking boosts and bonuses for maximum efficiency. And remember to browse the Collections Unlock Sale, offering a 50% discount on various items. Take advantage of these limited-time opportunities, and may the force be with you!
Most Popular Posts
Popular Category Lists