Diablo 4 Whirlwind Thorns Barbarian Season Starter Leveling Build
What's going on everybody, today we have an exciting leveling build for Diablo 4 - the Whirlwind Thorns Barbarian Build. This build focuses on single target damage and mobility, which are essential for clearing content and progressing through the early campaign levels. While Whirlwind may seem lackluster initially, it becomes incredibly powerful once you unlock additional parts of the skill tree.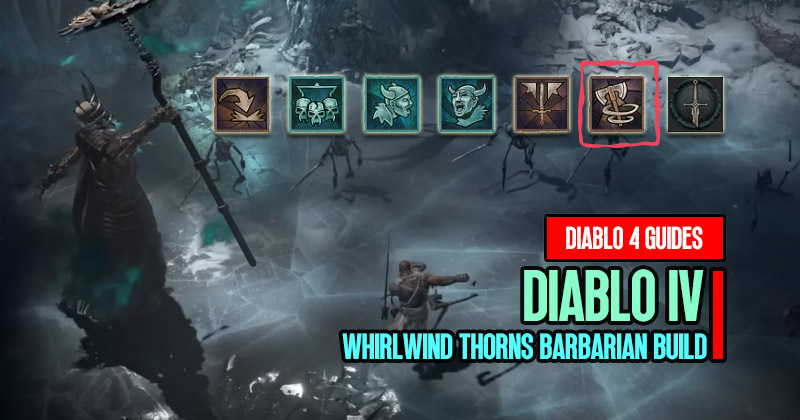 ↖About Whirlwind
Whirlwind is a skill that may seem lackluster initially but becomes much more powerful as you unlock additional parts of the skill tree. It starts to shine around level 15 and continues to ramp up into the later 20s. By the time you hit your stride, usually around level 25, you'll be able to crush everything in your path. Now let's dive into the skills.
↖Diablo 4 Link: Click Here
↖Skills:
Lunging Strike (2 points): Start with two points in Lunging Strike to unlock Whirlwind. Lunging Strike provides a dash that synergizes well with our bleed-focused build.
Whirlwind (max points): Invest points in Whirlwind to increase its effectiveness. Choose Enhanced Whirlwind for extra Fury generation and Furious Whirlwind for additional damage and effects.
Rallying Cry (max points): Rallying Cry is a crucial skill for movement speed and resource generation. Max out this skill to optimize your Fury generation.
Leap and War Cry: Pick up Leap for additional mobility and War Cry for increased damage. Consider taking Enhanced War Cry for even more damage and Berserking for a damage boost.
Outburst and Tough as Nails: Outburst is excellent for clearing dungeons and dealing with ads. Tough as Nails increases your thorns damage, making enemies take additional bleeding damage when they hit you.
Challenging Shout: Prioritize picking up Challenging Shout for damage reduction and the Enhanced Challenging Shout for increased max zone life. Strategic Challenging Shout grants a significant amount of thorns equal to 30% of your maximum life.
Heavy-Handed and Gushing Wounds: Invest in Heavy-Handed to increase critical strike damage. Gushing Wounds enhances bleeding damage, making it extremely potent. With bleed-based skills, you have a chance to cause critical damage.
Imposing Presence: Imposing Presence provides additional maximum life and thorns, further boosting your survivability and damage output.
Raid Leader and Swiftness: Consider picking up Raid Leader for increased healing and Swiftness for extra movement speed.
↖Aspects:
Aspect of the Dire Whirlwind: This aspect grants a substantial increase in critical strike chance. Combined with bleeding damage, it allows your bleeds to crit and significantly boosts your damage.
Aspect of Ancestral Echoes: This aspect summons an additional character to whirlwind for you when you land lucky hits. It adds more damage and crowd control to your build.
Edge Master's Aspect: Equip this aspect on your amulet to gain a 15% damage boost to Whirlwind when you have full primary resource.
Aspect of the Expectant: This aspect increases core skill damage, which benefits your overall damage output.
Aspect of Echoing Fury: This aspect provides extra fury generation per second when shout skills are active. It synergizes well with your other skills and allows you to whirlwind more frequently.
↖Stats to Consider:
Damage with Bleeding: Boosts the damage of your bleeding effects, which form a significant portion of your damage.
Damage with Core: Increases the damage of your core skills, enhancing your overall damage output.
Thorns: Adds passive damage that triggers when enemies hit you.
Critical Strike Chance and Damage: Increases your chance to crit and the damage dealt on critical hits, synergizing with bleeding damage and enhancing overall damage.
Remember, you can customize this build with different skills, stats, and aspects based on your playstyle and preferences. This guide provides a solid foundation for leveling and early campaign progression, and it truly shines once you unlock the aspects and reach higher levels.
Most Popular Posts
Popular Category Lists