Diablo 4 Preload Times, Launch Schedule, Instinct Mount, and Cosmetic Unlocks
We have exciting news for all the Diablo fans out there! Today, we received some important updates regarding Diablo 4, including preload times, launch details, and how you can earn some fantastic cosmetic gear. Let's dive right into it!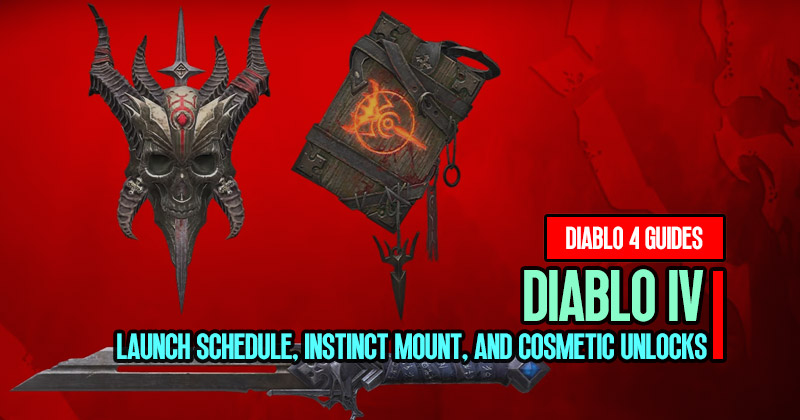 ↖ Preload Times
You will be able to install Diablo 4 on May 30th at 4 pm PDT (Pacific Daylight Time). Preloading will be available through the Battle.net client, Xbox Store, and PlayStation Store. This allows you to get the game installed and ready ahead of time.
↖ Launch Schedule
Diablo 4 will have an Early Access launch, also known as the pre-order launch, on June 1st at 4 pm PDT. Players who have pre-ordered the game will be able to jump into the action early. For everyone else, the global launch will take place on June 5th at 4 pm PDT.
↖ Primal Instinct Mount
The unlock has generated some discussion on social media. By gifting two subs to an eligible Diablo 4 creator, you can unlock the Primal Instinct Mount. However, some controversy has arisen due to the limited list of eligible streamers for Diablo 4. Not all Diablo content creators are included, which has caused a bit of a stir. Nonetheless, the intention is to provide recognition to dedicated Diablo content creators. Whether you agree or not, this is how the unlock works.
↖ Cosmetic Unlocks
If you're looking to add some cool cosmetic unlocks to your character, there will be Twitch Drops available during specific periods.
By watching three hours of eligible streams with drops enabled between June 5th and June 11th, you can unlock the following cosmetics: two weapon colors, a coffer for the Rogue, and a Necromancer back trophy.
In the following weeks, more cosmetic unlocks will be available.
From June 12th to the 18th, you can unlock a wand color and a Hell Rune back trophy.
Between June 19th and 25th, an ax color and another back trophy can be obtained.
From June 26th to July 2nd, a mace recall color and another back trophy will be up for grabs.
Remember, you need to watch three hours of eligible streams each week to unlock these cosmetics. Make sure to link your Twitch and Battle.net accounts to receive credit.
To conclude, today's news may be short, but it's significant for those interested in acquiring free cosmetics and knowing the preload times. Now, let's wrap up with a question for you: What class and build are you planning on playing at launch? Get ready to embark on an epic Diablo 4 adventure!
Most Popular Posts
Popular Category Lists