Diablo 4 Equipment Upgrade Guide: Breaking Points, Enchant and Abilities
Welcome to LOLTANK Diablo 4 guide, where we'll show you the most efficient way to upgrade your equipment and share valuable tips to save you time, Gold, and resources. Upgrading items in Diablo 4 can be a complex process, but understanding the game's mechanics and focusing on specific breaking points can significantly enhance your character's power. In this guide, we'll cover everything you need to know about upgrading equipment, enchanting, and making the most of your resources.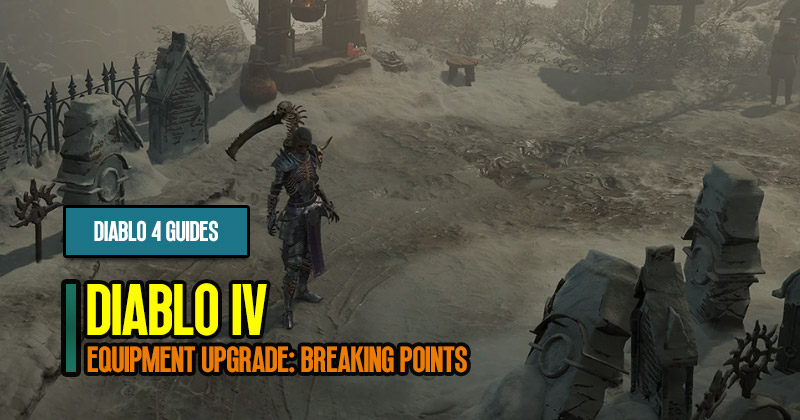 ↖ Understanding Breaking Points
In Diablo 4, there are specific breaking points for weapons and armor. These breaking points indicate when an item reaches a certain power level, unlocking a different level of stats. The game features six tiers of stats, each associated with a specific item level range. Here's a breakdown of the tiers and their corresponding item level ranges:
Tier 1: Item levels 1 to 149
Tier 2: Item levels 150 to 339
Tier 3: Item levels 340 to 459
Tier 4: Item levels 460 to 624
Tier 5: Item levels 625 to 724
Tier 6: Item levels 725 and above
↖ The Importance of Breaking Points
When you have an item near a breaking point, investing resources in upgrading and enchanting becomes crucial. Breaking through a breaking point allows your character to access the next tier of stats, resulting in significant damage and stat increases. However, if an item is not close to a breaking point, it is advisable not to waste resources on upgrading it further.
↖ Upgrade and Enchant Strategically
To optimize your upgrades, focus on finding a rare item with desirable base stats and enchant it before upgrading it to a legendary item. Legendary drops are not always superior, so starting with a high-quality rare item is generally more efficient. Enchanting the item allows you to roll for desired stats before upgrading it, minimizing the risk of wasting resources on undesirable rolls.
↖ Managing Upgrading Costs
Upgrading an item from rare to legendary can be expensive, so it's essential to prioritize and make informed decisions. Only upgrade a rare item to legendary if necessary or if you have not obtained a better roll on that particular item. Remember that each upgrade consumes forgotten souls, themed runes, veiled crystals, and gold. Min-maxing your rare items and upgrading sparingly will help you save resources for crucial enhancements.
↖ Leveraging Bonus Stats
While the damage per second (DPS) of off-hand weapons may not matter, their bonus stats affect your character. These bonus stats carry over to the main weapon you are using, providing valuable benefits. Therefore, even if you are not actively using an off-hand weapon, select one with advantageous bonus stats to maximize your character's power.
↖ Unlocking Additional Abilities
Breaking through a breaking point grants access to higher stats and unlocks additional ranks for certain abilities. By upgrading an item past the breaking point, you can gain more ranks for skills, enhancing their effectiveness. This feature allows you to optimize your build further and tailor it to your playstyle.
Conclusion
Upgrading and enchanting equipment in Diablo 4 can be a complex process, but you can significantly enhance your character's power by understanding breaking points, managing resources wisely, and leveraging bonus stats. Focus on upgrading rare items with desirable stats and enchant them strategically before considering legendary upgrades. Breaking through breaking points can also unlock higher stats and additional ability ranks. By following these tips, you'll be well on your way to min-maxing your character and progressing efficiently in Diablo 4.
Most Popular Posts
Popular Category Lists