Diablo 4 Stash Space Guide: Increase, Sorting, and Organizing Stash
In this comprehensive guide, we will cover essential tips and tricks for late-game farming in Diablo 4. One crucial aspect of efficient farming is managing your inventory and stash space effectively. We'll show you how to maximize your storage capacity and sort your items efficiently. By following these strategies, you'll save time, minimize frustration, and make the most out of your farming sessions.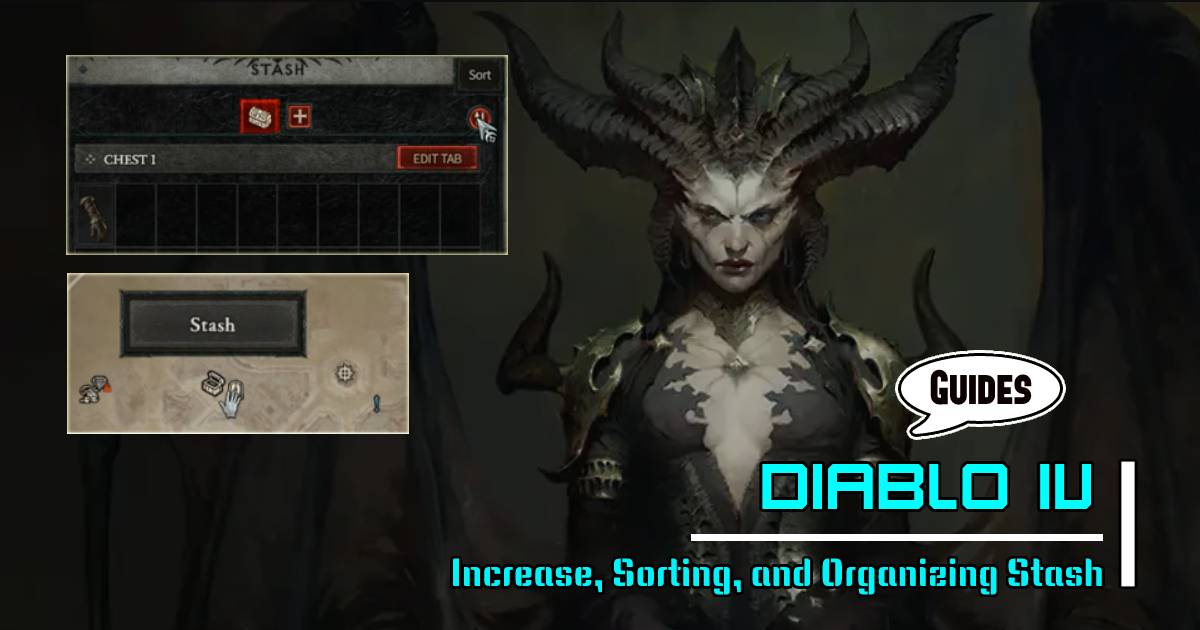 ↖ How to get EXTRA Storage Stash Space?
To begin, let's address the issue of limited stash space. By utilizing a simple trick, you can gain six additional stash tabs, providing you with ample storage for your loot. The method involves creating multiple characters and utilizing their inventory as extra stash space. Each character can serve a specific purpose, such as storing legendaries or unique items for different classes. By distributing items among characters, you can effectively increase your stash capacity.
Here's how it works:
Create additional characters and skip the campaign.
Visit the stash on these characters to turn them into mobile stash tabs.
Each character has around 33 tabs, while your main stash has 50 tabs.
By utilizing this method, you effectively gain six free stash tabs.
↖ Sorting and Managing Inventory
To streamline your farming experience, it's crucial to efficiently sort and manage your inventory. By employing a few key strategies, you can save time and make the most of your looting sessions.
Filter your items: Avoid cluttering your inventory with unnecessary items. Focus on picking up gems, signature items, and secret items, while excluding legendaries and uniques. Utilize the game mechanics to have these excluded items automatically sent to your stash.
Salvage or sell: After filtering out unwanted items, you can quickly salvage them at the blacksmith or sell them to NPCs, Change items for Diablo 4 Gold save stash space. Speed up the process by filtering based on item properties and focusing on upgrades.
Sort by legendary effects: Arrange your inventory to group items with similar legendary effects together. This way, you can easily compare and evaluate their usefulness for your build. Sorting by specific properties helps you make informed decisions quickly.
↖ Organizing Your Stash
Efficiently organizing your stash is vital for smooth farming sessions. By categorizing and sorting your stash tabs, you can easily locate and access the items you need.
Categorize tabs: Assign specific tabs for different purposes. For example, you can have a tab for legendaries, another for rare items you plan to inspect later, and separate tabs for unique items and gems. This approach ensures quick access to items when needed.
Transfer items to alternate characters: Once you have gathered a considerable number of legendaries or unique items, transfer them to appropriate characters to clear up stash space. This way, you can maintain a tidy and organized stash for future farming sessions.
Manual sorting: Consider manually sorting your items within tabs based on their legendary effects. Arrange them in ascending order, making it easier to compare their properties and identify the best items for your build. Avoid relying solely on the default sorting options, as they may not prioritize legendary effects.
Conclusion:
By following the tips and strategies outlined in this guide, you'll be well-equipped to manage your inventory and stash space effectively in Diablo 4's late-game items farming. Maximizing your storage capacity, filtering items, and organizing your stash will save you time and ensure a smoother gaming experience.
Most Popular Posts
Popular Category Lists