Diablo 4 Path 1.0.2 Penetrating Shot Rogue Build
This guide will focus on the Penetrating Shot Rogue Build for Diablo 4. We'll delve into the skills, Paragon board, and aspects that make this build successful. Additionally, I'll provide links to a D4builds.gg with all the necessary build details and a visual representation of in-game skills, Paragon board, and gear.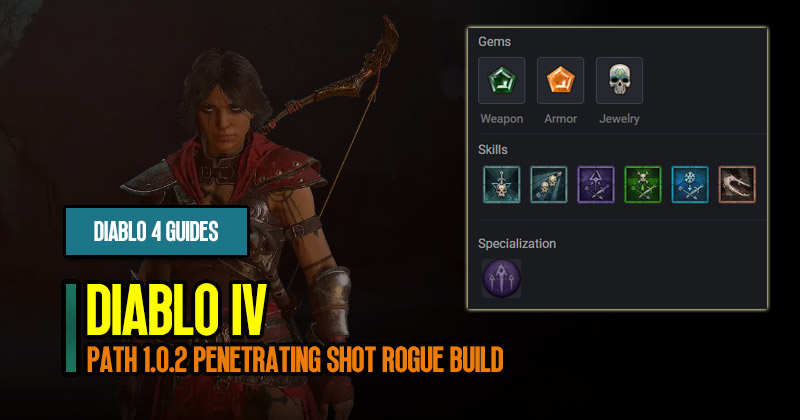 ↖ Build Link
https://d4builds.gg/builds/c62f667c-3aa3-470f-b80e-27cee905ba50/
↖ Patch 1.0.2 Changes from Previous Builds
Before diving into the build specifics, let's address the changes made in this version. Blizzard disabled Edge Masters, which impacted the previous build. As a result, adjustments have been made, such as moving the Aspect of Corruption to the crossbow and adding the Accelerating Aspect to the ring. The skill Poison Trap has been replaced with Cold Beam, enabling more frequent use of Penetrating Shot without energy concerns.
↖ Gear Recommendations
To maximize the effectiveness of this build, paying attention to secondary stats on gear is crucial. Here are the key stats to focus on for each gear slot:
Helmet: Look for four ranks of Shadow or Poison Imbuement and a maximum energy roll to ensure sufficient energy for Penetrating Shot usage.
Chest Piece: Prioritize defensive stats such as damage reduction, poison resistance, and total armor.
Gloves: Seek Attack Speed, Critical Strike Chance, and three ranks of Penetrating Shot. Lucky Hit Chance can be an additional desired stat.
Pants: Focus on defensive stats like total armor, damage reduction, and dodge chance.
Boots: Opt for Penitent Greaves or any boots with movement speed, dodge chance, and dexterity.
Crossbow: Look for vulnerable damage, dexterity, core skill damage, and critical strike damage with imbued skills.
First Dagger: Condemnation is a recommended skill for combo points generation.
Second Sword: Prioritize critical strike damage, basic skill damage, dexterity, and vulnerable damage.
Rings: Aim for critical strike chance, critical strike damage, imbued skill damage, and critical strike damage with imbued skills. Resource generation can be helpful if you struggle with energy.
Amulet: Seek Marksman skill damage, ranks in Exploit or Malice, imbuement skill cooldown reduction, and resource reduction. Offensive stats are important for amulets.
↖ Playing the Build
To maximize the potential of the Penetrating Shot Rogue Build, keep these three principles in mind:
Understand Imbuements: Each imbuement (Shadow, Poison, Cold) has its strengths. Shadow is great for AoE situations, Poison excels in single-target encounters, and Cold provides crowd control while benefiting from the imbuement-focused Paragon board.
Group Enemies: Utilize Trickshot Aspect to group enemies together tightly. Penetrating Shot's additional arrows and imbuements can clear entire packs if enemies are clumped.
Use Penetrating Shot with Maximum Combo Points: Always ensure you have maximum combo points and an imbuement skill before using Penetrating Shot. The ideal rotation is: activate an imbuement, use puncture three times, then shoot Penetrating Shot. Repeat this process, ensuring energy is not an issue.
↖ Gameplay Tips
Practice orb walking, which involves alternating movement and skill usage, to optimize kiting and positioning.
During boss fights, manage your energy carefully and kite if needed, waiting for energy to replenish before executing your rotation.
Prioritize enemies with the suppressor affix by using Shadow Step to eliminate them quickly.
Most Popular Posts
Popular Category Lists