Diablo 4 World Tier 4: Fast Farming Legendary Items and Red Shards
Welcome to this Diablo 4 guide, where we'll show you a broken method to acquire legendary ancestral staffs, helms, legs, and much more without farming cinder in World Tier 4. This guide walks you through the steps to maximize your Items and Diablo 4 Gold drops and exploit a farming technique. So, let's dive right in!
↖ Step 1: Set World Tier to Nightmare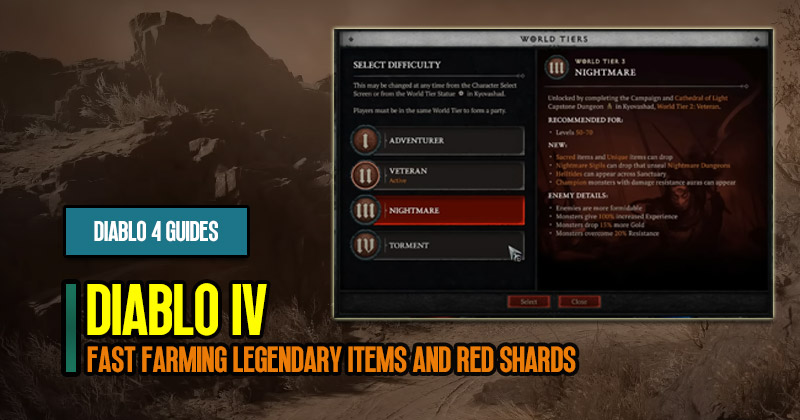 Start by setting your World Tier to Nightmare, found on World Tier 3. This tier allows you to encounter the specific enemy, HellTides, which drops the desired items and D4 Gold. If you select a lower tier like Veteran, HellTides won't be available. Make sure to choose Nightmare and proceed to the next step.
↖ Step 2: Locate HellTides
Once you've set the World Tier to Nightmare, locate the position of HellTides on the map. Fast travel to the point of interest where the HellTides can be found. Now, combat with enemies to gather cinder or participate in events to earn additional cinder. The method of acquiring cinder doesn't matter; you can even exploit certain events for an extra cinder.
↖ Step 3: Teleport Back to Town and Change World Tier to Torment
After collecting enough cinder, teleport to town using the T key (or holding down the d-pad on consoles). Now, change the World Tier back to Torment. It's important to note that most things, such as the Tree of Whispers, dungeons, and nightmares, will reset. However, your cinder count will remain intact.
↖ Step 4: Farm on World Tier 3 and Open Mysterious Chests
With the World Tier set to Torment, return to World Tier 3. Defeat enemies here, then switch back to World Tier 4. Locate a mysterious chest and open it to obtain ancestral legendaries. The beauty of this method is that you can rinse and repeat the process. If you find HellTides challenging on World Tier 4, you can farm on World Tier 3 first before moving up.
↖ Step 5: Exploit the PvP Area for Red Shards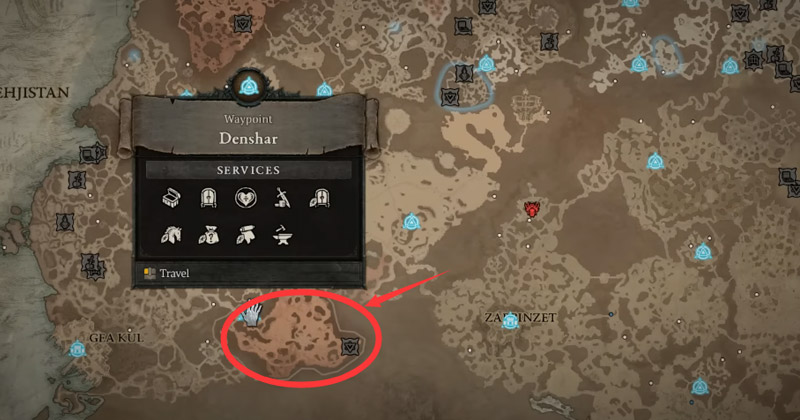 Follow this method for those interested in acquiring red shards without engaging in PvP. Set your World Tier to Tier 1 and head towards one of the PvP areas. The bottom PvP area is recommended due to its shorter events. Upon arrival, find two nearby events and complete them. The events can be found on the bottom portion of the map. After completing each event, open the chests that appear to collect loot. This method ensures minimal player interaction.
↖ Step 6: Defeat the Boss for More Red Shards
In the PvP area, locate a specific boss that roams around. Defeat the boss to obtain additional red shards. This boss can be found in the PvP area itself. Keep defeating the boss to accumulate red shards.
↖ Step 7: Rinse and Repeat
You can repeat the steps described in Steps 5 and Step 6 to accumulate many red shards. Complete events, defeat the boss, and open chests for loot. Using this method, you don't have to engage in PvP to acquire red shards.
Conclusion:
Following these steps, you can maximize your loot drops in Diablo 4 by acquiring legendary ancestral staffs, helms, legs, and more without relying on cinder farming in World Tier 4. Additionally, you can exploit the PvP area to gather red shards without participating in PvP battles. Remember to switch between World Tiers as needed to optimize your loot drops.
Most Popular Posts
Popular Category Lists