Diablo 4 Best Dungeons to Farming Glyphics XP
When it comes to farming Glyphs XP in Diablo 4, certain dungeons stand out as excellent options. These dungeons are specifically designed to provide efficient and rewarding gameplay for players seeking to maximize their Glyphic XP and D4 Gold gains. By focusing your farming efforts on these dungeons, you can significantly enhance your character's progression and acquire valuable resources. In this guide, we will explore some of the best dungeons for farming Glyphs XP in Diablo 4, enabling you to optimize your farming strategy and achieve your goals faster.
↖ Lost Archives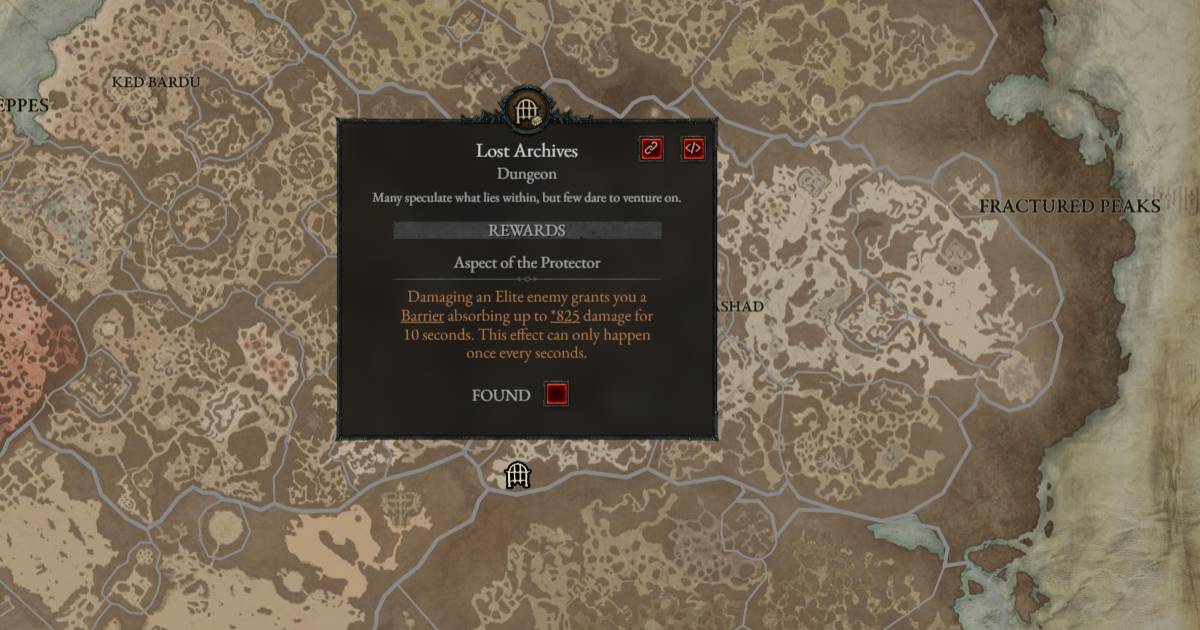 Location: Fractured Peaks, Desolate Highlands
Monsters: Fallen, Ghosts
Boss: Spiritcaller of Frost
Finshed Time: 2:45
Leveling: Tier B
Glyph Exp: Tier S
Lost Archives is an important dungeon in Diablo 4, as it is the key location for completing the Sorcerer Enchantment slot quest and unlocking the Sorcerer's class mechanic. Additionally, this dungeon offers valuable rewards such as Renown and the Defensive Aspect of the Protector. To maximize your gains, it is recommended to stock up on Sigils before diving into this dungeon, as you'll be running it multiple times for abundant loot!
↖ Maulwood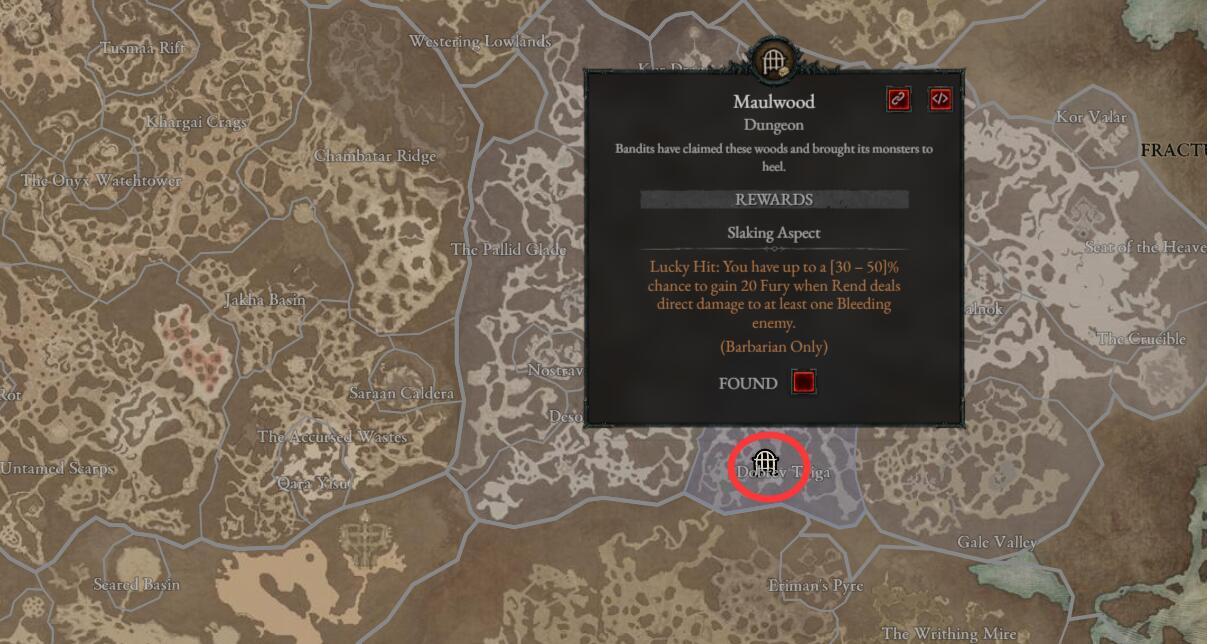 Location: Fractured Peaks, Dobrev Taiga
Monsters: Bandits, Werewolves
Boss: None
Finshed Time: 2:30
Leveling: Tier A
Glyph Exp: Tier S
Maulwood is an incredible dungeon in Diablo 4, known for its highly valuable Slaking Resource Aspect, a critical Codex of Power aspect that greatly enhances Barbarian leveling. This dungeon offers a quick and easy completion time with straightforward objectives. Prepare yourself by stocking up on Sigils before entering, as you'll want to run it repeatedly to amass massive hordes of loot!
↖ Aldurwood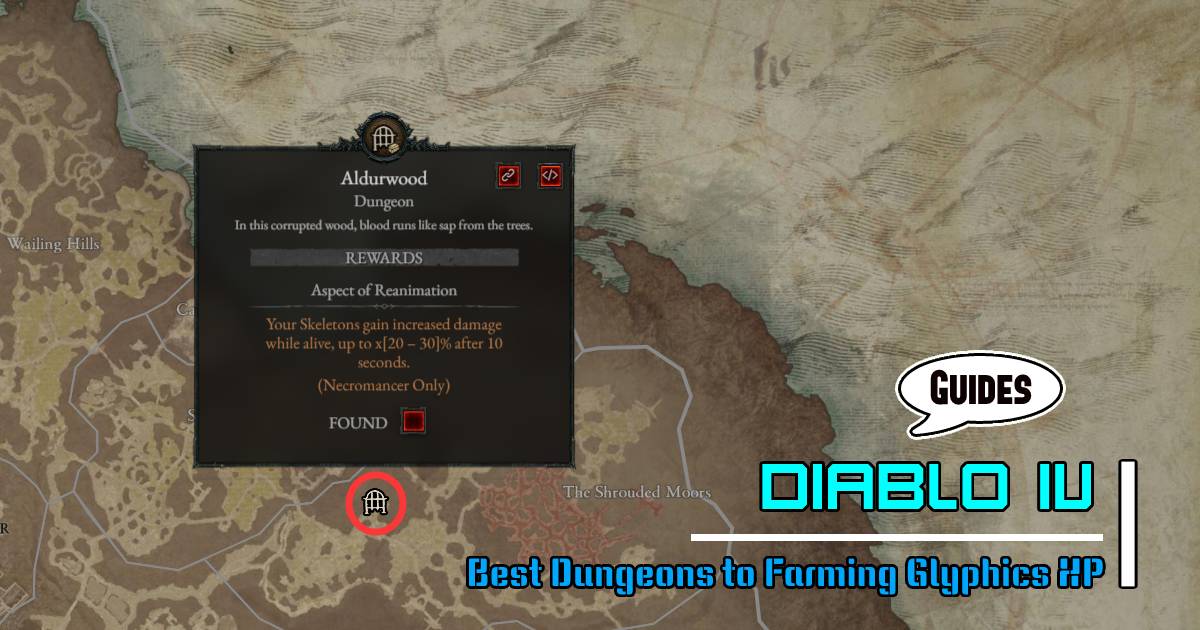 Location: Scosglen, The Shrouded Moors
Monsters: Werewolves
Boss: Den Mother
Finshed Time: 3:45
Leveling: Tier S
Glyph Exp: Tier S
Aldurwood is a dungeon located in Scosglen, specifically within The Shrouded Moors region. However, it is not considered a favorable dungeon due to its poor layout, challenging encounters, and lackluster rewards. This guide will provide you with an understanding of what to expect in Aldurwood, allowing you to make an informed decision about whether or not to tackle this dungeon.
Conclusion:
Farming Glyphs XP is a crucial aspect of character progression in Diablo 4, and choosing the right dungeons can make a significant difference in your efficiency and effectiveness. By focusing your farming efforts on the best dungeons mentioned in this guide, you can maximize your Glyphs XP gains, acquire valuable resources, and enhance your character's power and capabilities. Remember to consider your character's strengths and playstyle when selecting dungeons, as certain dungeons may be more suited to specific builds or playstyles. With a well-planned farming strategy and consistent efforts, you'll be well on your way to achieving greatness in Diablo 4.
Most Popular Posts
Popular Category Lists