Diablo 4 Gold Farming: Maximizing Sales and Salvage Guides
In Diablo 4, understanding the player economy is crucial to strategically selling and salvaging items for materials. This guide will provide insights on when and how to use your resources effectively, ensuring you have enough Diablo 4 gold and materials to upgrade your items and trade with other players. These tips can optimize your gameplay experience and help you progress efficiently in the late game.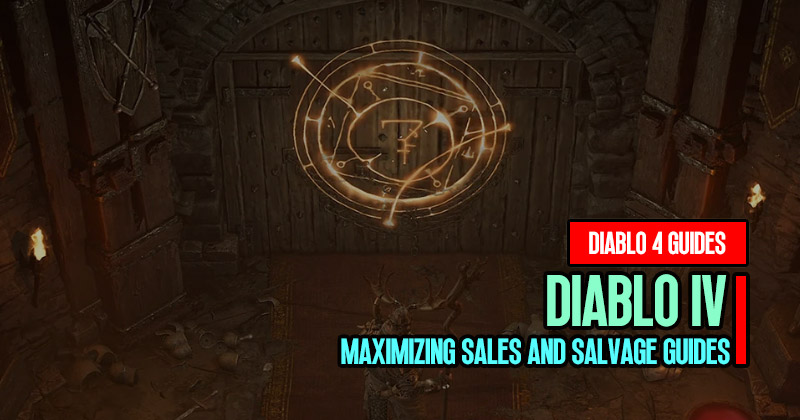 ↖ The Importance of Gold
Gold is a vital resource in Diablo 4, necessary for various activities such as upgrading items, extracting and imprinting items, and rerolling stats. It is also the primary currency used for trading items with other players. Although picking up gold from monsters might seem insignificant, it is important to note that selling valuable items can yield substantial amounts of gold.
↖ Selling Items for Gold
When it comes to selling items, it's essential to focus on high-value drops. While the amount of gold obtained varies depending on the item's power and slot, higher-level rare items generally sell for around 10,000 to 25,000 gold. For example, an inventory filled with 33 items can easily fetch half a million gold.
↖ Salvaging for Materials
Your materials tab will fill up rapidly, especially with items like Rawhide, which is commonly dropped by monsters. Rawhide and other salvage materials, such as iron chunks and silver chunks from weapons and jewelry, are essential for item upgrades. While Rawhide is abundant, you may want to keep an eye on iron and silver chunks as they can run low.
↖ Prioritizing Sales over Salvage
In the late game, you'll reach a point where salvaging items becomes less relevant due to the scarcity of item upgrades. This typically occurs around level 60 or 70. At this stage, it is recommended to sell everything to vendors, including uniques and legendaries. Uniques, in particular, can fetch a substantial amount of gold, sometimes ranging from 100,000 to 1000,000 gold. Accumulating legendary materials from salvaging legendaries might also be beneficial for imprinting, but the frequency of their use diminishes in the late game.
↖ Selling Strategy
To maximize efficiency, sell all items, starting with the ones of lower rarity, such as blues and yellows. You can mark them as junk by right-clicking on them. Unfortunately, there is currently no "sell all" feature, so you must manually sell each marked item to vendors. By consistently selling items, you can quickly accumulate substantial amounts of gold.
↖ Ensuring Accuracy
Be cautious when marking items as junk, especially sigils. If you mark sigils as junk before salvaging them, they will disappear from your inventory and appear in the vendor's buyback tab. Only mark items as junk when you are ready to salvage them to avoid losing valuable resources.
Conclusion
In summary, in Diablo 4, it is advisable to prioritize selling items for gold rather than salvaging them for materials once you reach the late game. By consistently selling valuable drops, you can accumulate significant gold, allowing you to engage in various activities and trade with other players effectively. However, if you are running low on specific materials, you can adjust your strategy and salvage items accordingly. Remember to remember marking items as junk to avoid unintended losses. Following these guidelines can optimize your progression and enhance your Diablo 4 experience.
Most Popular Posts
Popular Category Lists