Diablo 4 Nightmare Poison Imbued Twisting Blades Rogue Build
Welcome to our Diablo 4 guide! In this article, we'll be covering the Nightmare Poison Imbued Twisting Blades Rogue build. This build focuses on maximizing the effectiveness of the Twisting Blades skill while incorporating poison damage to weaken enemies over time. We'll provide an overview of the skills and gear setup, along with some tips for optimizing your character's performance.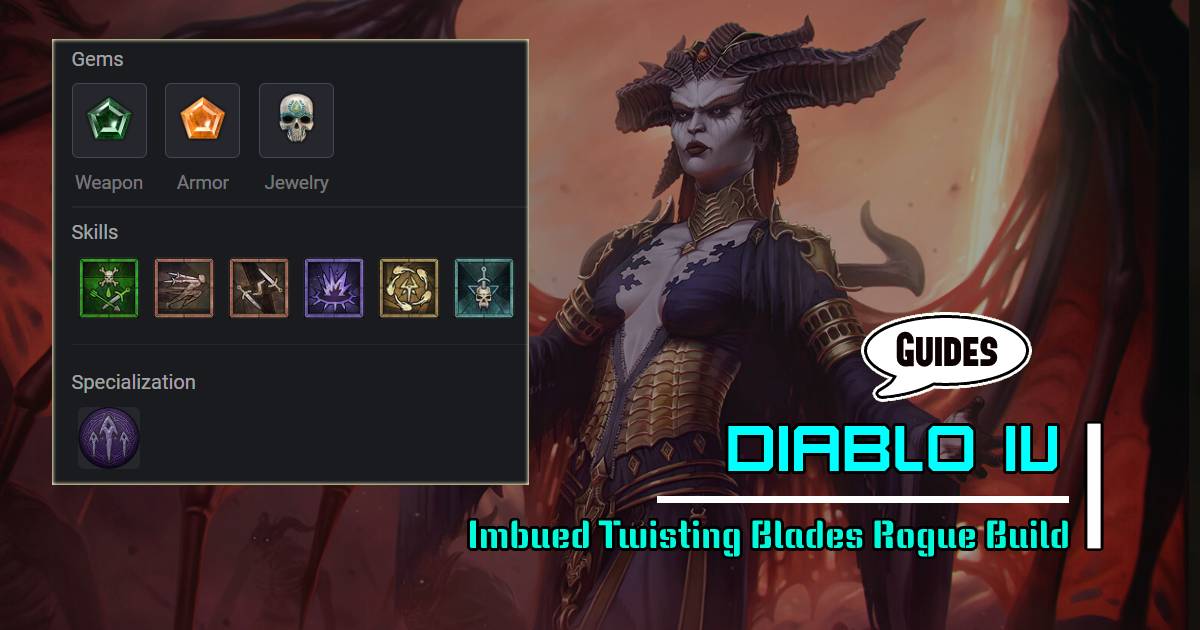 ↖ Build Link
https://d4builds.gg/builds/211deb0e-d65f-4868-9bf1-691881d849d3/
↖ Skill Selection
Twisting Blades (Primary Skill)
Deep Dash
Death Trap
Dark Shroud
Puncture (with Combo Points)
Before we delve into the specifics of the build, it's important to note that the skill selection can be customized based on your playstyle. The recommended skills are what we found to work well, but feel free to experiment and adjust according to your preferences.
↖ Gear Setup
↖ - Helmet
Ranks to Poison Imbuement
Armor Percent
Cooldown Reduction
Max Life
Ideally, Ambrose Aspect (Cheats Aspect can be used as an alternative)
↖ - Chest Plate
Damage Reduction
Damage Reduction from Close
Armor Percent
Life
Disobedience Aspect
↖ - Gloves
Critical Chance
Attack Speed
Ranks to Twisting Blades
Lucky Hit Chance
Accelerating Aspect
↖ - Pants
Damage Reduction from Close
Damage Reduction
Life
Damage Reduction from Distance or Damage Reduction while Injured
Might Aspect
↖ - Boots
Pennington Greaves (Best in Slot) or Legendary Boots with:
Movement Speed
Energy Cost Reduction
Dexterity
Noxious Ice Aspect (for damage bonuses against chilled enemies)
↖ - Amulet
Ranks to Malice
Movement Speed
Damage Reduction
Last roll: Ranks to Immediate Skill Dexterity Percent or Cooldown Percent
Aspect: Aspect of Corruption
↖ - Rings
Critical Chance
Critical Damage
Bonus Damage
Lucky Hit Chance
If more survivability is needed, replace Lucky Hit Chance with Life
Aspects: Energizing and Bursting Venoms (provides minimal cooldown on Poison Imbuement)
↖ - Weapons
Crossbow:
Core Damage
Critical Damage
Bonus Damage
Dexterity
Item Power is not crucial
Aim for at least 725 item power
Sword:
Critical Damage
Core Damage
Vault Damage
Dexterity
High item power
Rapid Aspect
Off-hand:
Condemnation (Unique Dagger)
Alternatively, another sword with the same stats as the previous sword
Edge Masters Aspect
↖ Skill Tree and Paragon Board
The article doesn't go into detail about the entire skill tree, but it emphasizes the importance of Poison Imbuement. While running dungeons, the main purpose of Poison Imbuement is to reduce enemy damage output and increase attack speed when engaging packs. Maxing out Poison Imbuement only significantly benefits boss damage, which feels sufficient in dungeons. Therefore, the additional skill points can be invested in other passive nodes for a smoother overall experience. Feel free to experiment and adjust according to your preferences.
↖ Paragon Board
Use Chip for Physical Damage to increase Twisting Blades' base damage, consequently boosting Poison Imbuement damage.
It's worth noting that using Bane for increased poison damage or Canny for more damage against poison targets didn't yield satisfactory results in the author's testing.
You can experiment with other options and share your findings for potential improvements.
↖ Future Builds
The article briefly mentions upcoming builds, including a Shadow-Imbued Twisting Blades build and a Ranged Road build. Stay tuned for more exciting builds and experimentation!
Most Popular Posts
Popular Category Lists