ESO Whitestrake's Mayhem PVP Event Detailed Guide | June 29 - July 11, 2023
Welcome to the guide for Whitestrake's Mayhem Event 2023 in The Elder Scrolls Online! This PvP event is similar to the one that took place in May earlier this year and offers exciting opportunities and rewards for players. Whether you're a veteran or returning to the game after a recent chapter launch, this guide will provide you with all the information you need to know about the event and how you can participate.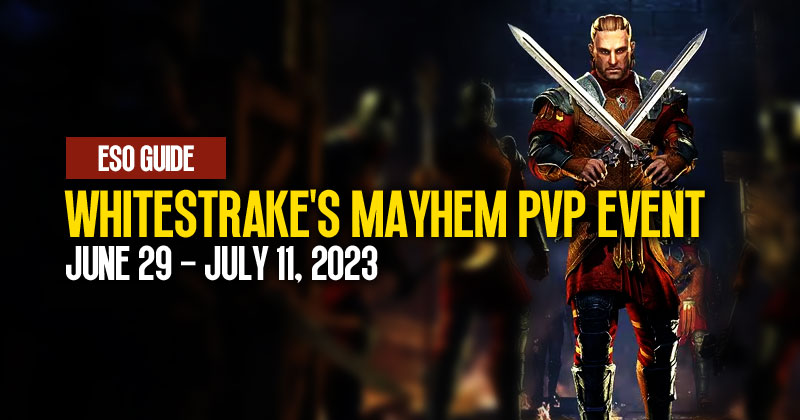 ↖ Event Duration
Whitestrake's Mayhem Event started on June 29, Thursday, at 10 AM. U.S. Eastern time. It will run until July 11, 2023, which is a Tuesday, ending at 10 A.M. U.S. Eastern time.
↖ Event Details
For detailed information on the event, including how it works and how you can participate, you can refer to the official ESO guide at Elderscrollsonline.com. The guide will provide you with written details and instructions to enhance your understanding of the event mechanics.
↖ Obtainable Items and Collectibles
In this iteration of Whitestrake's Mayhem, the items and collectibles available are the same as the previous event held in May. So, anything you had your eyes on during the last Whitestrake's Mayhem will be available once again. Take this opportunity to acquire the items you missed out on previously.
↖ Golden Vendor
During the event, it is crucial to log into ESO during the upcoming weekends to visit the Golden Vendor. On the weekend of June 30 to July 2, the Golden Vendor will be selling gold necklace jewellery for various sets, including Deadly Strikes, which is currently sought after for PvE. The next weekend, from July 7 to July 9, the Golden Vendor will be selling gold rings for the same sets. Take advantage of these weekends, as it can save you potential chromium platings and allow you to sell sets on Guild Traders later.
↖ Event Benefits
During Whitestrake's Mayhem Event, you can enjoy several benefits and rewards. Here's a refresher on what you can obtain:
Scroll Pellet Noise Ferocity: This active ability doubles the alliance points gained in Cyrodiil, Battlegrounds, and Imperial City.
Double DXP per Player Kill: For each player kill, you will receive double experience points (DXP). Please note that this is not a general double XP event.
Double Tel Var Stones: In any Imperial City campaign, you will receive double the Tel Var Stones, allowing you to acquire these valuable ESO currency items more efficiently.
House24 Banner Red Outfit Styles: Defeat Imperial City bosses and Sewer bosses to obtain the House24 Banner Red outfit styles.
Glint's Edge Armor Style Pages: These armour style pages can drop from Imperial City bosses and Sewer bosses.
Pillow Noose Boon Boxes: These special boxes will make a return during the event. They will be available alongside the usual rewards from the Worthy Containers and PvP daily quests. The Boon Boxes offer various rewards, including alchemy ingredients, style items for your alliance's armour, Cold Fire Siege weapons, Forward Camps, Akaviri runestones, transmute crystals, and more.
Crafting Surveys: Harvestable nodes will provide extra resources during the event. However, please note that crafting survey nodes are not affected by the bonuses of Whitestrake's Mayhem. Keep this in mind if you were expecting bonus resources from crafting surveys.
↖ Event Tickets
During Whitestrake's Mayhem, you can earn up to three event tickets each day. Here's how you can acquire them:
Two Event Tickets: Complete a daily quest in Battlegrounds or receive them as a reward.
One Event Ticket: Complete an Imperial City District daily quest.
Make sure to participate in these activities daily to maximize your event ticket rewards. However, be cautious not to earn more event tickets than the inventory currency cap, which is set at 12 event tickets. If you reach the cap, any additional event tickets you earn will not be added to your inventory.
↖ Impresario
The Impresario is the event merchant where you can spend your hard-earned event tickets. The Impresario offers a variety of items and collectibles in exchange for event tickets. Here are some of the items available:
Passion Dancer Blossom Pad Fragments: Collect fragments to obtain the Passion Dancer Blossom Pad.
Passion's Muse Personality: Exchange event tickets for the Passion's Muse Personality.
Metal Breeze Memory Skin Fragments: Merge fragments to acquire the White Flower skin.
Black Dragon Clan Wrap Style Pages: If you haven't collected them yet, you can obtain Black Dragon Clan Wrap Style Pages.
Legion Zero Style Pages: Similarly, you can acquire Legion Zero Style Pages if you have yet to see them in previous years.
Remember that the Impresario offers even more items, so be sure to check out the available options and choose what suits your preferences.
Conclusion:
Thank you for reading this guide to Whitestrake's Mayhem Event 2023 in The Elder Scrolls Online. Make sure to refer to the official ESO guide for more deta
Most Popular Posts
Popular Category Lists