Diablo 4 Defeating the Boss Twisting Blades Rogue Build
In Diablo 4, defeating challenging bosses requires careful planning, skillful execution, and powerful gear. One particular boss, known for its punishing one-shot mechanics, can be quite a challenge. In this guide, we will discuss a high DPS build that can help you overcome this boss and secure your achievement. Please note that this build may utilize certain mechanics that could be considered exploitative and may be subject to change in future updates. So, take advantage of it while you can.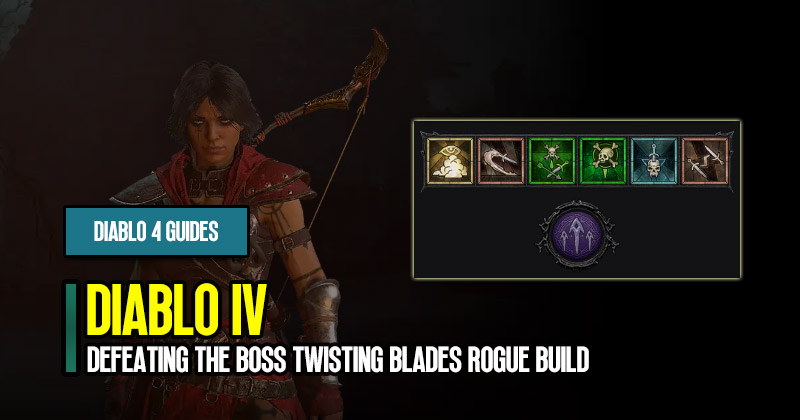 ↖ Build Link
https://maxroll.gg/d4/planner/od4w00qa
↖ Skills
Puncture: Keep this skill unchanged.
Twisting Blades: Maximize this skill to increase damage output.
Siphoning Strikes: Invest only one point for survival purposes.
Poison Trap: Allocate a point for additional damage.
Shadow Step: Use this skill to stun the boss, aiding in staggering.
Smoke Grenade: Though it may not contribute significantly to the Stagger bar, it can be helpful for survivability. Consider using it along with Countering Smoke Grenade.
↖ Gear and Stats
Helm: Prioritize intelligence, cooldown reduction, and poison imbuement.
Chest Piece: Look for the Noxious Ice aspect to enhance staggering.
Fist of Fate (Gloves): This weapon is crucial for generating primary resource, immobilizing enemies, and causing daze, all of which contribute to staggering.
Pants: Disobedience is recommended to stack more armor for survivability against regular hits.
Weapon: Use a two-handed weapon with all stats, core skill, and damage to close enemies. Imbue it with the Poison Imbuement aspect for extra damage.
Amulet: Seek an amulet with plus ranks to exploit, weapon mastery, energy cost reduction, and imbuement skill damage.
Rings: Focus on lucky hit, crit chance, crit damage, and vulnerable damage.
Boots: Pennington boots provide a chill effect for increased staggering potential.
Ashera's Conjar (Unique Weapon): This crossbow offers increased attack speed, which is crucial for this build.
↖ Paragon Board
Allocate points according to your playstyle and desired DPS. Maximize your Paragon board's benefits by distributing points strategically.
↖ Staggering Mechanics
During the first phase, aim to stagger the boss quickly to bypass the mechanics entirely. This may require specific gear, such as the Fist of Fate gloves, to maximize your stagger potential. The second phase follows a similar concept, with easier staggering opportunities. However, you must still dodge ground-breaking mechanics.
Conclusion:
This high DPS build focuses on staggering the boss to overcome its challenging mechanics. By utilizing specific gear, skills, and the Poison Imbuement aspect, you can increase your damage output and survivability. Keep in mind that this build may rely on mechanics that could be subject to change in future updates. Feel free to adjust and experiment with the build to suit your playstyle.
Most Popular Posts
Popular Category Lists