Easy Making Old School RuneScape Gold with Crafting Dart Tips
Welcome back to Old School RuneScape! Today, we have an early-game Gold making method that remains valuable even in later stages of the game. You can start making a substantial amount of OSRS Gold with low levels with Dart tips. Dart tips are an integral part of the dart-making process in Old School RuneScape. After completing The Tourist Trap quest, players can smith metal dart tips in sets of 10 per bar. These dart tips can then be feathered to create darts, which serve as powerful ranged weapons. Please note that membership is required to access this content.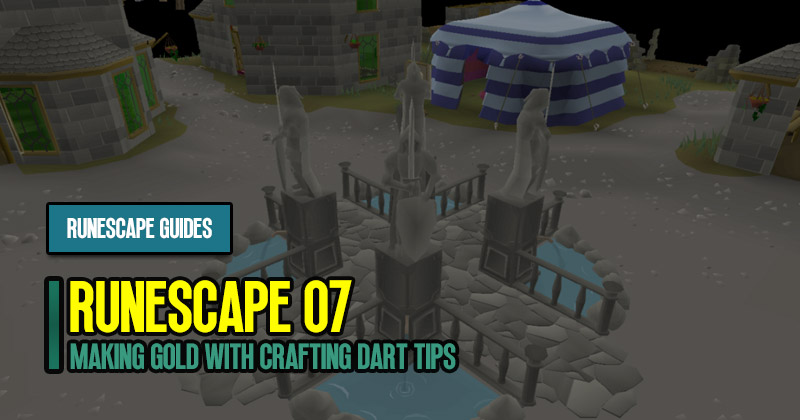 ↖ Requirements
To utilize this method, you'll need to complete the Tourist Trap quest, which unlocks the ability to craft Dart Tips. Almost all Dart Tips, except Rune, are worth a significant amount of Gold. Additionally, you only need a Smithing level of 19, making it a very accessible way to earn Gold early on.
↖ Location and Preparation
The best place to engage in this Gold-making method is the West Bank in Varrock. Prepare your inventory by carrying a hammer and filling the remaining slots with iron bars. You can either purchase the iron bars from the Grand Exchange (GE) or acquire them by mining iron ore and smelting it in a furnace or using the Plague City furnace. The choice is yours, and both options yield profits.
↖ Crafting Dart Tips
Start at the bank and retrieve your iron bars.
Proceed to the nearest anvil and click on it.
Select the option to craft Dart Tips.
Begin hammering the iron bars to create Dart Tips.
↖ Profit and Efficiency
While this method may not be the fastest way to level up your Smithing skill, it allows you to make a substantial profit. The profit potential is impressive, with an earning potential of nearly 500,000 gold per hour. Simply smith the Dart Tips, run back to the bank, deposit them, and repeat the process until you have transformed all your iron bars into Dart Tips.
↖ Selling Your Dart Tips
You won't have any trouble selling your Dart Tips since players are constantly seeking them. Feel free to list them slightly above the average price on the Grand Exchange if you want to maximize your profits. Alternatively, you can sell them at the market price for a quick sale. Rest assured, there is a consistent demand for Dart Tips, so you need not worry about selling them.
↖ Conclusion
Crafting Dart Tips in Old School RuneScape is an excellent method for making Gold early on in the game. With the completion of the "Tourist Trap" quest and a Smithing level of 19, you can start generating impressive profits. Additionally, this method provides a modest amount of Smithing experience, allowing you to level up while earning Gold. If you enjoyed this guide, be sure to check out our other videos in the playlist for more Gold-making methods, including advanced techniques for higher-level players. Don't forget to like the video and share your thoughts in the comments section.
Most Popular Posts
Popular Category Lists