Diablo 4 Season 1 Level Quickly Rapid Fire Rogue Build
In this Diablo 4 Season 1 Build, we will explore the Rapid Fire build specifically designed to level a rogue efficiently and quickly in Season 1. This build utilizes two core skills: Penetrating Shot for massive map clearing on mobs and Rapid Fire for burning down shields on elites and bosses. The Rapid Aspect build offers incredible survivability, endless energy regeneration, and high damage output, making it a satisfying and effective choice for leveling a rogue. Follow along as we walk you through the step-by-step process of building this ranged assassin.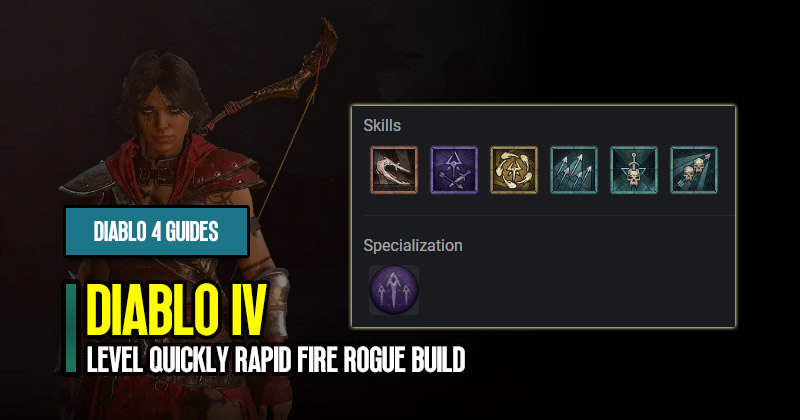 ↖ Build Link
https://d4builds.gg/builds/e7771f1f-09c1-4127-a4ff-bfd3335522a2/
↖ Basic Skill: Puncture
Allocate points into Puncture to slow down enemies and generate combo points.
↖ Core Skills
Penetrating Shot (5 points): Use this skill for clearing maps and dealing massive damage.
Advanced Penetrating Shot (1 point): Knock down Elite enemies for almost two seconds to maximize damage output.
Rapid Fire (5 points): Burn down shields on enemies quickly and efficiently.
Improved Rapid Fire: Allows continuous usage of Rapid Fire as long as you're hitting an enemy, ensuring endless energy for spamming.
↖ Agility Skills
Weapon Mastery (3 points): Increase damage with weapons.
Shadow Step (2 points): Provides extra damage and refund on Shadow Step when you kill an enemy.
Subterfuge Sub Node: Choose between Discipline or Methodical based on your play style.
↖ Exploit Skills
Exploit (3 points): Allocate points into Malice and Dark Shroud for survivability and damage reduction.
Dark Shroud (5 points): Provides a massive +50 damage reduction and constant healing when combined with critical strikes.
Subverting Dark Shroud: Recommended for added speed, but choose Countering Dark Shroud if you prefer reduced cooldown.
↖ Imbuement Skills
Precision Imbuement (3 points): Enhances weapon damage.
Shadow Crash (1 point) and Consuming Shadows (2 points): Boost energy regeneration for spamming Rapid Fire.
↖ Ultimate Skills
Adrenaline Rush (3 points): Provides additional survivability.
Haste (3 points): Adds movement speed for better mobility.
↖ Passive Skills
Choose between Precision for increased Critical Strike damage or Close Quarters Combat for extra damage with Shadow Step.
↖ Gear and Aspects
Helm: Look for increased attack speed and max life aspect.
Chest: Max life and damage reduction from crowd-controlled enemies aspect.
Gloves: Frostburn for freezing enemies with fast attack speed.
Legs: Aim for extra ranks of Dark Shroud for increased survivability.
Boots: Pennants and Greaves for amplified damage.
Bow: Damage to chilled and distant enemies, and aspect for rapid fire ricochets.
Amulet: Movement speed and ranks of Weapon Mastery or Frigid Finesse.
Rings: Critical Strike chance, max life, and armor aspects.
Melee Weapons: Condemnation and a sword with Critical Strike damage.
↖ Gems
Armor: Damage reduction.
Weapons: Critical Strike damage.
Rings and Amulet: Armor.
↖ Specializations
Focus on Combo Points.
↖ Paragon Points
Allocate points according to the provided Paragon Board, utilizing glyphs that amplify Marksman skill damage, exploit weakness, Frost Feeder, physical damage, and more.
↖ Damage Combo
Keep Shadow and Dark Shrouds active before entering battle.
Use Puncture to apply vulnerability and generate combo points.
Once you have three combo points, unleash Penetrating Shot to eliminate enemies.
Use Rapid Fire to finish off any remaining enemies.
Conclusion:
The Rapid Aspect Rogue Build in Diablo 4 offers lightning-fast attack speed, exceptional map-clearing potential, and satisfying gameplay. With its incredible survivability, endless energy regeneration, and high damage output, it is perfect for leveling and farming XP in Season 1. Follow the steps outlined in this guide to create a powerful ranged assassin capable of clearing everything in Diablo 4.
Most Popular Posts
Popular Category Lists