Diablo 4 Season 1 Powerful and Versatile Playstyle Shred Druid Build
If you haven't tried the Shred Druid build in Diablo 4, you're missing out on a powerful and versatile playstyle. Unlike other builds that require multiple specific unique items to function, the Shred Druid can excel even without any uniques. In this guide, we'll delve into the skill tree, recommended skills, passives, gear, and playstyle that make the Shred Druid build so effective.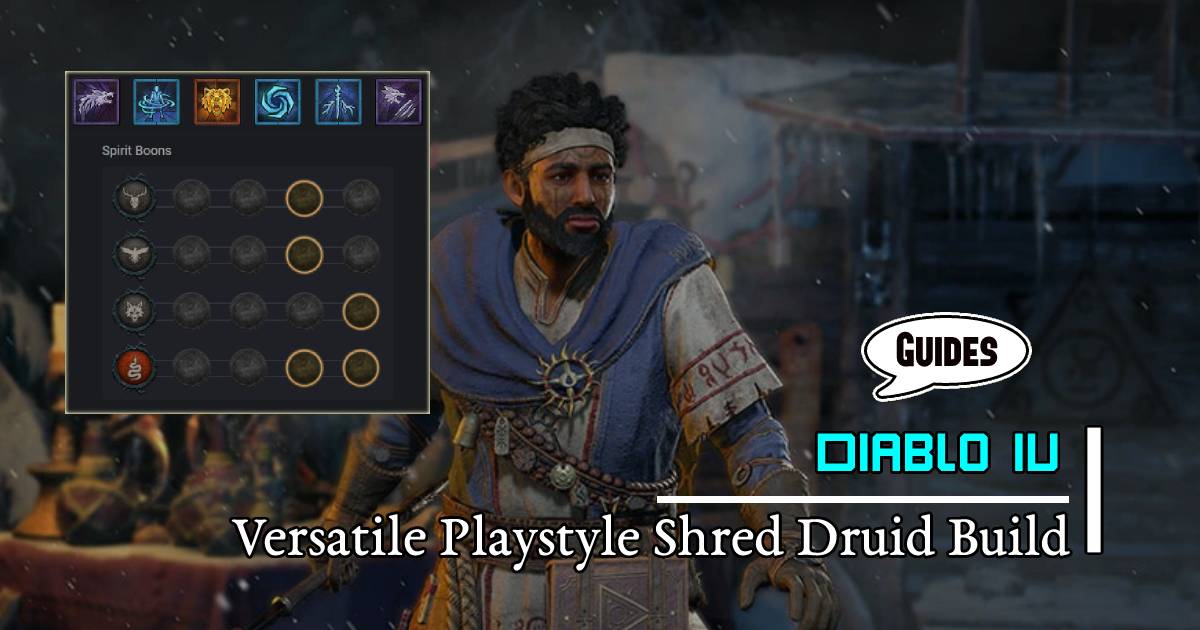 ↖ Playstyle
Engage enemies by activating Grizzly Rage for increased damage and to become unstoppable.
Teleport around with Shred, utilizing the increased critical strike chance from Primal Shred to cover vast distances quickly.
Utilize Bloodhowl for increased attack speed and maintain its uptime by securing kills.
Use Cyclone Armor and Hurricane for additional damage and crowd control.
Take advantage of Lupine Ferocity's increased critical strike damage every sixth skill.
Stay in werewolf form as much as possible to benefit from werewolf-specific passives and damage bonuses.
Use your skills strategically to apply vulnerability, maximize damage, and ensure survivability.
↖ Build Detail Link
https://d4builds.gg/builds/e26271e7-d2ff-4a26-aedf-2e9ef6b649f3/
↖ Skill Tree
Storm Strike: Choose the Fierce Storm Strike path to have a 50% chance to make enemies vulnerable.
Shred: Maximize this skill as your primary attack.
Primal Shred: Invest in this skill to increase the critical strike chance of your second and third attacks by 30%, allowing you to dash and cover vast distances across the map.
Cyclone Armor: Use this skill for survivability and to make knocked-back enemies vulnerable.
Bloodhowl: Allocate points to Bloodhowl for increased attack speed. Its cooldown is reduced by one second for every kill, allowing you to maintain the attack speed boost.
Hurricane: Use Hurricane for additional damage and a 15% chance to make enemies vulnerable for three seconds.
↖ Passives
Lupine Ferocity: Every sixth skill gains a 70% increased critical strike damage.
Wild Impulses: Core skills cost 9% more, but you gain a 15% damage increase.
Predatory Instinct: Critical strikes against nearby enemies deal extra damage.
Digit Tech Gravigate: Gain 9% movement speed while in werewolf form.
Ancestral Fortitude: Increase non-physical resistance and gain damage reduction for six seconds after using a defensive skill.
Neurotoxin: Critical strikes with werewolf skills deal poison damage over time.
↖ Paragon Points
Allocate points to the Lust for Carnage and Ancestral Guidance boards to increase damage and resource generation. Focus on core skill damage, spirit cost reduction, cooldown reduction, and werewolf-specific damage nodes.
↖ Gear
Helmet: Seek a helmet with cooldown reduction, spirit cost reduction, and all-around defensive stats.
Gloves: Look for gloves with attack speed, critical strike chance, and critical strike damage.
Pants: Prioritize damage reduction while in werewolf form and defensive stats such as armor.
Boots: Find boots that grant movement speed while unstoppable and offer defensive bonuses.
Weapons: Choose either a two-handed weapon for energy management or a one-handed weapon with a totem for additional bonuses.
Amulet: Seek an amulet with cooldown reduction, spirit cost reduction, and offensive stats.
Rings: Look for rings with critical strike chance, critical strike damage, lucky hit chance, and spirit cost reduction.
Totems: Opt for totems with cooldown reduction and critical strike damage.
Conclusion:
The Shred Druid build in Diablo 4 offers an exhilarating playstyle that combines high mobility, critical strikes, and constant damage output. By utilizing the skill tree, recommended skills, passives, and carefully chosen gear, you can create a powerful and self-sufficient character capable of handling challenging content. Experiment with different variations and gear upgrades to further optimize your build. Embrace the power of the Shred Druid and unleash devastation upon the forces of darkness in Sanctuary.
Most Popular Posts
Popular Category Lists